Fly Creek Cider Mill
by
Meghan Anne Neumeier

Photos by
Jeff Durst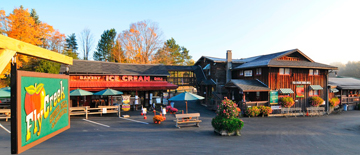 Summary: The Fly Creek Cider Mill, located in Fly Creek, New York, is more than your average cider mill - it is a historical attraction with a diversity of flavors and activities. Visitors can purchase apples and sweet cider, sample hard cider and wine, stock up on gourmet food items, enjoy a meal at the snack bar and bakery, and feed the ducks in outdoor ponds. The facilities' most popular products include apples, cider, cheese, and fudge.
The Fly Creek Cider Mill was built in 1856 as a cider mill, gristmill, and wood finishing facility. The town of Fly Creek, located just outside Cooperstown, New York, was known for its mills, which allowed for easy control of water. After prohibition, the Fly Creek Cider Mill focused on making sweet cider that locals home-fermented. In 1962, current co-owner Bill Michaels' parents bought the property. Bill's father was a carpenter, his mother a high school art teacher, and together they started the cider mill as a hobby. The cider mill became a full time business about two decades later. Bill and his wife Brenda purchased the facility in 1999 and have made the historical attraction what it is today.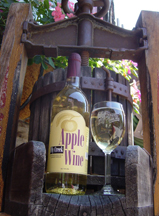 Bill and Brenda try to source their products locally as much as possible. Cider apples (including Macintosh, Cortland, Empire, Ida Red, and Gala varieties) come from Columbia County, New York, and eating apples come from Onondaga County, New York. Fly Creek partners with Montezuma Winery in the Finger Lakes and Warwick Valley Winery and Distillery in Warwick, New York, to make hard cider and wine. The Mill Pond Red wine and the Riesling are made at Swedish Hill Winery in the Finger Lakes and are capped and corked at Fly Creek. The Apple Frost wine is made completely on site. Fly Creek produces 20,000 gallons of fresh sweet cider and 2,000 cases of hard cider and 1,200 cases of wine a year.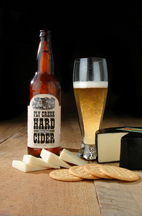 Fly Creek offers two different types of hard cider: the Original and the Apple-Raspberry. The Original is pale yellow and contains an aroma that is reminiscent of bread dough. This aroma carries over to the flavor, which also boasts strongly of apples. The Apple-Raspberry cider is pink-orange in color. It has hints of raspberries on the nose and taste. The flavor is both sweet and sour, like fresh raspberries. Both ciders have average carbonation and a light and short finish.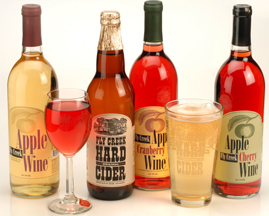 Fly Creek's wines include apple wine and grape wine varieties. Among the apple wines, the most popular are the Apple, Apple-Cranberry, and Apple-Black Currant. The Apple wine is almost translucent in color with a light nose of bread dough and a light, apple, semi-dry flavor. The Apple-Cranberry is pink-orange with berries on the nose. It is also light and contains a splash of cranberry flavoring. The Apple-Blackcurrant is dark purple with an earthy and berry aroma. It has a complex flavor that is rich in berries, and it pairs well with beef or chocolate fudge. The two grape wines include the Riesling and the Mill Pond Red. The Riesling is translucent in color and contains notes of rising bread in the aroma. The Riesling is semi-dry and smooth and pairs well with spicy food. The Mill Pond Red is dark purple with an aroma of Concord grapes. It tastes like grape juice for adults and pairs well with chocolate, pizza, pasta, or steak.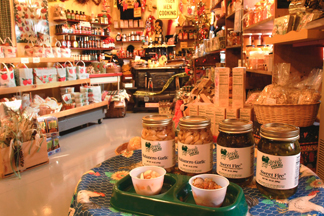 The tasting bar at Fly Creek is located in the marketplace, which contains several small tasting stations beside gourmet food products. Bill and Brenda encourage tastings because they want visitors to have a hands-on experience. The items sold at the marketplace are extensive and include cheeses, soups, sauces, dressings dips, fudge, cookies, doughnuts, wine, and of course, apples and apple cider. Non-food items include gift baskets, designer bags, skincare products, and souvenirs. Upstairs, visitors can peruse a Christmas shop as well as a cider gallery that provides information on the cider-making process. In addition to the marketplace, the property includes a seasonal snack bar and bakery, built in an old barn. The most popular items at the snack bar are the pot roast sandwich and the cider slushy. There is also a deck area where visitors can enjoy Fly Creek food, cider, and wine on pleasant days, as well as ponds and production facilities.
Fly Creek Cider Mill cooperates with many non-profit groups to host events, such as the Apple Fest, the Cider Fest, and the Duck Derby Race. Fly Creek also offers a "Taste of Fly Creek" series on weekends, which enables visitors to partake in themed tastings, such as soup and grilling tastings.
With so much to see and do, every visitor will find something to love at Fly Creek Cider Mill. As Brenda says, "Everybody's happy here."
Fly Creek Cider Mill is a member of the Cooperstown Beverage Trail, which was founded by Bill Michaels.
Fly Creek Cider Mill
288 Goose Street
Fly Creek, NY 13337
---