Otter Creek Winery
by
Kathy Sullivan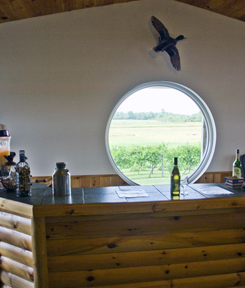 Summary: Otter Creek Winery is located in Philadelphia, New York. Kyle Hafemann is one of the youngest licensed vintners in New York State. Together Kyle and his parents are involved in all aspects of winegrowing and winemaking.
Wine enthusiasts will discover Otter Creek Winery tucked in behind a farmhouse and a large barn. Likely, grazing sheep will be in view of the parking area and tasting room.
The winery is a modern style building with the ambiance of three arched windows. A circular window is behind the tasting counter. Visitors can enjoy tasting wines while gazing across pastures and the vineyard.
Otter Creek Winery a boutique winery in Philadelphia, New York was named for the Otter Creek that runs through the farm property. Originally from Connecticut the Hafemann family established a sheep farm. All members of the family are involved in the winegrowing and winemaking process.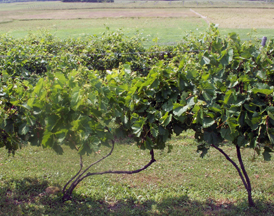 Kyle decided he wanted to grow grapes on the family farm. He planted three and a half acres of grapes. Most of the acreage is planted with the Frontenac variety. Today the winery also sources grapes from the Long Island and Finger Lakes regions of New York.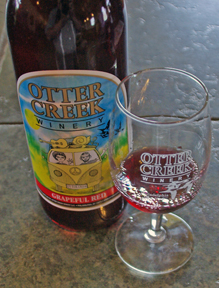 Wines
Otter Creek Winery opened in the spring of 2007 and now produces 4,000 gallons (almost 1,700 cases) of wine. Kyle is one of New York's youngest licensed vintners.
LaCrescent was a straw color with a delicate citrus aroma. The taste was crisp and refreshing with notes of citrus especially grapefruit. The finish also offered nuances of grapefruit. This wine would pair well with food particularly chicken and fish. White Wooly is a proprietary wine. The aroma was sweet and fruity. This wine is perfect as a 3P wine: patio, pool and picnic.
Cabin Fever Red was produced with Frontenac. The wine color was a dark purple. There were notes of dark fruit especially blackberry and black raspberry. The finish was crisp, slightly sweet and fruity. Grapeful Red was produced with Ives. The color was red with pink hues. The aroma reminded one of the foxiness associated with some Native American grapes. The taste was similiar to Welch's grape juice. The finish was sweet, fruity and dried on the finish.
In addition to producing wines, Otter Creek Winery will be having "Old Fashioned Soda" including Black Sheep Root Beer and Grapelicious Grape Soda.
A pavilion was recently added next to the winery and tasting room. Kyle is looking forward to hosting events such as small weddings, parties and birthdays.
History and food buffs may want to note that Philadelphia Cream Cheese originally started in this small New York town of Philadelphia.
Otter Creek Winery
33109 Rudes Road
Philadelphia, New York 13673-2112
GPS: N44º 11.504' W75º 42.716'
---