Johnson Estate Winery
by
Kathy Sullivan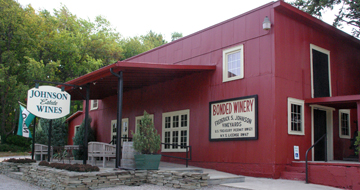 Summary: Visit Johnson Estate Winery in Westfield, New York where a third generation family is farming the land. Wine enthusiasts will have an opportunity to taste a wide variety of estate wines from New York's oldest estate winery.
Jennifer and Fred Johnson are the 3rd generation of Frederick S. Johnson to farm this property. Three generations ago Fred's grandfather purchased the land and planted and maintained the large fruit farm known as Sunny Slope Farm. Juice grapes were the first grapevines to be planted because this is considered one of Welch's grape growing regions. Fred's grandfather, Frederick, grew mostly stone fruit. Later Fred's father took out many trees and planted grapes. Fred and his brother Tony started planting Riesling in 2003.
Johnson Estate Vineyards Today
Johnson Estate Winery is New York's oldest Estate winery. While there have always been some grapes planted here, today the 200 acre estate has 114 acres of vineyards. Grape varieties are mostly French Hybrid and Native American. Varieties include Concord, Chancellor, Traminette, Chambourcin, Delaware, Niagara, Riesling, Pinot Noir, Ives, Catawba, Seyval and Marchal Foch.
The area receives an average of 150 inches of snow each year. When they harvest grapes for Icewine they push the snow away from the grape clusters. They are one of the only wineries in the United States to make a sparkling Icewine.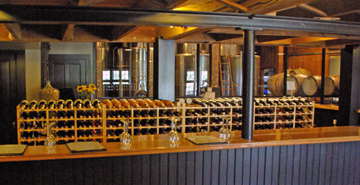 Tasting Room in a Former Apple Packing Facility
The tasting room and winery are located in an old building that was once used for apple packing and storage. The atmosphere has its character of "old" fitting in well with the idea that wine is an old beverage. An antique apple press adds to the ambiance. However, a wall of windows separates the tasting room from the gleaming stainless steel tanks. Visitors can view the large tanks and oak barrels while enjoying a tasting of the wines.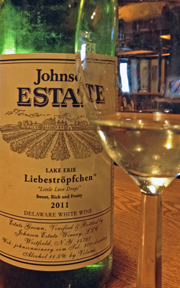 Wines
Dry Riesling was a light yellow. The aroma was of fruit and mineral nuances. The taste was smooth with mineral, green apple and lemongrass notes. The finish was smooth. Consider pairing this wine with cheese. Seyval Blanc 2011 was a straw color. Grapefruit notes were throughout the wine. Traminette 2008 offered floral especially honeysuckle and rose notes with citrus nuances. The taste was smooth with hints of roses and fruit. The wine dried on the finish. Suggested pairings included turkey, shrimp and pork. The Liebeströpfchen™ 2011 name means: "Little Love Drops." This wine is selected for numerous weddings because of the name and label. The wine was made from the American grape, Delaware. Residual sugar is 6 percent. Pairing suggestions are cheese, fresh fruit apple tart and strudel.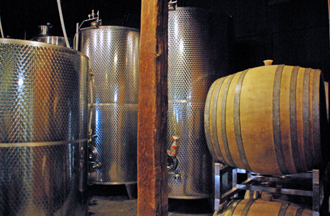 Freelings Creek Reserve 2011 was produced with Pinot Noir. The red wine with a dark pink tint offered cherry notes on the aroma while the taste had cherry and mushroom nuances. The finish had mild tannins with fruit and earthiness. The wine was named for the Freelings Creek that runs through the vineyard. Chancellor 2010 was a dark purple to black color. Plum notes were on the aroma and taste. Ives 2011 was made with the Native American grape, Ives. The wine was a dark pink. The aroma was sweet and grapy. The taste was silky and grapy with a touch of foxiness. The finish was mild with the grape taste milder than Concord. Chambourcin 2010 was a dark purple. The aroma and taste offered dark berry fruit salad notes with a mixture of raspberries. The fruity finish had mild tannins.
Chambourcin Icewine 2009 was a dark Sienna color. The aroma and taste had alcohol and jammy fruit notes. The finish was crisp with lively fruit nuances. Paired with a cookie this is like adding raisins to the cookie and wine.
While traveling on Interstate 90 in western New York State, stop by the Johnson Estate Winery to taste a variety of estate wines.
Johnson Estate Winery
8419 West Main Road (Route 20)
Westfield, New York 14787
GPS: N42º 18.429' W79º 36.406'
Article written in September 2012.
---