Liberty Vineyards and Winery
by
Kathy Sullivan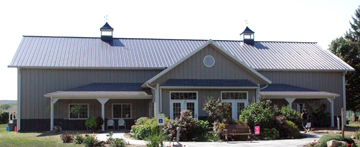 Summary: Liberty Vineyards and Winery in Sheridan, New York is a family owned vineyard with a long history and a much newer winery. When traveling to western New York, stop by Liberty Vineyards and Winery to view their vineyards and taste their wines.
Approaching Liberty Vineyards and Winery in the small town of Sheridan, New York we discovered a large cottage-style winery and tasting room. Landscaping with curved walkways lead directly to the tasting room.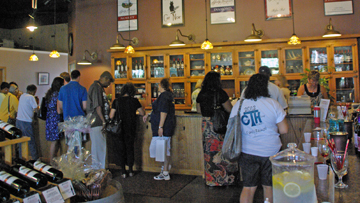 Inside much of the space is dedicated to tasting counters although numerous wine accessories are available to browse. A small conversation area with upholstered chairs is a perfect spot to relax and enjoy a glass of wine. Inside we met Gary Burmaster who with his wife Pamela, own the vineyards and winery. Their daughter, Beth Margolis, was instrumental in adding the winery to the vineyard property.
Fifth Generation Wine Growers
Liberty Vineyards and Winery has a long family history with grapevines that date back to the 1860s. At one time the Erie Railroad tracks ran close by enabling area grape growers to ship their grapes to market quickly.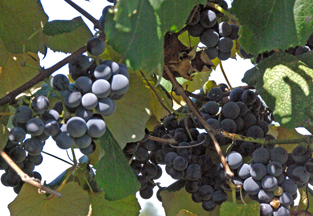 Vineyards
Currently, fifth generation grape grower and owner Gary Burmaster maintains the vineyards. His great-great grandfather, Rufus, planted Concord grapevines and the vines are continuing to produce quality grapes. We took a ride to view the grapevines planted more than 100 years ago. Gary noted that through the years new branches have sprung forth from the original roots.
Today the 93 acres of vineyards have 13 varieties including Concord, Niagara, Marquette and Aurora. The winery produces wine using 85 percent of their onsite vineyards production. The other 15 percent are sourced from vineyards within a few miles of the winery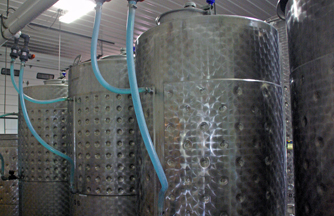 Winery
It was Beth who was the persuasive force to add a winery to the vineyards for value added farming. Working on a Masters in marketing, she completed her thesis on adding a winery to the property.
The winery was built in 2007 and opened in 2008. Gary noted that he is pleased with the winery as an addition to the property. He is very happy that his family is able to stay in the area and be close to home. While talking with Gary, he said that the "customers like the fruitiness of this wine region." He also said that 75 percent of the consumers like sweet wines.
The Burmaster family wants people to know that "great vines make great wines." At Liberty Vineyards and Winery they focus on quality from the vines to the bottle. Another focus is on creating a great experience for visitors coming to the winery.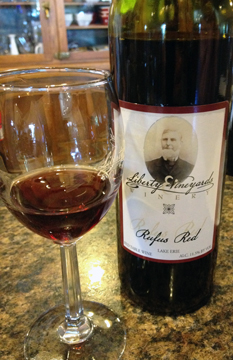 Wines
Reds Whites and Blues is Liberty Vineyards and Winery's best selling wine. The wine was a light red with a fruity taste of red fruits. This is a good wine for light food and also a good 3P wine, good for patio, porch and pool. Barrel Select Noiret 2010 was a dark ruby color with an aroma of tobacco and earthiness. Dark fruit and licorice notes were on the taste. The finish, with tannins, had pepper and spices on the after taste. Suggested pairings included cheese, lamb or filet mignon. Marquette 2011 was a dark purple with an aroma of black fruit. The taste had notes of cherries and spices and the finish had mild tannins. Fredonia was a light red with dark pink hues. There was an aroma of berry fruits. The wine was reminiscent of a berry fruit salad with a sprinkling of sugar. The finish was fruity. Rufus Red was named for the original family member to first plant grapevines in the 1860s. The wine, with a residual sugar of 2.0, was fruity and slightly sweet. Pairing suggestions included pizza, pasta and beef dishes. Lucy's in the Sky was a blend of Diamond, La Crescent, Concord and Vidal. The wine was a peach color. The aroma and taste offered notes of yellow and stone fruits. The fruity finish begins sweet and becomes drier.
When traveling in the western New York area, be sure to make Liberty Vineyards and Winery one of your stops. You will discover a variety of wines to sample, a comfortable tasting room and a warm welcome.
Liberty Vineyards & Winery
2861 Rt. 20 or Main Road
Sheridan, New York14135
GPS: N42º 29.000' W79º 14.786'
---