Willow Creek Winery
by
Kathy Sullivan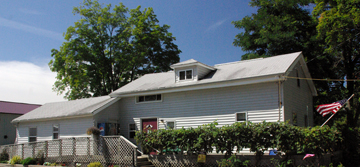 Summary: Visitors to Willow Creek Winery will discover that it offers numerous possibilities for enjoyment. In addition to wines and onsite vineyards, the winery has a 600 seat event area with a stage. They also have fishing and trails to walk.
Willow Creek Winery is located on the Chautauqua Wine Trail in Western New York. The tasting room is located in a farmhouse built during the 1800s. Visitors will discover two sections of the tasting room, the first, a retail area leads into the larger section with a tasting counter.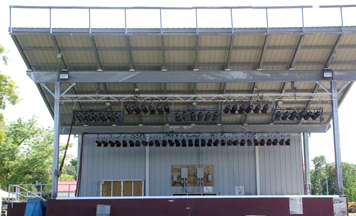 In addition to wines and onsite vineyards, the winery has a 600-seat pavilion with a stage, hiking trails and a picturesque pond with a gazebo and large fountain. There are places to picnic, and the winery has a catch and release fishing area. There are trails to walk; after a tasting take time to explore the beautiful property.
Summer Events
Numerous fun events take place at Willow Creek Winery. Some of these include Jammin' at the Creek Summer Concert Series and the Annual WillowFest.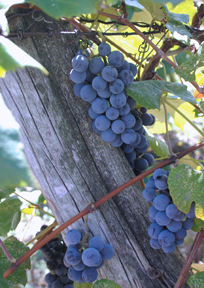 Visitors can view the onsite vineyards that are just a short distance away from the pond. The vineyards are comprised of 26 acres that include Concord, Catawba, Chambourcin and Cabernet Franc.
History
After being a home winemaker for 20 years, Jim Emerson began Willow Creek Winery in 1999. Unfortunately he passed away in 2000. Today Doug Metzger is the President of Willow Creek. Since its beginning many additions have been added including the pavilion.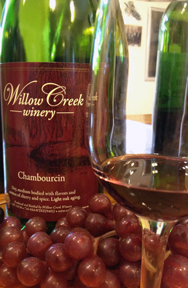 Red Wines
Stopping at Willow Creek Winery, we sampled several wines. Chambourcin was a ruby color with notes of cherry. The finish also had spice nuances with mild tannins. An apt description for the Concord wine might be "Welch's grape juice for adults." The taste had a Concord grape taste. The finish was dry with mild tannins. Cabernet Franc was a reddish color with an aroma of fruit. The taste was of dark red fruit. The finish was dry. Suggested pairings included steak or roast leg of lamb. Pink Catawba was a pink color. The wine was light, crisp and refreshing.
Dessert Wines
Chautauqua Chocolate was a blend of Concord and chocolate. It was a light ruby color with chocolate notes throughout. This wine had a six percent residual sugar but seemed drier. This is "dessert in a glass." Cream Sherry was 17 percent alcohol. The sherry was produced with Cayuga grapes. The nuances included caramel, nuts and some hint of stone fruits. The finish was crisp. Chocolate Temptations was the winery's biggest seller. The best description of this was a "liquid Tootsie roll."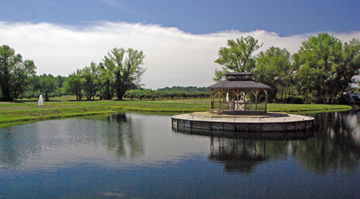 When visiting Willow Creek Winery, plan to spend some time ambling the grounds. View the vineyards, pond and trails. Walk to the gazebo in the center of the pond, a romantic spot with vineyards just feet away.
Willow Creek Winery
2627 Chapin Road

Silver Creek, New York 14136
GPS: N42º 30.718' W79º 13.910'
---