Noble Winery
by
Terry Sullivan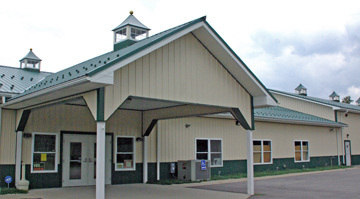 Summary: Visitors to Noble Winery, in Westfield, New York, should plan to spend some extra time on the covered deck that runs along the side of the building. There are wonderful views of vineyards, contrasting colors of grain crops, a tree line with few homes and Lake Erie. On clear days, this is a picture perfect setting.
Visit Noble Winery for the spectacular view of vineyards with Lake Erie in the distance. Pete Noble and his wife Diane started Noble Winery in 2006. They were wine enthusiasts who wanted to share their love of wine with others. They even named a wine after one of their friends.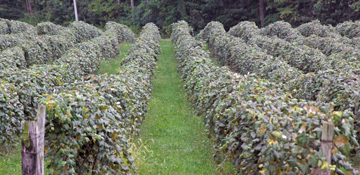 Vineyards
The property takes up 189 acres. The tasting room and winery are built on a high elevation with views of Lake Erie in the distance. There are 39 acres of Concord grapes planted near the winery. Other varieties include Niagara, Seyval Blanc, Catawba and Delaware.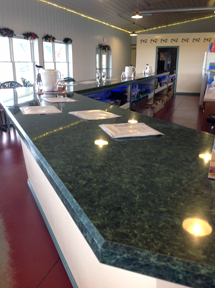 Tasting Room
The tasting room is quite spacious with a tasting counter and tables and chairs. Adjacent to the tasting room, an outdoor covered deck provides seating at small tables. The outdoor deck offers views of the vineyards and Lake Erie. The tasting counter can accommodate large groups. Natural light floods the tasting room and reflects off the white walls and tasting counter. The dark floors and dark-colored stone of the top of the tasting counter offer a contrast to the brightness of the room.
An electric fireplace anchors one corner of the tasting room offering a warm charm on cooler days. At the time of our September visit, red table cloths offered a sense of elegance to the room. Several potted plants and flower bouquets were placed throughout the area. There were some wine-related items for sale. A large display case showcased jewelry.
Wines
Our tasting began with the Seyval Blanc de Blanc Oaked. This palate cleansing straw colored wine was a great start to a wine tasting. It had citrus on the aroma and taste with a hint of buttered toast on the crisp finish. The Seyval Blanc was fruity with mineral overtones. The slight sweetness dried on the finish. Sweet Seduction was a sweeter Seyval Blanc wine. It had citrus on the aroma and taste. The Pink Catawba was a salmon color. The wine had a floral aroma. The crisp, slightly sweet finish became drier. In contrast, the Cat Rouge was a late harvest Catawba. It had a dark salmon color with a floral and grape aroma and taste. The finish was crisp that cut the sweetness. The Little Bit of Heaven Spumonte was a bright yellow color made from the Seyval Blanc grapes. It offered some citrus notes and was crisp and refreshing.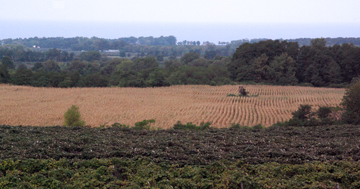 Noble Winery is a relaxing winery for wine enthusiasts to visit. Enjoy wines made with hybrids and Native American grapes while taking in the views of vineyards and Lake Erie.

Noble Winery
8630 Hardscrabble Road
Westfield, New York 14787
GPS: N42º 17.520' W79º 37.365'
September 2012

---