Haley's Honey Meadery
by
Kathy Sullivan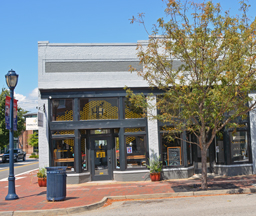 Summary: Early in September 2019, we visited Haley's Honey Meadery located in Hopewell, Virginia not far from Richmond. The small family owned meadery produces numerous types of mead in small batches and also is a source for special infused honeys. The meads are sold in the tasting room and at farmers/arts & crafts festivals. The tasting room also offers a menu selection.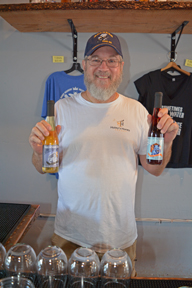 Haley's Honey Meadery, owned by Mike and Tonya Haley, is located in the small town of Hopewell, Virginia. Free parking is available at the back of the facility. We quickly met Mike Haley (pictured left) and TJ Miller, sales manager, and learned that Tonya was at a festival to market their meads and honeys. The meadery is divided into two parts. One section is the production area and the tasting room is located along the other side of a long wall. The tasting room includes the tasting counter with chairs and several booths. One wall of the tasting room showcases large works of art created by local artists.
Background
Tonya is a second generation beekeeper. She began beekeeping 19 years ago. Today the couple has about 30 beehives around the Tri-Cities region of Virginia. They source the majority of their honey from Virginia. Mike mentioned that Tonya has the "big ideas" and that he and TJ implement her ideas.
One day, Tonya mentioned to Mike that "now we are beekeepers." They began selling honey and some of their customers would come and ask for honey to make mead. As a result Tonya decided to make five gallons of mead at home. Two years ago, Tonya and Mike began visiting meaderies. The couple decided that some of their meads were better than the ones tasted at established meaderies they visited. This led Tonya and Mike to open Haley's Honey Meadery in November 2018. The tasting room and mead production area are located in an old building that had a previous life as a pawn shop and a theatre. Tonya and Mike added a side door that allows more light into the tasting room and is located closer to the parking lot.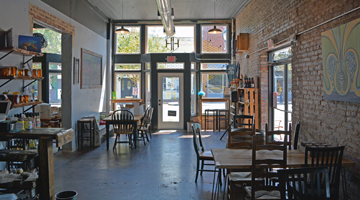 The equipment for producing mead is expensive; much of it is stainless steel. The Haleys knew mead producer Zeb Johnston. They worked with Zeb during the summer of 2018 helping Zeb to make mead. Eventually due to a busy schedule, Zeb decided to sell his mead equipment. Mike and Tonya purchased most of the available equipment.
After obtaining the location for the meadery and the equipment, Mike and Tonya needed to collect chairs and tables for the tasting room. The result is an eclectic assortment of comfortable seating at the tasting counter with tables and chairs nearby.
Tastings at Haley's Honey Meadery are unique. In addition to tasting many different types of meads, visitors will be asked if they want to taste various honeys including infused honey.
Honey Tastings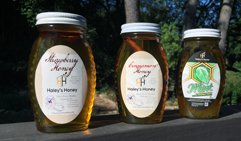 Numerous flavored honeys are available for tasting. A small skewer is dipped into a container of honey for the consumer. A variety of infused honeys are available. In addition to wildflower and clover honey, special infused honeys include infusions of cinnamon, ginger, mint, lemon, orange and strawberry. We discovered the mint, cinnamon and strawberry to be particularly tasty.
Mead Tasting
While we tasted meads, Mike suggested pairing meads with cheeses, ham, baklava, fish and chips, and quesadillas.
The fruits used for the different meads are sourced from Virginia. The meads are served in glasses set on a wood plank. A complete tasting involves two planks of glasses with meads. The advantage of this tasting is that one can retaste a previously tasted mead. It is easy to compare and contrast.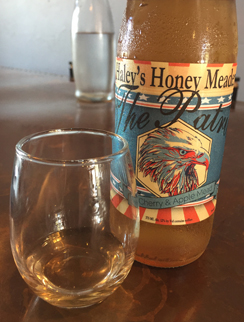 The Patriot, with 12% alcohol, was a cherry and apple infused mead. This yellow colored mead had a red hue. Cherries were on the aroma and taste along with honeysuckle. The cherry aftertaste lingered. This mead was slightly sweet. Mike commented, "It makes you want to scream, 'USA, USA'."
The Point - Honey Mead had 6% alcohol. The mead was a light yellow color with a green hue. This mead was slightly carbonated and offered an aroma of flowers. The taste included wild flowers and a bit of honeysuckle. The finish was very floral. The 6% alcohol mead was carbonated and helped to cleanse the palate.
The Patch - Strawberry Mead with 6% alcohol was a yellow color. The aroma was of flowers and strawberries. The taste offered notes of honeysuckle, flowers and strawberries. The finish had floral and fruit with a bit of carbonation.
Five & Dime Warrior had 12% alcohol. This mead was a straw color. The aroma was of flowers. The mouthfeel was velvety with notes of flowers. The finish was floral.
Blue Devil, Blueberry Mead, with 12% alcohol was a red color with a Sienna hue. The aroma was of blueberries and flowers. The mead had a velvety mouthfeel with blueberry and floral notes. The fruity finish yielded to floral notes.
Apple of My Eye Cyser with 12% alcohol was a yellow color. The aroma was of fresh apples. This mead also with a velvety mouthfeel offered a taste of apples and flowers. On the finish the apple yielded to flowers.
The Liquid Silk Vanilla Mead with 12% alcohol was a light yellow color. The aroma was floral with strong notes of honeysuckle. The mead had a velvety mouthfeel with notes of flowers and then vanilla enveloped the palate. The finish had floral and vanilla notes.
Menu
The menu at Haley's Honey Meadery tasting room includes a variety of foods. At the time of our visit the menu included: Tropical Sundaes, Cheesecake, Watermelon Fruit Pizza, cheese platters, Chicken Po'Boy Sliders, Honey Ham Sliders, Honey Berry Cristo, chicken kabobs and more.
Events
The Haleys host a variety of events at the meadery. Events include singers, comedy, paranormal, chocolate tastings, open mic nights and more. Check the meadery website for their calendar.
While traveling in Virginia's Tri-Cities area, stop by Haley's Honey Meadery tasting room to taste mead, honey and perhaps order from their menu.
Haley's Honey Meadery
235-237 East Broadway
Hopewell, Virginia 23860
GPS: N37º 18.3043' W77º 17.1483
Article written September 2019.
---
Visit these Virginia wineries and wine tour groups that partner with Wine Trail Traveler.