Saudé Creek Vineyards
by
Kathy Sullivan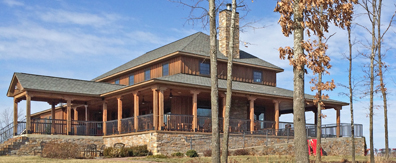 Summary: Saudé Creek Vineyards in the beautiful countryside of Virginia is an inviting winery with a focus as a one-day destination for families. Currently the land around the winery and tasting room is being landscaped to accommodate more family activities.

The Saudé Creek tasting room was opened in July 2011 by owners Jason Knight and John Britt. It was their enthuiasm in farming that sparked his interest in the wine business. They built the winery for future generations and like the idea of supporting the land with a winery and vineyards. Jason's grandmother grew up near Saudé Creek in Alabama and he named the winery after that creek.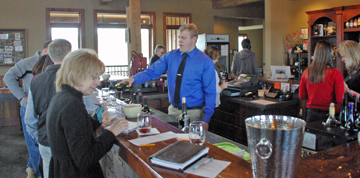 The winery and tasting room sit atop a rise that overlooks the area including Pamunkey River. The large two-story facility is constructed of dark wood and glass. A wrap-around deck with seating adds to the ambiance of the site. The Adirondack-stye chairs were built from the trees on the property. Decks extend from the building and lend themselves to lovely conversation spots for large or small groups. Jason talked about the challenges of having a winery in this area of Virginia. He mentioned that people do not realize that the winery is here. He wants people to come and enjoy this beautiful, family-friendly destination. On the Sunday of our early February visit, the tasting room was filled with people enjoying this beautiful setting.
Inside, the tasting room is cozy with a fireplace at one end and seating available. The tasting counter is in a square shape allowing plenty of counter space for visitors. A stairway leads to a loft where people can enjoy a glass of wine, view the landscape through large windows, and have an overview of the tasting room below.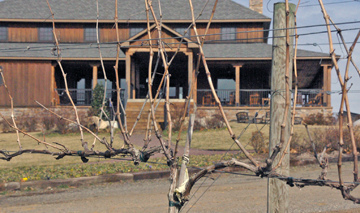 Vineyards and Winery
The first vineyards were planted in 2009 but tree-covered land needed to be cleared. The property has 20 acres that include Chambourcin, Traminette, Vidal Blanc, Petit Verdot, Pinot Meunier and Viognier. The property includes seven acres of apples. The first wine Saudé Creek Vineyards produced was an apple wine. In addition to the grapes grown onsite, the winery also sources grapes from Virginia growers.
The winery is on the lower level of the building. Oak barrels contrast with the gleam of stainless steel tanks and gray cement walls. Jason told us that he has room to grow over the years. There seemed to be plenty of room for more barrels and tanks.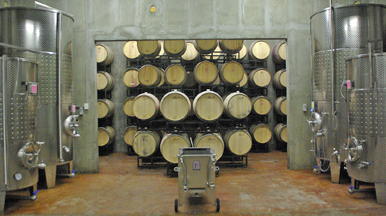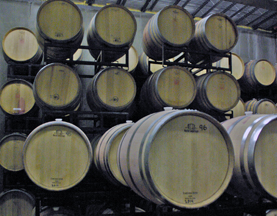 Events
Saudé Creek offers public and private events throughout the year. Public events include live music on weekends.
The Saudé Creek winery offers space for a variety of private events. Anyone planning a wedding reception, reunion, birthday or anniversary should contact the winery. Other possible events include business meetings, fundraisers and festivals. The winery can host as many as 250 people. An attractive white pergola is available for weddings. In spring 2015 a 4,000 square foot pavilion will open for additional events.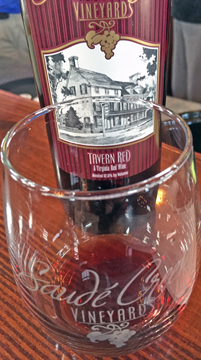 White Wines
Chardonnay Reserve 2012 with 12.7% alcohol was produced in a hybrid oak barrel. The wine was creamy with caramel and pear notes. Traminette 2013, 12.8% alcohol, was a light yellow with floral and peach notes. The wine had 1.8% residual sugar. Vidal Blanc 2012 was produced with grapes from the onsite vineyards. The 12.5% alcohol wine was a very light yellow with faint notes of peaches, floral and some citrus. The finish was crisp and fruity. Wintertime White 2013, 12.5% alcohol was a Riesling with a very light yellow color. The wine offered floral notes including rose and honeysuckle. It also reminded one of peaches.
Red Wines
Cabernet Franc 2011 with 13% alcohol was a translucent ruby color. The wine offered notes of pepper, smoke, and tannins with a hint of licorice. Merlot 2012 with 12.5% alcohol was a translucent ruby color. The wine offered earthy hints, mushroom, spice and black fruit notes with mild tannins. The finish was crisp and spicy.
The people who visit the winery are spreading the word encouraging others to visit Saudé Creek. When visiting the Williamsburg area of Virginia, be sure to schedule a stop at Saudé Creek Vineyards.
Saudé Creek Vineyards
16230 Cooks Mill Rd
Lanexa, Va 23089
GPS: N37º 31.029' W76º 53.162'
---
Visit these Virginia wineries and wine tour groups that partner with Wine Trail Traveler.