The Williamsburg Winery
by
Kathy Sullivan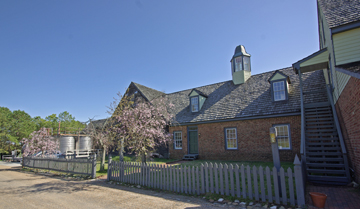 Summary: The Williamsburg Winery is a unique winery destination site for wine enthusiasts, travelers and history buffs. Enjoy a total experience at Williamsburg Winery that can include wine, winery tour, lodging and restaurant.
The Williamsburg Winery located just a short distance from Colonial Williamsburg, Virginia is a "must" visit winery destination site. The Williamsburg Winery offers quality wines, winery tour, friendly restaurant, and a delightful hotel to enjoy your stay.
History of Williamsburg Winery
Patrick Duffeler, a Belgian native, had been involved in the wine industry as an importer in Europe. Patrick wanted to be more involved in the wine industry. Another passion of Patrick's is history. After researching Virginia, he purchased a 320-acre farm near historic Williamsburg. In 1985 vineyards were planted. Eventually a restaurant, Gabriel Archer Tavern, was added to the site. Four years ago the 28-bedroom hotel, Wedmore, was built at the location.
Today, Patrick Duffeler is the President of The Williamsburg Winery and his son, Patrick Duffeler, II is Vice-President and Manager of Planning.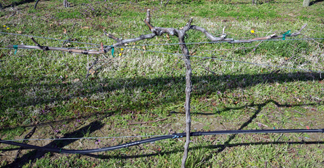 Onsite Vineyards
According to Matthew Meyer, winemaker, the onsite 36 acres of vineyards include Merlot, Malbec, Cabernet Franc, Petit Verdot, Viognier, Traminette, and Vidal Blanc. Theses varietals do very well in the area. In the future the vineyards will grow to 90 acres of vines with additional varietals including Chardonnay and Grenache. At the time of a March visit, the vineyards were pruned and vines offered views of their architecture. Williamsburg Winery also sources grapes from different vineyards within Virginia and Washington.
Tasting Room and Winery
Visitors to the winery will notice the colonial village-like appeal of the setting. From the parking area, on the left is the restaurant and to the right is the winery gift room. Those looking for a winery tasting room stop at the counter and will be guided to the large tasting room with a long counter. Be sure to notice the dollhouse-sized house made from wine corks. Patrick created this small, adorable house.
Nearby on this level is a large room for summer overflow from the tasting room as well as available as an event room. Circular ceiling lights of wrought iron add to the historical ambiance of the room.
Matthew Meyer, winemaker, is intent upon producing the best possible wine with the best quality grapes. While making wine, Matthew thinks about the wine and food. He believes that there is a marriage between food and wine.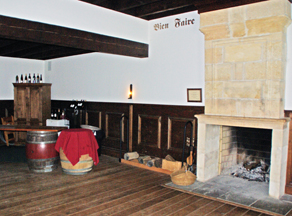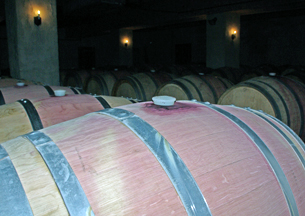 White Wines
Chardonnay 2009, Acte Twelve of 1619 offered notes of apple and pear on the aroma and taste. The taste was smooth with a hint of caramel. The wine finish was crisp and fruity. Vintage Reserve Chardonnay 2007 was light golden color with notes of apple on the aroma and taste. The finish was crisp with apple nuances. There was butter that kicks in after the long aftertaste. Sir Christopher Wren White 2009 was a blend of Chardonnay and Riesling. The wine offered floral nuances. The taste was like a fruit cocktail with peach nuances. The wine had a crisp finish. For every bottle of the Sir Christopher Wren White Wine sold, one dollar is donated to the William and Mary alumni.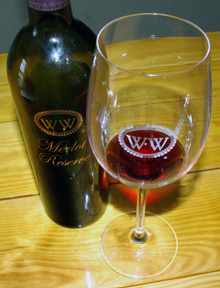 Red Wines
Lord Botetourt 2007 was a blend of Cabernet Franc, Cabernet Sauvignon, Merlot and Petit Verdot. This ruby red wine offered an aroma and taste of red ripe berries. The finish was crisp and fruity with mild tannins. Merlot Reserve 2005 was a dark ruby with nuances of black fruit. The finish was crisp with tannins. Gabriel Archer Reserve 2005 was blend of Cabernet Sauvignon, Merlot and Cabernet Franc. The wine was ruby with black fruit notes. The taste reminded one of black berries. The finish was fruity with bold tannins. Trianon 2006's name refers to three vineyards. This Cabernet Franc wine was a dark ruby to a dark purple color. The aroma and taste had notes of dark fruit and spices. The finish was fruity with bold tannins yielding to spice. Adagio 2007 was produced with Merlot, Petit Verdot and Cabernet Franc. There were nuances of dark fruit. The finish was fruity with very bold tannins.
Dessert Wine
The 2008 Late Harvest Vidal Blanc was a golden color. The aroma and taste offered apricot, honeysuckle and orange blossom nuances. The crisp finish cut the sweetness. The long finish had floral, honeysuckle and orange blossom notes.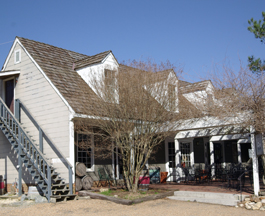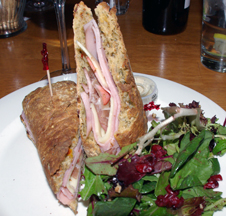 Gabriel Archer Tavern at Williamsburg Winery
Large windows along one side of the main seating area in the Gabriel Archer Tavern provides natural light. The restaurant started as a sandwich shop in 1996. The shop quickly took off and in 2002 became a restaurant.
The tavern uses local food in its preparations as much as possible. Today the winery has two acres of garden that helps to provide food for the restaurant especially greens and herbs. Local seafood is also frequently in use.
As part of this agri-tourism destination, a small luxury hotel, Wedmore Place is on the property just a few minutes walk from Gabriel Archer Tavern and the Williamsburg Winery.
Williamsburg Winery is a delightful winery and traveler's destination site. While enjoying everything the location has to offer, visitors may also want to use it as a base for their exploration of Colonial Williamsburg, only five minutes away by car.
Read about Wedmore Place.
The Williamsburg Winery
5800 Wessex Hundred
Williamsburg, Virginia 23185
GPS: N37º 13.950' W076º 43.142'
---
Visit these Virginia wineries and wine tour groups that partner with Wine Trail Traveler.