Ledgewood Creek Winery & Vineyards
by
Kathy Sullivan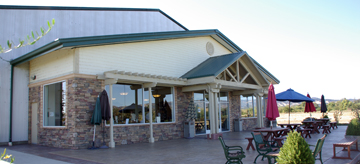 Summary: Ledgewood Creek Winery is a family winery that produces quality wine in Suisun Valley. Enjoy a choice from among many quality wines.
Ledgewood Creek Winery & Vineyards located in the picturesque Suisun Valley of California is a wonderful facility to visit and discover that the beginning of quality wine is in the vineyard and the winemaker guides the grapes into the bottle.
Dean and Bunny Frisbie purchased the property as a pear orchard in 1985 and within a few years they were planting vineyards. Today their son, James is involved in sales and marketing. Their philosophy is "If it is broken, fix it…and if it is not broken, how can we improve upon it?" They work hard in the vineyards and winery to produce quality fruit and quality wine.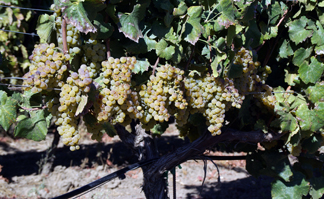 The soil is composed of clay and sandy loam. Currently the property of 400 acres includes 260 acres of grapes. Varietals include Chardonnay, Roussanne, Syrah, Merlot, Cabernet Sauvignon, Sauvignon Blanc, Mourvédre, Grenache and Viognier. A few acres of land are set aside for experimental varietals.
Larry Langbehn is the consultant winemaker for Ledgewood Creek Winery. He is also a consultant for other wineries. As a student Larry studied chemistry in college and grad school. After finding himself bored, he discovered the world of winemaking. Today he is the winemaker consultant for Ledgewood Creek and says it's fun making good wines and he made the "right choice." The winery produces 9,000 cases of wine and has a capacity to reach 135,000 cases. Larry believes, "the whole secret to Cabernet Sauvignon is the grapes."
White Wines
We enjoyed tasting several Ledgewood Creek wines with Larry discussing the attributes of each one. Viognier 2007 was a light yellow with a citrus aroma. The taste offered nuances of citrus and honeysuckle. The finish was crisp and fruity. Sauvignon Blanc 2007 offered a slight herbal aroma with melon. The taste was smooth and the finish was crisp with citrus flavors. Chardonnay 2008 Winemaker's Signature Select offered a citrus and melon aroma. The taste was silky with melon notes. The finish was crisp with citrus nuances. Three Clone Chardonnay 2007 had hints of citrus and oak. The taste was smooth with nuances of citrus. The finish was crisp.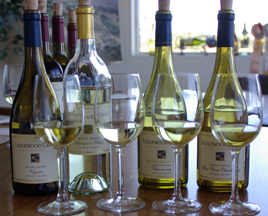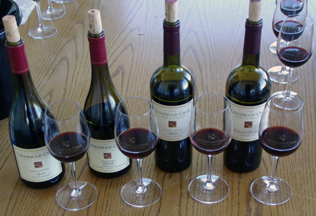 Red Wines
Syrah 2007 was a dark opaque purple with a dark fruit aroma. The taste was of dark fruit with plum nuances. There were bold tannins on the finish. GSM 2007 was a blend of 49 percent Mourvédre, 31 percent Syrah and 20 percent Grenache. The wine was a dark purple. The aroma was of dark fruit and the taste was very fruity. There was fruit on the aftertaste and the wine had tannins on the finish. Merlot 2006 offered an aroma of red cherry, earthy and spicy notes. The taste had nuances of red cherries. The finish displayed tannins with fruit notes followed by earthiness. Cabernet Sauvignon 2006 had a black fruit aroma while the taste was smooth with nuances of blackberries. The finish was fruity with bold tannins.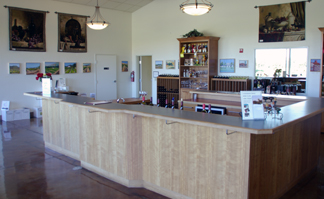 Tasting Room
The U-shaped tasting counter is made of wood and is located in the center of the tasting room. There is plenty of room to walk around and enjoy the atmosphere. While tasting wines, visitors can browse gourmet food, stemware and bottle holders. In addition, paintings are available for sale. Alongside the tasting room is a large patio with tables and colorful umbrellas. Consider purchasing a glass of wine and enjoying it on the patio while you gaze at the beauty of the area.
Wine Club
Ledgewood Creek Winery offers three wine club memberships with no fee to join. Advantages include being able to sign up for a membership depending on the number of bottles you would like to receive throughout the year. Discounts are also available in the tasting room.
With many acres of vineyards and producing quality wines, visitors will enjoy stopping at Ledgewood Creek Winery & Vineyards.
Ledgewood Creek Winery and Vineyards
4589 Abernathy Road
Suisun Valley, California 94534
GPS: N38º 16.176' W122º 05.944'
---
Visit these California organizations and wineries that partner with Wine Trail Traveler.