Vezér Family Vineyards
by
Terry Sullivan
Frank and Liz Vezér have developed a wine presence in Suisun Valley that the wine traveler will cherish. At the Mankas Corner Tasting Room location, there is a tasting room, deli, beautiful garden, outdoor event area, barrel room and apartment for rent.
Just a mile away the Blue Victorian, a restored 100 year-old house, serves as a tasting room and has two rental suites. Behind the Blue Victorian is a barrel room and surrounding the buildings are 13 acres of grapevines. Some of the grapes are pressed at this site and there are several tanks in the barrel room.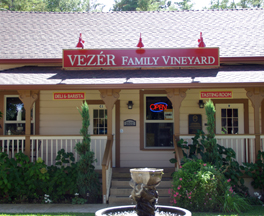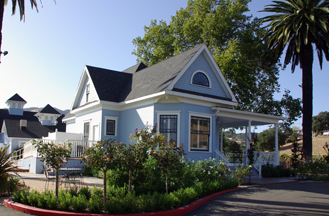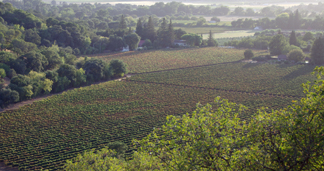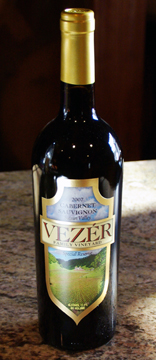 Although the Vezér Ranch is a private residence, there are over 15 acres of vineyards, a private tasting room for wine club members and a wonderful venue for weddings.
Wine travelers who meet family members will immediately sense the strong family attachment. This sense of family extends from the immediate family to relatives, workers and visitors. At the time of our visit, we were invited to attend a dinner that Liz and Frank prepared for their workers. Liz said that it was a way to say "thank you for everything their extended family does." Frank opened several wines for the workers and their families to enjoy. After the dinner several family members sprang into action, with "Uncle Frank, what can I do to help? And Dad, what do you need to have done?" It was delightful to see family, extended family and friends enjoying each other's company.
In addition to all that the Vezér family has accomplished, they also believe in giving back to the community. As such they support local charities and organizations including North Bay Medical Center, Solano Community College, Solano Land Trust, KRCB PBS Public Television, Sutter Solano Medical Center, Suisun Valley Agricultural Society and the Arts Foundation.
Read the articles and discover this wonderful family that makes superb wines in a hidden wine region of Suisun Valley. When you have the opportunity to visit Suisan Valley be sure to make a stop at one of the Vezér Family Vineyards tasting rooms.
Vezer Family Vineyards
Mankas Corner Tasting Room
Blue Victorian
Vezér Family Ranch
---
Visit these California organizations and wineries that partner with Wine Trail Traveler.