Vezér Family Vineyard
Blue Victorian Tasting Room
by
Kathy Sullivan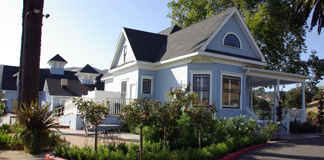 A visit to the Vezér Family Vineyards Blue Victorian is very enjoyable. Tall palm trees lead along the driveway to the house which is easy to spot from the distance. The blue structure offers a lovely ambiance both on the outside and inside.
The Blue Victorian site is home to a tasting room and barrel room. Frank and Liz Vezér purchased the house in 2007 and turned it into a tasting room. Built 100 years ago, in 1909, the Victorian style house features a steeply pitched roof. White trim emphasizes the light blue siding while the white porch adds to the ambiance of the home.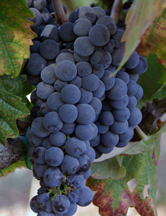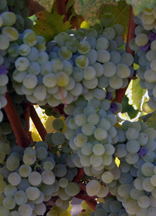 The house is surrounded by 13 acres of vineyards. Grape varietals include Primativio and Sauvignon Blanc. The barrel room is located in a separate building behind the Blue Victorian. This building is also in a Victorian style with blue siding and white trim. Large, tall double doors with arches provide space for moving equipment. When the doors are open, the arches frame the vineyards that are picture perfect. The barrel room has a high apex ceiling with large chandeliers adding a wonderful atmosphere. There are a number of stainless steel tanks. On the day of our visit Gary Galleron the winemaker, was pressing grapes.
Inside the Blue Victorian, the tasting room offers a warm ambiance with a tasting counter, round wood tables and chairs. Selections of wines are displayed on a wall wine rack. A restaurant-styled wine menu has tasting notes. A flight of four wines is $10. The tasting fee is refunded with the purchase of one bottle of wine.
The Wines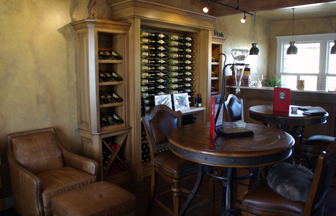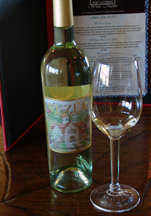 The Sauvignon Blanc 2007 had a citrus aroma. The smooth taste offered nuances of grapefruit and tropical fruits. The finish was crisp and fruity. Pinot Grigio 2007 had a crisp aroma while the taste had citrus nuances with a bit of mango. The finish was crisp with citrus notes. We had the opportunity to do a barrel tasting with Frank. First he added a Cabernet Sauvignon to our wine glass. This wine was still young with a light vegetative taste. Frank added a little Merlot and the wine changed some. This was followed with the addition of Zinfandel and again the aroma and taste changed. The last addition was Petit Sirah. The final taste offered a fruit taste and more of a full-bodied feel. It was interesting to discover what changes a winemaker can make by blending the right amounts of wine and the right wines. Frank and Liz like to blend the wines.
Enjoy a visit to a century old, Victorian style home where you can taste quality wines produced by the Vezér Family Vineyards.
Vezer Family Vineyards
Blue Victorian
5071 Suisun Valley Rd.
Suisun Valley, California 94534
---
Visit these California organizations and wineries that partner with Wine Trail Traveler.