Athena Vineyards and Winery
by
K. L. Sullivan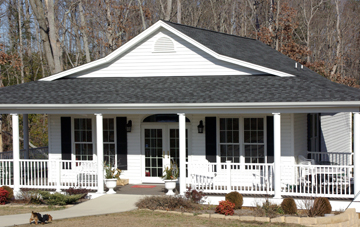 Summary: Visit a winery started by three women who actively participate in every aspect of the vineyards, winery and tasting room. This delightful winery was well planned and has a bright future. Watch for more events.
We discovered Athena to be easy to find. The tasting room is in a delightfully designed building that sparkled in the bright winter sunshine as we arrived at the wrought iron gate. The outside of the tasting room has a wraparound porch that makes the perfect place to enjoy a glass of Athena wine. Tables are also available near the building.
After meeting the three owners, Carol Spengler, Ruth Harris, and Ada Jacox, we learned that the winery was designed around Athena, the Greek goddess of wisdom. At wine festivals, the winery uses a quote, "We're glad you wisely chose our wines." They chose Athena as the name because the owners wanted a strong woman figure.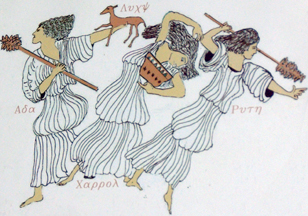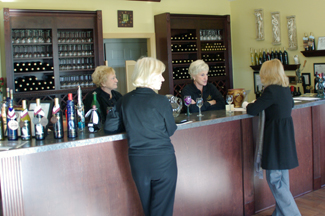 The winery was the result of three women whose first careers were in nursing and they desired to find fulfillment and enjoyment in their next career. They had three challenges to solve for a new career. Their first challenge was to search for something that they didn't already know about. Second, they wanted to do something that would benefit the community. The community has been very supportive of the winery. Third they didn't want to go broke. They have accomplished the first two goals and are working towards the third challenge.
Together Carol, Ruth and Ada worked with renowned winemaker Jacques Recht to create 15 acres of vineyards and award winning wines. Jacques is also an artist who drew the Three Athenas (pictured above) for the winery. The winery tasting room is delightful for visitors to stop at and enjoy the wines and ambience. Whether you are a visitor who buys wine because it's good or because of the bottle shape, you will enjoy Athena. Athena has several wines in unusual bottle shapes.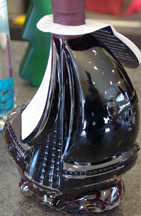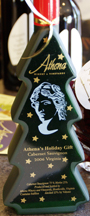 We were fortunate to talk to all three owners and they were delightful. It was easy to see that they work well together in their decision making as well as hearing that they work in the vineyards together planting and caring for the vines. It is impressive that they recreated themselves in a second career that they enjoy and that benefits the community.
Between 2002 and 2008 they planted 15 acres of grapes that include Chardonnay, Cabernet Sauvignon, Chambourcin, Merlot, Petit Verdot, Pinot Noir, Pinot Gris, Cabernet Franc, Vidal Blanc, Seyval Blanc, Sauvignon Blanc and Tannat.
On the day of our visit we had the opportunity to taste several Athena wines.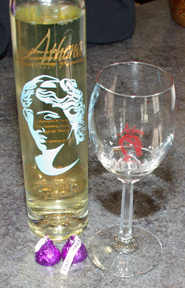 White Wine
Nightingale Chardonnay non-vintage was aged in stainless steel. The result was a wine with an apple aroma and an apple and pear taste. The finish was fruity and crisp. Chardonnay 2007 was aged in oak with a resulting aroma of fruit and caramel. The taste was creamy with butter and caramel nuances. There was butter and fruit on the crisp finish. Athena's White offered a floral and fruit aroma. The taste was like a fruit cocktail. The finish was smooth with a perceived sweetness that dried. Lighthouse White Wine had a fruity taste and finished slightly sweet. Athena Sweet White Wine offered a fruit aroma and taste. The finish was crisp and dry.
Rosé Wine
Athena's Rosé was a blend of Vidal and a bit of Chambourcin. This rosé offered a very fruity aroma and taste.
Red Wine
Nightingale Red, made with Chambourcin, had a touch of sweetness to go with the fruity taste. Cabernet Franc had a red cherry nose and taste with a crisp finish. Cabernet Sauvignon 2005 with some Merlot offered a red fruity aroma and nose. It finished fruity with some tannins. Meritage, a blend of Cabernet Sauvignon, Merlot and Petit Verdot was a dark translucent purple with a black fruit aroma and taste. The finish was crisp and fruity with tannins.
Safe Harbor was a fortified Chambourcin with a reminiscent port aroma. It offered a raisin taste while the finish was smooth, crisp and fruity. As we tasted Safe Harbor, Carol commented that with a small glass of this wine at bedtime, one would sleep through the night. Ada and Ruth agreed with Carol. All three agree that, "There is a significant amount of scientific evidence that shows that wine, especially red wines and Chardonnay, have many health benefits when drunk in moderation."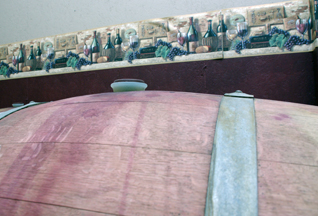 The winery building is located apart from the tasting room. Wine is currently aging in stainless steel tanks and barrels. The barrel room is large and may serve as a venue for small events. Traditional riddling racks hold sparkling wines, a reminder of the global history the wine industry shares.
The tasting room has numerous items to browse. We believe you will enjoy a visit to Athena. The community of Wicomico Church, Virginia often refers to Athena as "our" winery.
Athena Vineyards & Winery
3138 Jessie Dupont Memorial Hwy.
Heathsville, VA 22473

GPS: N 37° 50.402' W 76° 22.288'
---
Visit these Virginia wineries and wine tour groups that partner with Wine Trail Traveler.