Vault Field Vineyards
by
K. L. Sullivan
Summary: Vault Field Vineyards opened in late summer of 2007. Currently the tasting room is located in the winery building. Keith and Joanne Meenan, owners of Vault Field Vineyards, will eventually move the tasting room to a house on the property. Keith is friendly and talks easily about his wines and his emphasis on sanitizing each piece of his equipment. Be sure to ask about how his interest in vineyards began at a Kmart.
We discovered Vault Field Vineyards set back from a state road but easy to find with the building's white sides and dark green roof. Inside the winery, space is set aside for a tasting room decorated with lights, candles and bright flowers.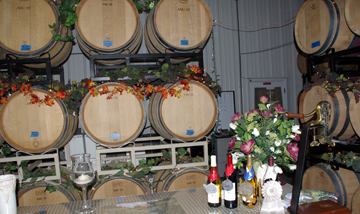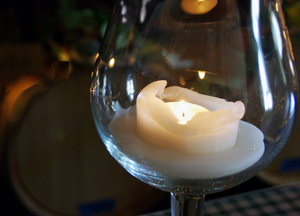 We discovered that Keith and Joanne Meenan own the winery, and with his son is dedicated to making good wine. As we toured the winery, Keith talked about how meticulous he is with cleaning and sanitizing his equipment. A piece of equipment that hoses attach to on each tank consists of 14 pieces. Keith takes apart this piece, cleans and sanitizes each separate piece to insure that no bacteria will contaminate a new batch of wine. In addition, when moving a stainless steel chain that he uses to stir the aging wine in a barrel, Keith sanitizes the chain before moving it to another barrel.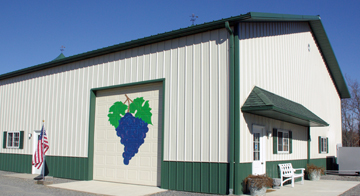 Keith was involved in the insurance industry when he discovered his passion for wine. He laughed as he recalled Kmart as being the source of this passion. He was passing through the garden section of Kmart one day when he saw little vines in a box and purchased six to build an arbor. It was not long before he began purchasing wine kits and started producing wine as a hobby.
Located just behind a two-story modular built home, Vault Field Vineyards offers several wines including red, white and rosé. Consider a stop here when you are attending festivals or visiting historic sites or museums in Virginia's Northern Neck area.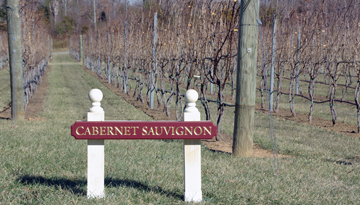 Vineyards were planted in 2005 and 2006 and the first vintage was 2006. The vineyards are located near the winery and signs identify the grape varieties. Varieties planted are Chambourcin, Chardonel, Syrah, Petit Verdot, Vidal, Merlot, Cabernet Franc and Cabernet Sauvignon.
In 2005 and 2006, Keith and his son planted 4,000 vines each year. They hope to plant another 4,000 vines by 2010. The tasting room opened in September 2008. Production continues to increase with the winery producing 800 cases in 2006 and in 2008 producing 1800 cases. It's important to Keith that he and his son have a hands on winery and as a result he hopes to build production to 2,200 cases maximum.
With all he has learned from numerous seminars and suggestions from other winemakers and consultants, Keith has the knowledge and experience to produce good wine. We taste several wines while visiting with Keith.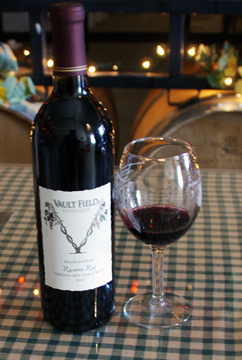 White Wines
The wines offered include Chardonnay 2007 that offered an apple aroma with an apple and caramel taste. The finish was crisp with nuances of apple and caramel. Vidal Blanc 2007 was an estate wine produced with 100 percent Vidal Blanc and aged in stainless steel tanks. The taste reminded us of a fruit salad combination and the finish was creamy. Conundrum 2007 was produced with several white varietal grapes. The aroma was fruity with apple and tropical fruit nuances. The taste was smooth and the finish was fruity.
Rosé
Rosé 2007 was a red pink color with a light strawberry aroma. The taste was soft with berry nuances. The finish was crisp and refreshing.
Red Wines
Red 2006 was a blend of Merlot, Cabernet Sauvignon and Chambourcin. The aroma was of red cherries and berries. The taste was smooth with red fruit. The finish offered sweetness. We tasted the wine again with a piece of coffee infused chocolate. The chocolate cut the sweetness. Reserve Red 2007 was estate bottled and had a dark purple opaque color. This was a blend of Cabernet Sauvignon, Cabernet Franc, Petit Verdot and Merlot. The aroma and taste were of black berries and cherries while the wine finished with fruit nuances and tannins. Red 2007, an estate wine, was a blend of Merlot and Syrah. The aroma was of black fruit. The taste was smooth with nuances of black berries. The finish had tannins and pepper.
Enjoy a visit to Vault Field Vineyards and enjoy the quality wines they offer. If you would like a cheese tray to pair with your wine, call the winery in advance.

Vault Field Vineyards
2953 Kings Mill Rd.
Kinsale, VA 22488
GPS: N 38° 00.892' W 76° 37.335'
---
Visit these Virginia wineries and wine tour groups that partner with Wine Trail Traveler.