Oak Crest Vineyard & Winery
by
K. L. Sullivan
Summary: Oak Crest Vineyard and Winery located in King George, Virginia provides a respite for weary visitors. The location among the trees and close to the vineyards is relaxing. According to the owners, Conrad and Dorothy Brandts, the winery began with a "hobby that went astray." Oak Crest "strives to make it pleasant, an oasis off the highway." As Conrad Brandts noted," We are the best little ole winery in Virginia."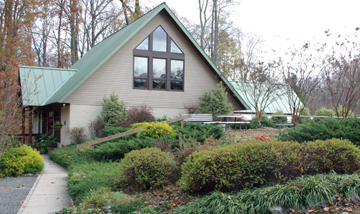 We visited Oak Crest Vineyard and Winery located in Virginia's countryside and discovered a delightful and friendly winery and tasting room. Oak Crest began as a vineyard in the mid 1980's and today the winery is supported by the family with input and work from children and grandchildren. Dorothy and Conrad Brandts and their two sons built the winery and tasting room.
The Brandts started the vineyard in 1986. The most recent plantings were in 2002. Before the winery opened, they sold grapes to Afton Mountain Vineyards. In 1999, they broke ground for the winery. They opened in 2003 and their first commercial vintage was 1999.
The approach to the tasting room from the parking lot is nicely landscaped and a narrow deck with tables enhances the front of the tasting room. The winery is housed below the A-framed tasting room and landscaped entrance, while the crush pad is located immediately outside a back door. Landscaping adds to the beauty of the A-shaped structure. Below this area, caves are used for storage and wine aging. Behind the tasting room, a patio with chairs and a fire pit provides more space during the warmer weather months. Private events at the winery include weddings, renewal of vows and birthday parties.
Inside, the tasting room is bright and cheerful and the friendliness of the owners adds to the visitor's experience. Several round tables are available with an assortment of art and wine accessories surrounding them. Consider purchasing Amish cheese and crackers to enjoy with your wine.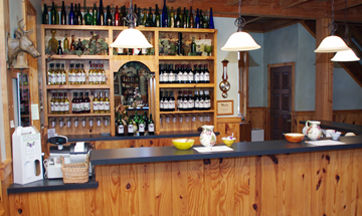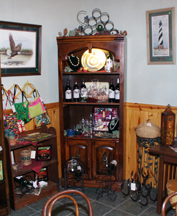 Dorothy has artistically displayed items. Numerous gift items are available including wine accessories, stained glass created by Dorothy and other artists' creations. Dorothy believes in supporting the local artists by displaying their work. Visitors will discover jewelry, cheese plates, glazed ceramic dishes, wine glasses, decanters and more.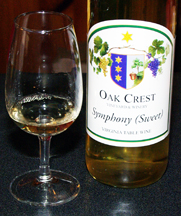 We tasted several wines. Symphony Dry 2005 offered a floral aroma, with a taste of flavors of fruit notably apricot and pear. The wine was crisp with a citrus end. Viognier 2007 had a mineral aroma with a butterscotch taste and butter on the finish. Moonlight Sonata offered a floral aroma with a taste of yellow stone fruit and a stone fruit aftertaste.
Summer Rose 2006 was produced with 100 percent Cabernet Franc. The aroma was cherry with a taste of cherries and strawberries. The wine finished crisp, with a long strawberry aftertaste. Cabernet Franc 2006 offered an herbaceous, pepper and perfume aroma. The taste had nuances of black fruit, spices and perfume. Merlot 2006 offered an aroma and taste of black fruit. The taste also had earthiness. The finish was crisp with fruit and some tannins. Cabernet Sauvignon 2004 had an aroma of black fruit with earthy tones. The taste was of blackberries and black cherries. It finished fruity with mild tannins.
Dorothy is a commercial artist and creates with stained glass. When visiting be sure to ask to see her album of work she has created. She has a studio above the tasting room and also works out of her home.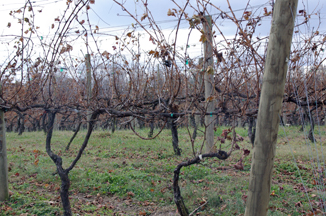 When you visit, enjoy browsing the gift section or take time and sit down with Amish cheese, crackers and your favorite Oak Crest wine. Spend time enjoying the landscaping and vineyards. When we visited in November, we were able to see the architecture of the vines in the vineyard.
Oak Crest Vineyard and Winery
8215 Oak Crest Drive
King George, VA  22485

GPS: N 38° 17.811' W77° 04.377'
---
Visit these Virginia wineries and wine tour groups that partner with Wine Trail Traveler.