Ingleside Vineyards
by
K. L. Sullivan
Summary: Approaching the Ingleside Vineyards, we saw a sign for the winery, and turned on to a gravel-covered driveway, that curved around to the winery parking lot. Vineyards are on both sides of the driveway and in the distance. A large black wrought iron gate stood open, welcoming us to enter the facility. Ingleside is large and in front of us we saw numerous tables and picnic tables under a group of shady trees. Ingleside Vineyards has a long tasting list, large gift display, two event areas and a local natural history museum.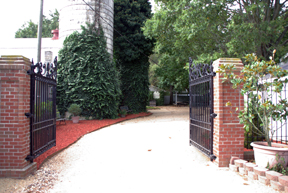 The winery is located in renovated farm buildings. The tasting room and gift room are in what was once a dairy barn. Outside is a tall silo with vines creeping up its sides. Across the way is a small museum for natural artifacts, which was a hay barn in years past.
To our left was the tasting room. Inside we met Bruce Perrygo who is friendly and knowledgeable about wine in general and about Ingleside specifically. Bruce began with the traditional tour for us. Ingleside may well have been named for the bend in the nearby Rappahannock River. It is thought that Ingleside means "bend."
Historically, it is believed that Pocahontas traveled a trail near the winery. The Flemer family has owned the property since 1890 and today the proprietor is Douglas Flemer. The vineyards were planted in the 1960's but it was not until 1980 that the commercial winery was begun. Today Ingleside has 100 acres of grapes; seventy acres at the winery and the remainder at two other nearby vineyards. Ingleside grows 30 grape varieties. All wines produced at Ingleside are from these grapes. Those involved in home winemaking may be interested in contacting Ingleside about purchasing grapes or juice.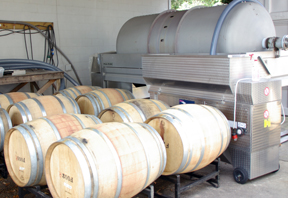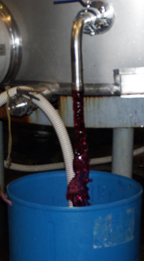 With enthusiasm for the subject, Bruce began our tour at the crush pad. A large press is used here at Ingleside Plantation. This is a bladder press but unusual from what we have seen previously. The traditional hundreds of slits were not visible. An outside shell covers the many slits and allows the juice to flow out through three rectangular holes in the middle. Bruce guided us through the winery past stainless steel tanks, oak barrels and a large bottling machine. Red wine was pouring into a plastic barrel and then pumped back into the tank. This helped add small amounts of oxygen to the wine. At Ingleside, the winemaker uses French, Hungarian and Virginia oak barrels. The bottling machine can bottle up to 3000 bottles per hour.
The winemaker, Bill Swain, who has been with Ingleside since 2002, is from California where he learned about quality wine from two college friends. Originally studying geology, he decided to change his major to enology. He has had vast experience in winemaking on the West Coast and has brought those skills and experiences to Virginia where he enjoys working with the array of grape varieties available. According to Bill, winemaking is like playing the piano. If you follow the notes it will sound good, but there are things the pianist can do to make the piece sound better. The winemaker can also make changes.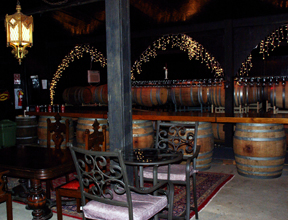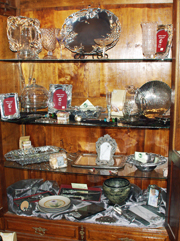 Before entering the tasting room, Bruce showed us special events tasting room. A large antique table with chairs sits in the middle. Several small tables are scattered around the area. Around the tasting area, arches decorated with white lights highlight stainless steel tanks on one side and oak barrels on the other. Small sculptures accent the area.
After the tour, we walked back through a large gift selection area of the tasting room. Here are unusual gift items including lamps and silver picture frames. While you will find some of the usual gifts associated with wineries, you will also find one of a kind type gifts. Take time to view the displays before or after your wine tasting.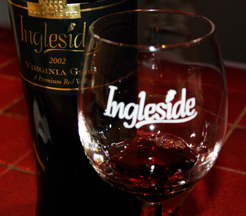 The tasting bar is made of 4-inch red ceramic squares. Visitors may choose between two tasting fees. We tasted several wines. Ingleside Plantation makes a fun wine called Chesapeake Chardonnay that is good with seafood. Ingleside Vineyards uses three different labels for their wines. The Chesapeake label is for fun, laid back wines. The white label is for premium wines and the black label is only for their reserved wines.
During our tasting with Bruce, we tried several wines. Chesapeake Chardonnay had a fruit nose with a slight apple and butter on the aftertaste. The Blue Crab Blanc is their best selling white. It is a blend of Chardonnay, Seyval Blanc, and Viognier. This has a fruit nose with fruit and rose on the finish. The Cabernet Merlot is a blend with 60% Cabernet Sauvignon and 40% Merlot. It has a dark red fruit nose with fruit and pepper on the taste and finish. The biggest selling red is the Blue Crab Red. It has a fruit nose and fruit taste.
In addition to the smaller events room, Ingleside has a large events room. Windows along the sides provide light and a large fireplace is at the end of the rectangular room. This large room is used for wedding receptions and other events. The area was also used for a prom.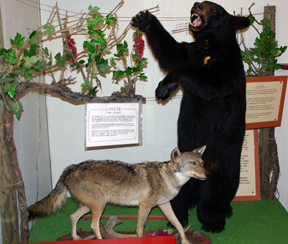 Make sure you do not miss the free Natural History Museum. If you have children with you, they will also be delighted by the displays. This museum focuses on natural history and Native American artifacts from the area. Inside we saw preserved a black bear, coyote and fox. Numerous arrowheads are in display cases. A map shows a trail for Pocahontas. On the map is a description noting facts and legends regarding Pocahontas' life.
A visit to Ingleside Vineyards will provide you with a tour, wine tasting, local natural history museum and ample room to enjoy a bottle of wine. Be sure to ask about their regularly scheduled events.
Ingleside Vineyards
Oak Grove, Virginia
GPS N38° 09.083' W 077° 00.192'
---
Visit these Virginia wineries and wine tour groups that partner with Wine Trail Traveler.