Abingdon Vineyard & Winery
by
Kathy Sullivan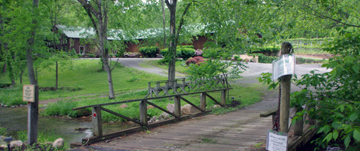 Summary: Abingdon Vineyard & Winery is a delightful winery. Plan to take a picnic basket and spend the day in this attractive countryside setting with good wines. To purchase wines, visit the winery tasting room in Abingdon, Virginia.
The roads from Interstate 81 roll, curve and dip the five miles before reaching Abingdon Vineyard & Winery. Upon reaching the driveway proceed over a small wood bridge to the parking area.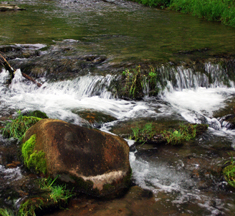 Abingdon Vineyard & Winery, in a glen with a babbling brook, is a delightful winery to visit. Located only 15 minutes from Interstate 81, the winery tasting room is open seasonally from the middle of March until the middle of December.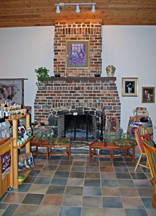 Tasting Room
Inside the tasting room, visitors will discover a pinewood tasting counter. One section of the tasting room has relaxed seating and a piano. A large fireplace adds to the ambience of the room. On the other side of the room several wood bistro tables with chairs are available for enjoying a glass of wine. A variety of wine related gift items are available including aprons, shirts, beach towels, hats, napkins, cheeses, and sausage. Visitors to the winery can purchase cheese, crackers and sausage or take a picnic basket to enjoy along the shaded flowing brook. Be sure to purchase a bottle of Abingdon wine to enjoy with the picnic.

Background
Bob Carlson and Janet Lee Nordin lived in Chicago where they were executives at AT&T. Upon retiring Bob and Janet moved to Florida. After tiring of the hot weather, they decided to return north. In southern Virginia they discovered a dream location of countryside with trees, a brook and a river. When additional nearby property became available they purchased the land and established a vineyard in 1998. The winery opened to the public June 1, 2001. It was the first farm winery to open in Washington County, Virginia.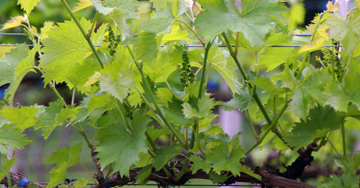 Vineyards and Winery
Today the 12 acres of vineyards include Chardonel, Riesling, Traminette, Viognier, Cabernet Franc, Chambourcin, Norton and other varieties. Nearby, two acres of grapes are overseen by Bob and used at the winery. Bob uses quality equipment in the winery including the use of ozone.

Red, White and Blush Wines
Bob Carlson is also the winemaker. Today he proudly produces 24 varieties of wine. Wine enthusiasts can choose between red, white and blush. White wines vary in sweetness and include dry, semi-sweet and sweet. Red wines include dry, semi-dry and sweet. Blush wines are available as sweet and super sweet. Wine lovers will discover a wine they enjoy.
White Wines
White Pinot Noir 2009 was a straw color. The aroma and taste had citrus and grapefruit notes. The finish was crisp with citrus on the aftertaste. Traminette 2009 offered floral and yellow stone fruit hints. The taste had roses, peach and apricot notes. The finish was crisp and fruity. Viognier was almost clear with citrus notes. The taste was smooth with a bit of tartness on the end. Riesling was a semi-sweet wine. The wine was a pale yellow with crystal highlights. It offered mineral notes and dried on the finish.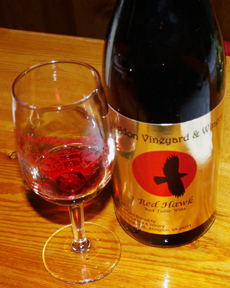 Red Wines
Red Hawk is the best selling wine. It is a blend of Chambourcin and Chardonel. The result is a smooth red with a hint of earthiness. This wine would pair well with cheese. Note the back label that says, "Fancy free hawks fly above our vineyards and can be seen shadowed by the setting sun." Chambourcin 2009 was aged in oak for 16 months. The aroma and taste had notes of red berry fruit and a touch of vanilla and caramel. The finish was crisp with very mild tannins. Bare Chambourcin was a light translucent purple and offered a smooth taste with a smooth finish. Royal Blend spent 17 months in oak. This was a blend of Chambourcin and Cabernet Franc. The color was a dark ruby. There were red fruit notes on the aroma. The taste offered notes of a red fruit salad with cherry and raspberries. The finish was crisp with mild tannins.
Host a Private Event at the Winery
A light and cheery room is available for rent. The windows overlook the patio, shaded garden and brook. The event room may be rented for small meetings or celebrations including birthdays, anniversaries and showers.
When visiting Abingdon Vineyard & Winery, bring a picnic lunch or purchase cheese, sausage and crackers to enjoy on the patio or near the babbling brook.
Abingdon Vineyard & Winery
20530 Alvarado Rd
Abingdon, VA 24211
GPS: N36º 39.487' W81º 53.300'
---
Visit these Virginia wineries and wine tour groups that partner with Wine Trail Traveler.