Amrhein Wine Cellars
by
Kathy Sullivan
Summary: Located in Bent Mountain, Virginia, Amrhein Wine Cellars is a family winery that can be reached easily from Interstate 81 or the Blue Ridge Parkway. Enjoy wines at a winery that focuses on variety, quality and consistency.
Amrhein Wine Cellars is located in the Blue Ridge wine region. The winery is about a half hour from Roanoke and Blacksburg and only a couple of miles off the Blue Ridge Parkway. According to Russ Amrhein, the winery "produces very fine quality Virginia wines." Both their red and white wines have won best red and best white awards.

Vineyards
The Amrheins became involved in the wine industry due to their enjoyment of wines. Russ and Paula Amrhein planted their first 500 grapevines in 1996. Currently the 50 acres of vineyards with 42,000 plants consisting of 20 varieties include Pinot Grigio, Petit Verdot, Cabernet Sauvignon, Merlot, Chardonnay, Traminette, Petit Manseng, Sangiovese and Syrah. The onsite vineyard is at an elevation of 2,500 feet while the other two nearby vineyards are at 1,900 and 1,200 feet. The winery is able to produce a wide range of wines due to the three vineyards located at different elevations. All grapevines are hand pruned. Russ believes that this area of Virginia is trying to determine what grapes grow the best and will produce the best wines. Currently the winery is producing 3,000 cases of wine and the owners would like to increase production. They also sell grapes to other Virginia wineries.
Tasting Room
The modern style winery and large tasting room are adjacent. The tasting room has red siding with an overhanging roof that provides shade on a hot summer day. White doors with windowpanes make an enticing visit inside. Outside the cement steps from the parking area have grapes and leaves in the design. Inside the tastefully decorated tasting room has a granite tasting counter and the floor is of light beige ceramic squares. Overhead visitors will see creative decorations of artificial grapevines hanging down with empty wine bottles used as lights. Several tables and chairs are avalable in the tasting room area. A retail area is adjacent to the tasting counter.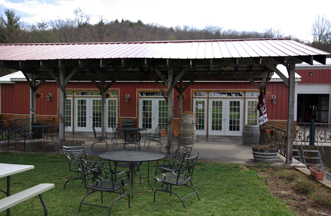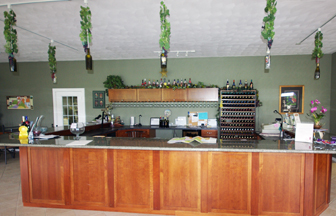 In the winery, the Amrheins focus on producing quality wines consistently. The wines have placed well in the Virginia Governor's Cup.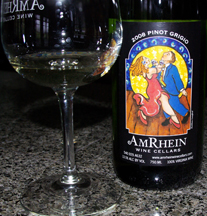 Wines
Pinot Grigio 2008 offered an aroma of grapefruit with a taste of citrus especially grapefruit notes. The finish was clean, crisp and citrusy. Traminette 2008 had a floral aroma with peach and mango nuances. The crisp finish cut the sweetness. Aglianico 2007 was aged in oak for eight months. The color was dark ruby. The aroma offered tobacco notes while the taste had nuances of tobacco and plum. The finish had spice and fruit notes.
Enjoy a visit to Amrhein Wine Cellars, just minutes off the Blue Ridge Parkway.
Amrhein Wine Cellars
9243 Patterson Drive
Bent Mountain, Virginia 24059-2215
GPS: N37º 07.164' W80º 09.129'
---
Visit these Virginia wineries and wine tour groups that partner with Wine Trail Traveler.