Château Morrisette
by
K. L. Sullivan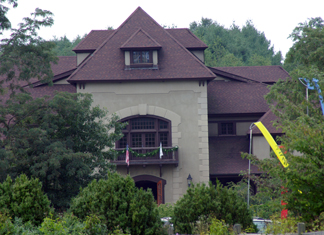 Summary: Château Morrisette is located just a hop, skip and a jump from the Blue Ridge Parkway in Virginia. Turn onto Black Ridge Road near milepost 172. This is one of the largest producing wineries in Virginia. Sarah Desper, tasting room manager, describes Château Morrisette as a "castle in the mountains." On the other side of the parking lot a fine dining restaurant is available for lunch and dinner. Guests have a wonderful opportunity to taste the place. Visitors can taste and pair Château Morrisette wines with regional cuisine made with local ingredients.
This large winery is the result of a hobby that eventually outgrew its original home. Today the original Morrisette home is the Château Morrisette's Restaurant, home to gourmet meals focusing on local foods. Within walking distance, is the large winery and tasting room completed in 1999. As you look at it, you may wonder which Hans Christian Andersen fairy tales might have taken place here.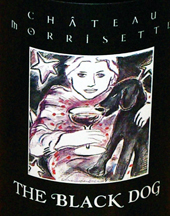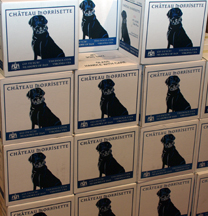 Dogs are beloved at Château Morrisette. David's dog, Hans, was his constant companion. After the passing of his dog, David Morrisette, memorialized his dog by placing its image on the label. The Black Dog wine's label pictures an artist's view of an angel with a glass of wine and a black dog sitting on her lap. Several labels use personifications of dogs. Château Morrisette is one of the first wineries to use a label with an animal on it. Today, dogs are welcome at the winery provided they are on a leash.
The large tasting room and winery was completed in 1999. The framing was from salvaged lumber and is the largest known structure of its kind. The salvaged timber in the cellar was from boom timbers in the St. Lawrence Seaway and the timbers in the tasting room were from a sea front warehouse in Seattle, WA..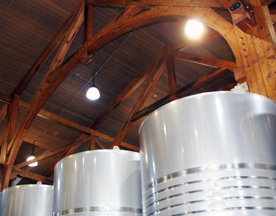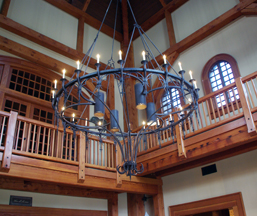 Grapes are grown in vineyards sloping down from the winery and can be seen from the Parkway. These vineyards located at 3500 feet have Niagara and Concord grapes. Other grapes are grown at a nearby vineyard. At the lower vineyard Pinot Noir, Chardonnay, Cabernet Sauvignon and Merlot grow. Both vineyards are in the Rocky Knob Viticulture appellation. The winery also purchases grapes from other growers. Currently the winery produces approximately 75,000 cases per year, which is dependant on the amount of grapes received each year.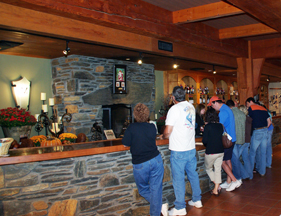 We enjoyed tasting wines in this large tasting room. The tasting counter is long and elegant. Our tastings included Chardonnay 2005 that had a light oak and vanilla aroma. The taste was velvety with fruity apricot notes. The finish had fruit and was crisp. Viognier 2006 offered a floral apricot aroma and a velvety fruity apricot taste. The finish was crisp and it dried more on the aftertaste. Liberty a non-vintage wine was a blend of Chambourcin, Cabernet Franc and Petit Verdot. The aroma was black cherry. The taste was a fruit salad of cherry and blackberries. The finish was crisp with mild tannins and fruity. A portion of this sale goes to St. Francis Service Dogs and Service Dogs of Virginia. Cabernet Sauvignon 2006 had a nose of blackberries, cherries and spice. The taste was smooth and fruity. The finish was crisp with tannins and light fruit. The aroma of the Cabernet Sauvignon 2002 was blackberry and the taste was smooth. The fruit was alive. It had a smooth finish with some tannins and fruit on the finish. Chambourcin 2006 offered a berries and licorice aroma with a smooth berry, pepper and spice taste. The finish was crisp with mild tannins. The non-vintage Our Dog Blue was a blend of Riesling, Vidal Blanc and Traminette. It had a floral, peach, melon and citrus aroma. A fruit salad velvety taste was noticed. The finish was crisp and it dried through the finish.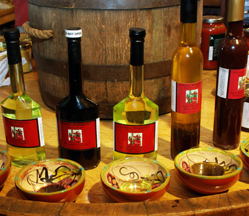 The large tasting room has numerous gift items and wine accessories to consider purchasing. Be prepared to spend time browsing the large assortment. There were samples of different flavored grapeseed oils, vinegars, preserves and even chocolate with wine sauce for visitors to taste and purchase. A good assortment of wine supplies are available. Children are not left out; there are items they may enjoy such as books that explain the vineyards and grapes. Picture books include The Grapes Grow Sweet and Julian's Vineyard Adventures. Children will discover and assortment of toys including plush animals and marbles.
Numerous events take place at the winery. On Sundays from June through October music and songs are presented as Sunday Songs. Festivals and events include winemakers' dinners, progressive wine & food tastings, Black Dog music and wine festivals and outdoor theatre events.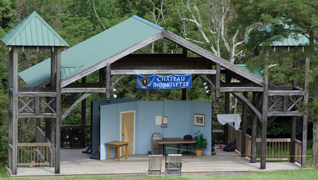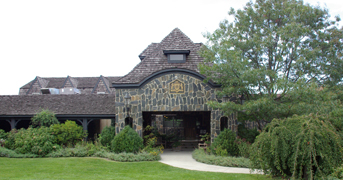 The owners believe in giving back to the community as shown by their assistance to the St. Francis Service Dogs and Service Dogs of Virginia. They also support programs for animal adoption. Château Morrisette is a friendly winery to visit and has much to offer visitors. After visiting the winery, amble to the restaurant for a fine dining experience.
Château Morrisette
287 Winery Road SW
Floyd, Virginia 24091
GPS N 36° 79.369' W080° 39.413'
---
Visit these Virginia wineries and wine tour groups that partner with Wine Trail Traveler.