Rural Retreat Winery & Vineyards
by
K.L. Sullivan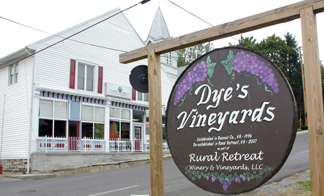 Summary: Located in the small town of Rural Retreat, Virginia, Rural Retreat Winery & Vineyard is an up and coming winery. Rather than starting with a new building, Scott and his wife chose to renovate two existing buildings. Stop by and enjoy the atmosphere in a tasting room that combines a tasting counter with a deli, consignment section for local artists and an event room. Ask about the history of the town. Rural Retreat Winery is supportive of the town.
Scott Mecimore is enthusiastic about his winery, originally located in Russell County, Virginia and known as Dye's Vineyards. Scott purchased the winery and vineyards moving the winery and equipment to Rural Retreat, Virginia in 2007. His first crush was in 2008. The current expectation is to produce close to 1000 cases for 2008.
Currently Scott owns 12 acres of vineyards nearby and leases several others. The varieties consist of Steuben, Chambourcin, Cayuga White, Vidal Blanc and Gold Muscat. Current plans include planting Traminette, De Chaunac and Seyval. Scott hopes to expand the acreage of vineyards to 17 acres.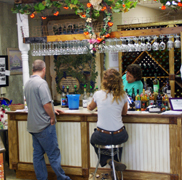 The tasting room located in the middle of town has large plate glass windows with a white wrought iron fence outside. The renovated building is enticing and tempts visitors to step inside. Visitors will discover a tasting counter, deli with tables, consignment art shop, and a comfortable seating area. Two leather sofas, coffee table and gas fireplace offer a delightful spot to relax and enjoy a glass of wine. Adjacent to the tasting room is a room available for special rentals. The winery located across the street has a large porch along the length of the building. This porch is also available for small events and activities.
The consignment area offers a variety of locally handmade articles including unique woven baskets, paintings, pottery, baby wreaths and jewelry. Framed vintage pictures are also available.
The deli provides homemade soups, sandwiches, assorted sides and desserts. Consider purchasing a bag of coffee, gourmet ciders (blueberry, peach or Muscadine), crackers or pickles.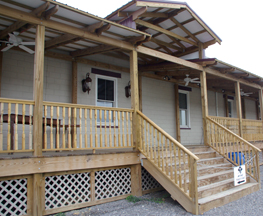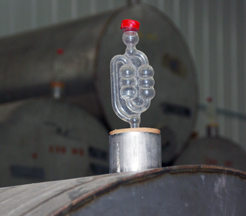 Across the street is the winery building. Inside the winery, cement walls have been covered with white siding. This renovated building has enough room for the wine production to grow. A short distance from the winery building four young rows of Traminette grapevines add a cheery note to the area. Nearby is a red caboose that is featured on a wine label.
Back in the tasting room we tasted several wines. The Chardonnay had a baked apple and spices aroma. The taste was of a fruit mixture with notes of apple, mango and banana. There was a long fruit aftertaste. Traminette offered a spice nose with a citrus (grapefruit) taste. The finish was crisp and clean. Traminette had a long grapefruit aftertaste. Sainte Marie Le Vin Blanc was a blend of Vidal Blanc and Golden Muscat. It was fruity and crisp with a lingering of sweet fruit. Russell Rosé was a blend of De Chaunac and Vidal Blanc. The Red Caboose was a semi-sweet red wine. It offered a black cherry nose and taste with sweetness on the finish.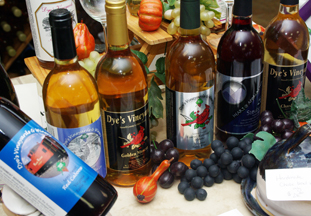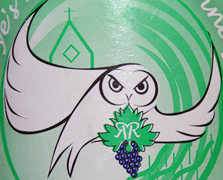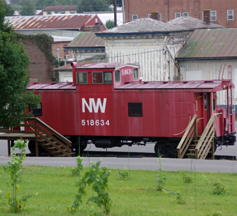 Rural Retreat has a unique history. At one time, the town was known for its cabbage industry. As the industry declined, the town became more of a bedroom community. Charles Pepper had a pharmacy here. The Dr. Pepper soft drink was named after Charles Pepper. The Rural Retreat Winery blends the old with the new. A winery, tasting room and deli are new additions. The town's caboose is featured on the Red Caboose label. The owl with the church in the background is on the Traminette label. It represents the church next to the tasting room which has owls in the steeple.
Rural Retreat Winery
201 N. Church St., Rural Retreat VA 24368

GPS: N 36° 89.460' W 81°27.668'
---
Visit these Virginia wineries and wine tour groups that partner with Wine Trail Traveler.