West Wind Farm Vineyard & Winery
by
K. L. Sullivan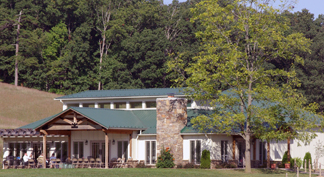 Summary: West Wind Farm Vineyard & Winery provides a little bit of heaven in southwest Virginia. This is a true family-run winery. They feature handcrafted wines. Their intention is to stay small so that they can be hands on from vineyard to the finished wine in a bottle. As Jason Manley commented, that during bottling he corks almost every bottle and therefore has his hands on every bottle. The winery opened in 2006 and their first vintage was 2005.
The West Wind Farm Vineyard & Winery is located on a family farm that has been in the family for four generations. In an effort to keep the farm in the family, they turned to vineyards that can be more profitable than other farming products. Vineyards would help to protect the land and to preserve its agricultural heritage for decades. Today Paul and Brenda Hric own the farm and with their nephews David and Jason Manley, are involved in the entire process of producing wine from vineyard to bottle. They consult together about the winemaking process and uitilize the services of a consulting winemaker.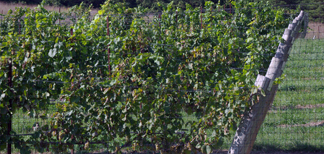 The vineyards on the property consist of five acres that were planted in 2003 at an elevation of 2100 feet. The area has a shorter growing season and average frost dates are May 10 and mid to late October. Current grapes in the vineyard include Riesling, Gewürztraminer, Pinot Gris, Vidal Blanc, Chambourcin and Cabernet Sauvignon. They lease other vineyard acres in Virginia.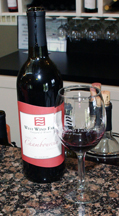 The Pinot Gris 2007 had a citrus and tropical fruit aroma. The taste was grapefruit and fruit and the mouth feel was smooth. The finish was crisp and drying. Galena Creek 2005 was a blend of Merlot, Cabernet Franc and Chambourcin. The aroma was red cherry with anise seed. The cherry taste was joined by a bit of smoke and offered a smooth mouth feel. The finish was crisp, fruity with some tannins. Chambourcin 2006 was a purple color that was barely translucent. The nose and taste were plum. The finish was crisp with mild tannins and had a long fruit aftertaste. The Cabernet Sauvignon 2006 had a blackberry aroma and smooth taste. The finish was crisp with tannins and a fruity aftertaste.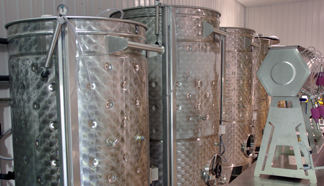 Today the community is very supportive. The local residents favor the Pinot Gris. The winery offers the community a venue for community events. While we were visiting, there was preparation for a community event. Parents with children to senior citizens were arriving and touring the winery.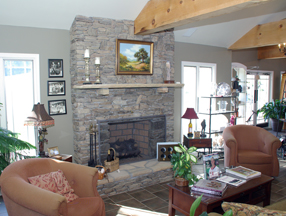 The tasting room is very friendly and welcoming. A fireplace on a cold winter day offers delightful respite. Comfortable seating allows one to purchase a glass of wine and enjoy it in the tasting room. Outside a patio adds to the ambiance of the site. Special care has been taken in choosing giftware in the tasting room. Be sure to look at the towels available with special sayings. Sayings include, "Due to the high cost of energy, the light at the end of the tunnel has been extinguished." "Why limit 'Happy' to an hour?" Enjoy browsing.
For the future, West Wind Farm Vineyard and Winery is intent upon what they are doing. It's important for them to remain "hands on" in every aspect of winemaking from twelve months of vineyard activities to the making and aging of wine.
West Wind Farm Vineyard & Winery
180 West Wind Drive
Max Meadows, VA 24360
GPS: 36° 90.200' W080° 90.952'
---
Visit these Virginia wineries and wine tour groups that partner with Wine Trail Traveler.