Best Vineyards
by
Kathy Sullivan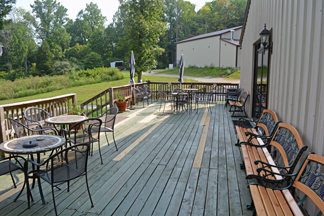 Summary: Best Vineyards located in Elizabeth, Indiana in the Indiana Uplands AVA offers dry, sweet and fruit wines. This is also the same location for Best Distillery which opened in June 2017.
Best Vineyards, in the Indiana Uplands AVA, was named for owner and winemaker, Wilbert Best. He talked about searching for farm property and purchasing the working farm with fields of corn and soybeans. He looked at alternate crops to growing corn and soybeans and was advised to plant wine grapes. Wilbert smiled when he mentioned that his Mom commented on his decision to plant a vineyard saying that it was a "mental break with reality."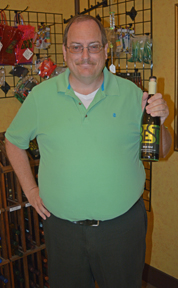 Advised to start small with enough grapes to plant one vineyard, Best soon discovered that if he ordered more grapevines they would receive a discount. Rather than order only 600 grapevines, they ordered 2,500 vines. The vineyards were planted in 2001. The grapevines did well until 2014 and 2015 when a polar vortex destroyed much of the vineyard. Best commented that the extreme cold did not bother his blackberries and he is now considering the possibility of replanting part of the vineyard with blackberries.
Best Vineyards was also allowed a fruit distillers permit allowing Best to produce brandy and cordials. He now has an artisan distillers permit that allows him to make all types of distilled spirits.
Grapes and Fruit
Today Best Vineyards has four acres of grapevines. The property also has three acres of blackberries and one acre of elderberries.
To learn winemaking,Best first began making wine with a bucket of grapes, and then began making wine in carboys. As he became more experienced he added a 50-gallon tank. Today, he has much larger tanks. Best wines are produced with grapes from the vineyards and grapes are sourced from New York, Michigan and Chile. He also sources plums and peaches. Best commented, "It's cool how you can start small with a winery and grow."
In addition to producing Best Vineyards wines, the winery also rents space and equipment to other wineries.
Best Vineyards produces dry, sweet and fruit wines. Best commented, "If you do not sell a Concord wine in this area you'll go out of business. It is what people want and expect."
Best Vineyards' Wines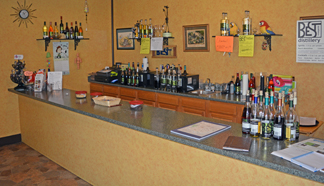 The wine tasting room is in an area next to an outside homey deck. The tasting counter is at one corner. Retail items are opposite the tasting counter.
The 2014 Chambourcin Ohio River Valley AVA was a translucent ruby color. The wine had an aroma of red fruits. The taste included notes of raspberries, cherries and some leather. The wine was medium-bodied with mild tannins. The finish was crisp and fruity.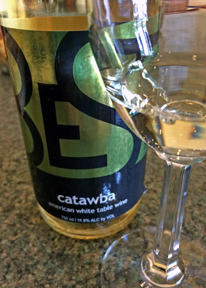 The 2016 Catawba was a yellow color. The wine had an intense Catawba aroma. The taste was sweet with a medium-body. The finish was long with floral notes. This is a wine for your favorite rocking chair or on the porch. Pair this wine with cheese.
The 2016 Blackberry, with 13% alcohol, was a translucent pinkish-purple color. The wine offered notes of blackberries. The mouthfeel was velvety. The taste was sweet but with a balanced acidity. The wine had 65 g/l of residual sugar. The 2016 Red Raspberry was 11% alcohol with 70 g/l of residual sugar. The wine was a translucent dark red color. The aroma was of intense red raspberry notes. The taste was light to medium-bodied. The wine taste was of red raspberries. The finish was long with red raspberry notes. Suggestions include pairing this wine with cheesecake or serving over ice cream. Peach, with 120 g/l of residual sugar was a beautiful yellow color. The peach notes permeated the wine. This was a full-bodied peach wine. Some people buy this wine and mix it with champagne. Mango with 120 g/l of residual sugar was "Paradise in a bottle". The color was a bright yellow. The aroma and taste offered mango notes. The wine was medium to full-bodied. The finish had sweet notes and the aftertaste lingered.
Crystal Flame was produced with the Chardonel grape. Chardonel brandy was added to fortify the wine; it had 18% alcohol. The wine was a light gold color. The aroma was floral with notes of roses and daisies. The taste was floral with dried yellow fruit notes. The mouthfeel was very smooth. The wine had no heat. The finish was long.
Events
Watch the Best Vineyards website for music events.
Private events can be held at Best Vineyards. Best recalled the first event they had scheduled at the winery. It was a baby shower. Unfortunately the remnants of Hurricane Ike were coming through and the winery and other area residents lost their power. The people planning to attend the baby shower decided it was better to visit the winery and celebrate with flashlights than it was to stay at home in the dark. Everyone had a great time and the baby shower was considered a success!
Visitors to Best Vineyards can taste a range of wines from the portfolio. Spirits enthusiasts can taste different spirits. Consider taking a tour of the production facilities. The deck offers a wonderful area to enjoy your favorite bottle of Best Vineyards wine.
Best Vineyards
8373 Morgans Ln SE
Elizabeth, Indiana 47117
GPS: N38º 09.0267' W85º 58.1246'
Related article: Best Distillery
Article written August 2017.