Chateau Pomije Vineyard and Winery
by
Meghan A. Sullivan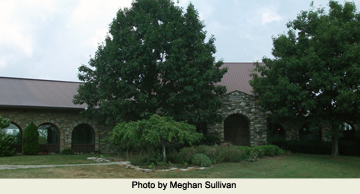 Summary: Chateau Pomije is located about 35 miles west of Cincinnati, in the rolling hills of New Alsace, Indiana. The winery was founded in 1972 by a physician from Cincinnati. The current owners also maintain a winery in Macedonia in Europe. Full of history and charm, Chateau Pomije Vineyard and Winery offers a scenic location for enjoying a glass of wine or attending an outdoor wedding.

Donald Shumrick, a physician from Cincinnati, bought the farm that Chateau Pomije now stands on in 1972. In the late seventies, Shumrick planted a vineyard. In 1986, he opened a winery on the site. Making wine was initially a pastime for Shumrick, but the winery eventually expanded into a serious business. Shumrick named the winery "Chateau Pomije" after his wife's family name.

The Anevski family purchased Chateau Pomije in 2006. They also own a winery in Macedonia in Europe, and they sell some of their Macedonian wines at Chateau Pomije.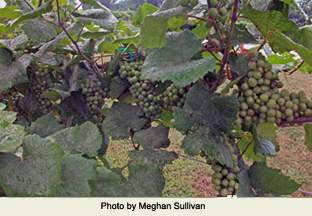 The Anevskis own 42 acres of vineyards and a total of 70 acres of land. Their vineyards contain a plethora of grape varietals, including Chardonnay, Cabernet Sauvignon, Cabernet Franc, Pinot Noir, Riesling, Noiret, Norton, Chambourcin, Niagara, and Concord. Chateau Pomije's vineyards were the first vineyards in the state of Indiana to have commercial plantings of European varietal grapes. These grapes have been thriving in the vineyard for the last 16 to 20 years. In addition to supplying grapes and juice for their own wines, the vineyards at Chateau Pomije sell grapes and juice to other wineries. Chateau Pomije's case production varies each year based on the amount of grapes and juice sold to these wineries. The case production ranges from 2,000 to 10,000.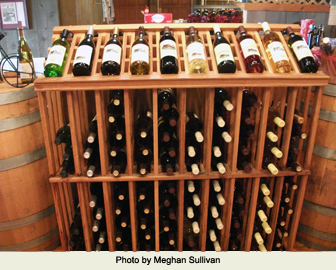 Chateau Pomije's current winemaker, Jeff McCann, worked for the original owner of the winery. McCann's most popular wines include Blueberry, Nectar Kiss, Steuben, Late Harvest, Sunset Crush, and Pinot Noir Blanc. The Blueberry wine tastes authentically blueberry, as if you were sipping a glass of liquid berries. The Steuben, made from grapes harvested in 2006, is pink in color, sweet in odor, and organic in taste. The 2008 Steuben is darker and sweeter. The Late Harvest is pale yellow and satisfyingly sweet. The Sunset Crush, another favorite, is pale yellow and mildly sweet with a slight kick. Chateau Pomije also makes Riesling, Pinot Noir, Chardonnay, Sauvignon Blanc, Catawba, Cabernet Sauvignon, Niagara, and Traminette. The Pinot Noir is a flavorful wine with a raspberry color, a spicy flavor on the initial taste, and a smooth finish. The Cabernet Sauvignon is ruby in color and has an organic smell, a flavorful taste, and a smooth finish.
Chateau Pomije's tasting room is warm and inviting with its wooden floors, stone chimney, and wine displays. The building that contains the tasting room was once a barn located across the street. Now, visitors can view art, gift baskets, and baseball hats as they choose from the wines Chateau Pomije has to offer.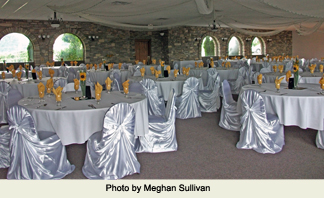 In addition to making and selling wines, Chateau Pomije also specializes in hosting weddings and wedding receptions. Other events at the winery include fundraisers, wedding rehearsal dinners, bridal showers, and wine festivals.
Chateau Pomije
25043 Jacob Rd.
Guilford, Indiana 47022