Fruit Hills Winery & Orchard
by
Kathy .Sullivan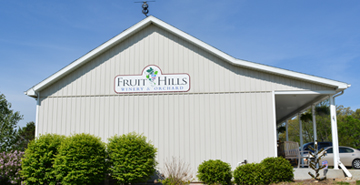 Summary: Fruit Hills Winery is a boutique, family owned and operated winery in Bristol, Indiana. In addition to a variety of red, white and fruit wines, the owners "have time to sit and talk with people." Close to Route 15 and Interstate 80, Fruit Hills Winery is easy to find.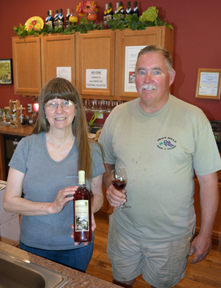 The owners David and Michele Muir, with the help of their son and daughter-in-law, started the winery in 2010 with three to four acres of apples and one acre of peaches. David had already been making wine at home for years. The farm/orchard property has been in David's family since 1852 when David's great-great-grandfather purchased the property. David's great-great-grandfather was also one of the Founding Fathers of Bristol, Indiana. Michele noted that the local Episcopal church has a stained glass window that mentions the family. At one time, this Indiana region was known as a large fruit producing area. According to the back label of a wine bottle, "To help preserve the rich agricultural heritage of the area, the Muir family has established the Fruit Hills Winery and Orchard on the site of the original Judson Fruit Farm which began operation in 1898 and is the last remaining commercial orchard in the Fruit Hills area."
Vineyards and Tasting Room
Today Fruit Hills Winery has three and a half acres of grapevines. David and Michele Muir commented that it is "easier to grow what we know we can grow." The weather is a concern. During the winter it can reach 10 below 0 degrees. That is a good reason for the Muirs to source some of their grapes such as Riesling and Cabernet Franc. Varieties planted on the estate include: Traminette, Marquette, Frontenac Gris, Vignoles, Petite Pearl and Brianna.
The Fruit Hills Winery and Orchard tasting room and winery sit high on a hill overlooking Route 15. The white building, with the tasting room located on the first floor, includes the winery on the lower floor. An attached deck with wrought iron tables and chairs, overlooks the countryside including vineyards.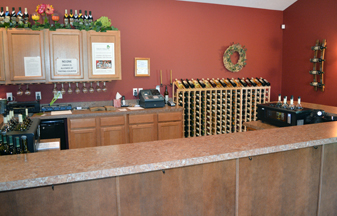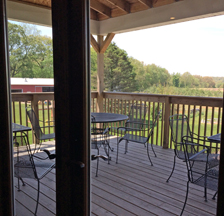 Fruit Hills Winery Story
In 2009, unfortunately David was also working a job that was terminated. At that time, there were no available jobs in the area. The Muirs attended a family wedding in Florida; while there they visited a small winery. They liked the idea of producing wine and opening a small winery. Family members' encouragement helped to provided the impetus to start a winery. Major improvements to Route 15 helped to increase visitors. As time passed, David did get his job back. Later he officially retired.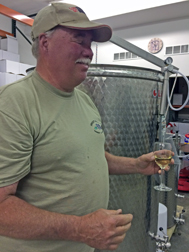 The owners want people to know that they are producing good products. Michele noted that one of their goals is to make people feel like they are the only one here. Visitors have commented that they feel comfortable and welcomed at Fruit Hills Winery. "It's a nice place to sit and relax" that's a part of what brings people back.
Wines
Grapes are also sourced from Michigan and Pennsylvania. Currently the winery is producing 1,000 cases of wine. We tasted a couple wines from tanks.
Frontanac Gris 2016 (tank tasting) was a yellow color with a very floral aroma. The taste was of tropical fruits notably yellow stone fruit and pineapple. The finish was very crisp with some citrus and tropical. Traminettte 2016 (tank tasting) was a yellow color. The aroma was floral. The taste had notes of flower and a bit of spice. The finish was crisp with flowers yielding to spice.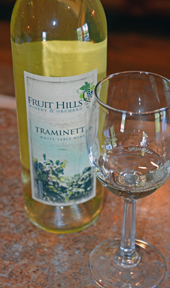 In the tasting room, we tasted several wines. Traminette 2015 was a light yellow color. The aroma was floral. The taste offered notes of flowers and tropical fruits with some pineapple. The finish was crisp with fruit yielding to mineral.
Marquette 2014 was a translucent dark red color with a dark pink hue. The aroma had cherry notes. The taste included cherry, some plum and spice. The finish was fruity and spicy. Cabernet Franc offered an aroma with light notes of green pepper. The taste was reminiscent of pepper and red fruit. The medium/full bodied wine had medium tannins. The finish offered pepper.
For anyone who enjoys fruit wines, be sure to try the Apple Wine with Cherry Juice added. This unique wine had 11.6% alcohol. The cherry juice was from Montmorency cherries. This wine had 4.5% (45 g/l) residual sugar. This was a yellow wine with a hint of pink. This sweet wine offered notes of apple and cherry tartness. Black Velvet 2016 was a very aromatic blackberry wine with notes of blackberry. The wine was produced with local, organic blackberries.
Stop by Fruit Hills Winery and Orchard when traveling through the area, and plan to spend some extra time enjoying the relaxing atmosphere and the views from the deck.
Fruit Hills Winery & Orchard
55503 St. Rd. 15
Bristol, Indiana 46507
GPS: N41º 41.3436' W85º 49.0269'
Article written June 2017.