Satek Winery
by
Kathy and Terry Sullivan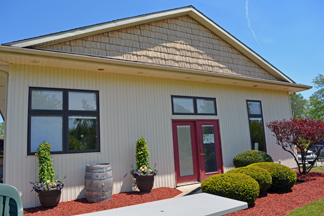 Summary: Satek Winery opened in 2001 and was the first winery in Northeast Indiana. Today the winery slogan is "Breaking ground since 2001."
Jason Satek is the second generation at Satek Winery. We met Jason in the one-story winery/tasting room facility, while staff was bottling wine. Jason explained the history of Satek Winery.
In 1975 Jason's Dad, Larry, was teaching at Washington College in Chestertown, Maryland where he had a small vineyard. Four years later, in 1979, Larry and the family moved to Illinois. In the early 1990s Larry moved to Indiana to a property that had an apple orchard. Back in 1915 this property had been purchased by Fred Kreibaum, the great-grandfather of Pam Satek (Jason's step-mother). Larry decided to plant grapes in the early 1990s and sell the grapes to other Indiana wineries. Plans were to build a winery and make wine later. Eventually the Satek's winery opened in 2001 with Pam, Larry and one part-time employee.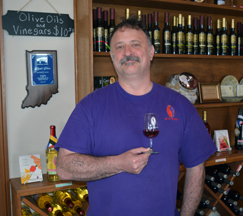 During those early years Jason (pictured) helped his parents. Jason helped to clear some of the land in 1993-1994. Over the next several years, Jason helped sporadically and then worked the summer at the winery in 2004 and 2005. He thought it would be fun to be in the business and became full time in 2006. Jason commented that people come to his father for advise. Today Jason quotes his Dad's advise, "Don't fall in love with your own stuff."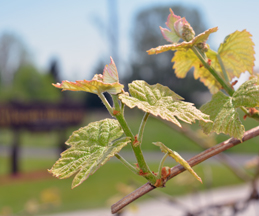 Jason wants people to know that the name Satek rhymes with attic. The winery tasting room is open 361 days a year from 10am to 6pm and tastings are free. Satek Winery is a ground breaking winery in Indiana. This is an innovative winery and Jason would love to have a business card that says "creative."
Today the Satek Winery has a total of four acres of vineyards. Two acres are onsite and two acres are at Lake James. They also have contracts with vineyards for more grapes amounting to about 20 acres. Other grapes for winemaking are sourced, many locally. During our May visit, new growth was pushing forth on the onsite grapevines.
Tasting Room/Wine Production Area
The boutique tasting room has a granite-style tasting counter. Adjacent to the tasting counter is the winery production area. At the time of our visit, workers were busy bottling and bagging wine. The wine that was bagged would be great for pool parties and boating activities.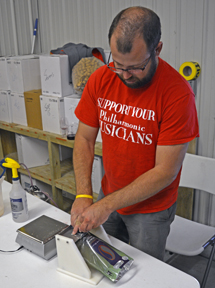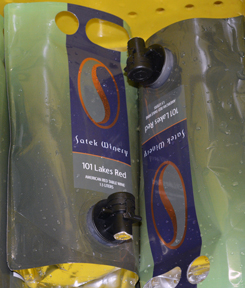 Satek Wines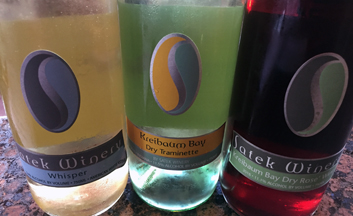 Satek Winery is producing dry red and white wines, semi dry wines, semi sweet wines, sweet fruit wines and sweet dessert wines.
Kreibaum Bay Dry Traminette 2015 was a light yellow color. This wine had a very floral aroma. The taste offered notes of honeysuckle, some pineapple and yellow stone fruit. The finish was crisp. Traminette 2015 was a yellow color. The wine aroma reminded one of a dried flower arrangement. The taste had notes of rose petals and citrus. The finish was crisp with floral notes yielding to hops. Beer drinkers may enjoy this wine. Whisper, 2015 is a popular wine. The color was a light, bright yellow color. The wine had aroma notes of lemon. The taste was crisp with notes of lemon and grapefruit. The finish was long and crisp with lemon. This is a great wine for pairing with food.
Larry's Luscious Dry Red 2013 was a meritage-style blend. The color was a translucent purple. The aroma was earthy and the taste was dry with earthy and dark fruit notes. The wine had bold tannins. The finish had notes of cranberries. This food-friendly wine can also be paired with barbecued beef. Marquette 2015 was a translucent bright purple color. The medium/full-bodied wine offered notes of spice and dark red fruits including red raspberries. The finish was dry and crisp.
Manzana was a Ffremontsemi-sweet wine produced with apples from the G.W. Stroh Orchard located only five miles away. This wine was aged in a Caribbean rum barrel. It was a yellow color. The aroma was of apple with a kick. The taste was smooth with apple and a hint of sweet rum. Manzana was full-bodied. There was a very long aftertaste.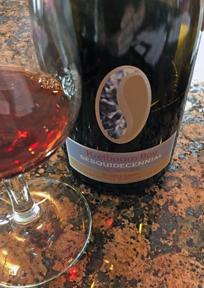 Kreibaum Bay Sesquidecennial was created to celebrate the 15th Anniversary of Satek Winery. This dessert wine was 20% alcohol. The wine was a blend of ports crafted from 2002 to 2009 and 2013. The wine was oxidized in barrels that were only half full. The wines were blended with grape brandy. The Kreibaum Bay Sesquidecennial was a ruby color with a sienna hue. The aroma was of dried red and black fruits especially raisins. The mouthfeel was smooth and full-bodied. There were notes of dried fruits, cloves, currants and nuts. There was very little heat on the finish. It was delicious.
When visiting Satek Winery to enjoy the wines, also ask about the yummy Red Wine Chocolate Fudge. Talk with the staff about the story behind Satek Winery. The winery is easy to locate, just off the Indiana Turnpike. Spend some time on the property and observe the traffic rolling by.
Satek Winery
6208 N. Van Guilder Rd.  
Fremont, Indiana 46737
GPS: N41º 43.9939' W84º 58.5375'
Article written June 2017.