Ertel Cellars Winery
by
Meghan A.Sullivan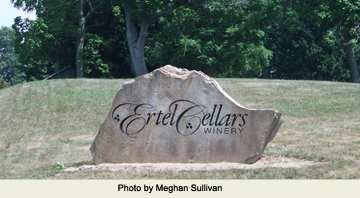 Summary: Ertel Cellars Winery, founded in 2006, caters to wine enthusiasts, foodies, and those searching for a fun and relaxing outing. The staff at the tasting bar and restaurant are committed to making their guests happy and satisfied. The facility includes a winery, tasting room, gift shop, restaurant, and vineyards.
Ertel Cellars Winery, located in the rolling hills of Batesville, Indiana, was founded in 2006 by Tom Ertel. An accountant by trade, Ertel planted his own vineyards in 1999 as a hobby. His desire to own and operate his own company led him to open Ertel Cellars, a winery and restaurant. The restaurant, which specializes in steak and seafood dishes, pairs wine with food and uses wine as an ingredient in sauces and desserts. The restaurant's chef, Ed Vollenweider, as well as winemaker Brian Ahaus and vineyardist Gary Ertel, have helped make Ertel Cellars a success by lending their expertise to the establishment.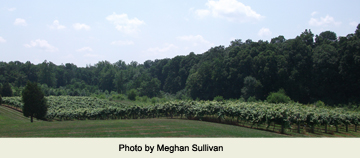 The vineyards at Ertel Cellars occupy 21 acres of land, just part of the 200 acres owned by Ertel. The grape varietals growing in the vineyards include Chambourcin, Marechal Foch, Vidal Blanc, Traminette, Vignoles, Steuben, Pink Catawba, and Vidal. Winemaker Brian Ahaus also uses Chardonnay and Cabernet grapes from California in his wines, as well as Concord from New York State and fruit juice from Washington State. Ertel Cellars produced 141,000 bottles of wine (close to 60,000 cases) from its vineyards in 2010.
The tasting room is located in a wide, open room. Upon entering the bright building, the tasting bar is on the left, a small gift shop is located to the right, and the restaurant is straight ahead. The restaurant provides guests with glimpses of the property through large windows.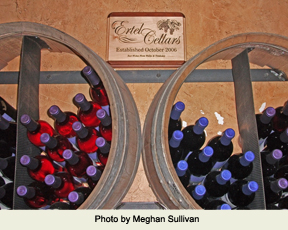 Ertel Cellars' most popular wines include their Strawberry, Blackberry, Raspberry, Vidal Blanc, and Traminette wines. The Strawberry wine is light pink, smells like the berry, and tastes sweet and spicy. This wine won an award for the best fruit wine in the nation in 2009. The Blackberry wine is ruby in color, smells earthy, and tastes sweet and tart, as though you are biting into a blackberry. The Raspberry wine is light red in color, has a full fruit flavor, and pairs well with chocolate. The Vidal Blanc has an almost clear color, a clean scent, and a crisp, medium sweet taste. It is popular mixed with orange juice. The Traminette, which has been Indiana's signature wine for the last year and a half, is almost clear in color and moderately sweet in taste.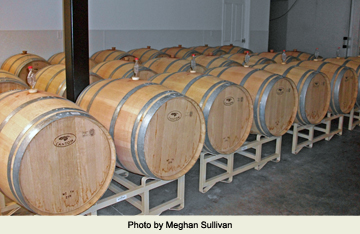 Ertel Cellars also makes Chardonnay, Chambourcin, Steuben, and a Vidal dessert wine. The Chardonnay is light yellow in color and very dry with a smooth finish. The Chambourcin, which also has a smooth finish, is ruby in color, smells earthy, and tastes organic. Mary Jane, who conducted the wine tasting, suggested that this wine be paired with food. Like the Vidal Blanc, the Steuben is also popular mixed with orange juice. It is light pink and has a sweet and earthy scent and flavor. The Vidal Dessert wine, which is a late harvest wine, is pale yellow and has a clean aroma and satisfyingly sweet flavor. Ertel Cellars also produces Cabernet Sauvignon, Marechal Foch, Vignoles, Blueberry, and Pink Catawba wine.
The restaurant at Ertel Cellars Winery offers a popular seafood buffet on Friday nights and a brunch on Sundays. The winery also hosts a wine festival every October, featuring vendors, arts and crafts, and live music.
Ertel Cellars Winery
3794 East County Road, 1100 North
Batesville, Indiana 47006
GPS: N39º 13.54' W85º 11.52'