French Lick Winery
by
Kathy and Terry Sullivan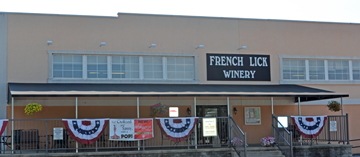 Summary: French Lick Winery in Southern Indiana is in the Indiana Uplands AVA. Beginning with the desire to grow grapes on their old family farm property, the owners expanded with a winery and tasting room that includes a large café. Also onsite is a distillery.
Visitors traveling to French Lick Winery may wonder about the name of the winery and town. This region is known for its springs and salt. The town was named French Lick most probably because of the many French settlers to the area and the mineral licks. We discovered French Lick Winery located in a large portion of the old two-story Kimball Piano factory located in French Lick. This is also the location of the large Spirits of French Lick distillery.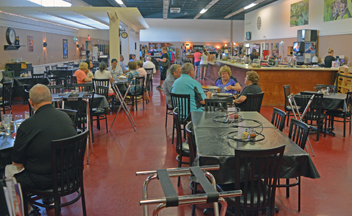 Upon entering French Lick Winery, visitors will discover a large room filled with an extended tasting bar and a restaurant. On one side of the café, large windows provide views of the winery production area. Another area of the room offers a retail section of wines, spirits and a selection of wine-related gift items.
French Lick Winery was started by Kim and John Doty who opened the winery in September 1995. They planted eight acres of vineyards on their Hoosier Homestead farm which has been in the family for 128 years. Kim and John have always enjoyed agriculture. John wanted to plant grapes. He was told by a friend that if you want to grow grapes you need to start a winery. With no background in wine, Kim and John decided to start a winery. John graduated from Purdue University with a degree in agricultural economics. He worked in the agricultural banking industry for two decades. Kim, also a graduate of Purdue University, has a degree in horticulture/greenhouse management. Using their experiences, they developed the winery.
The winery was originally started in the Beechwood Mansion in French Lick. However as production expanded they needed to move to the larger location site at the old Kimball Piano factory. Kim's and John's sons Aaron and Nick joined the production team as winemakers.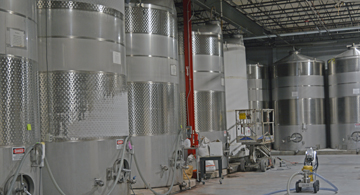 Today French Lick Winery is producing 35,000 cases per year. For this size production, the winery needs to source grapes from New York, Michigan and California. It was also noted that on their farm property, they also grow vitis vinifera grapes. Until 2005, the French Lick wines were bottled and labeled by hand.
Looking back, Kim and John wish they would have seen how much the winery would grow. They also wish that, at the beginning of their winemaking journey, they would have known more about winemaking.
French Lick Wines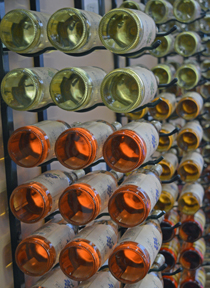 Today French Lick is making a variety of wines including: dry, semi dry - semi sweet, sweet, fruit, fortified and sparkling wines. For sparkling wines, they use the carbonation process and they noted that their sparkling wines are meant to be fun wines.
Eleganza was a Cayuga/Vignoles based sparkling wine that was semi-sweet. The wine was a pale yellow color. The very effervescent mouthfeel had notes of yellow stone fruit. The wine was refreshing and perfect for a hot summer day.
The 2015 Bella Vista with 50 g/l of residual sugar was a blend of Cayuga and Vignoles. The wine was a yellow color. The aroma offered floral notes. The taste was of yellow stone fruits including peaches and nectarines and there was a hint of honeysuckle. The wine was crisp and the finish was fruity. Heaven's Vidal was a pale yellow color. The wine offered floral notes on the aroma. The taste was slightly crisp with some sweetness and was reminiscent of tropical fruits and honeysuckle. The finish was long. Traminette 2015 had 30 g/l of residual sugar. The wine was a pale yellow color. The medium-bodied wine offered notes of spice and yellow stone fruit. The finish was long and had notes of spice.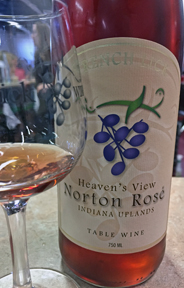 The 2016 Norton Rosé had 45 g/l of residual sugar. The wine was a light orange color with a red hue. The aroma was of red berry fruit. The taste offered notes of raspberries with a hint of strawberries. This was a 3P wine - perfect for patio, porch or pool.
Heaven's View Port was produced with Norton grapes. The port had 19% alcohol. The port was a dark ruby color with a sienna hue. The aroma was of dried dark fruits. The taste offered notes of raisins, prunes and dried cherries. This port was full-bodied and sweet. There was no heat on the finish. The aftertaste was fruity.
Vintage Café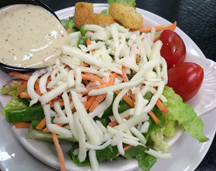 The Vintage Café is an integral part of any visit to the winery. A wide range of items are available to order. Check out the menu items including appetizers, breads & dips, salads, pasta entrees, Italian pizza, and desserts. For families there is also a kid's menu. On the day of our visit we met a couple in the café that were celebrating their 46th wedding anniversary. A winery with a restaurant is a wonderful place to visit for a wedding anniversary.
When you plan your visit to French Lick Winery, add extra time to enjoy a bite of food with a glass of French Lick wine in the Vintage Café. If you like distilled spirits, discover the Spirits of French Lick distillery. You can sample the spirits at the large tasting counter.
French Lick Winery
8145 West Sinclair Street
West Baden Springs, Indiana 47469
GPS: N38º 33.7427' W86º 36.7002'
Related article Spirits of French Lick distillery
Article written August 2017.