Brown County Winery
by
Kathy and Terry Sullivan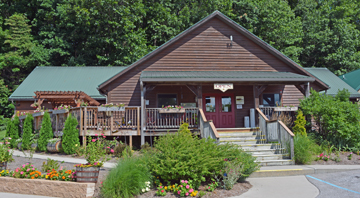 Summary: Brown County Winery in Nashville, Indiana is on the Indiana Uplands Wine Trail. The winery has a tasting room and production facility on State Road 46 and a tasting room in the historic area of Nashville, Indiana. Currently the wine portfolio includes dry, semi-sweet and sweet wines. Visitors can enjoy a glass of wine on the charming deck under the pergola. While planning a visit to Brown County Winery also include time to visit some of the many artists in the area.
The approach to the Brown County Winery and tasting room is homey. The green metal roof and brown siding may remind one of a large cabin or home with a detailed deck. Landscaping adds to the charm of the winery. A pergola on the deck creates a lovely atmosphere for enjoying a bottle of wine with a small group of friends.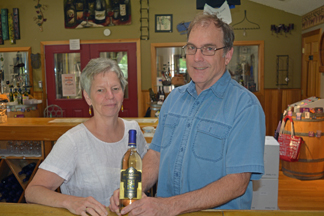 Inside, the rectangular tasting counter of light, honey-toned wood is large enough to accommodate a sizable number of people. Be sure to browse the numerous wine-related gift items available. Check out the available gourmet products, too. If you want a special treat, purchase one of the miniature chocolate cups available and ask for a wine serving in it.
Cynthia and Dave Schrodt, owners, opened Brown County Winery on July 15, 1986. Dave is the winemaker. At their location on State Road 46, they needed to build into the ridge/hill and this necessitated them pouring concrete. The result is a winery building that benefits from the cooling aspect of the below ground location. Prior to starting and opening his own winery, Dave was hired to manage a vineyard at another Indiana winery. Dave commented, "A great business I've always enjoyed it."
Production Area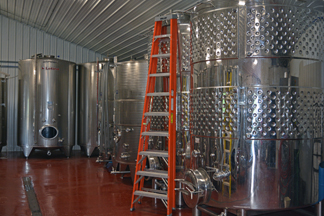 Dave and Cynthia took us on a tour of the production areas. A window in the tasting/retail room overlooks the production area giving visitors a view of the gleaming stainless steel tanks. At the time of our visit, a filtration system and pumps were connected to a tank. A bottling line is adjacent to the tanks. In another area, bourbon barrels were aging fortified wines. A newer building was built to store the production and provide lab and office space.
For the wines made at Brown County Winery, Dave and Cynthia source the grapes from midwestern states. They are crafting wines to suit consumers with a midwestern palate. In addition to hybrid wines, they are also producing natural fruit wines. For crafting fruit wines they use late harvest blackberries and strawberries. The fruit is sourced from throughout the country. Producing fruit wines allows the Schrodts to craft wines all year long. They order fruit that will be held in cold storage until the winery needs it. Port-style wines are also produced at Brown County Winery. The port-style wine is aged in used bourbon barrels.
Current production is 32,000 gallons. Twenty percent of the Brown County Winery wines are distributed and the rest are sold in the two winery tasting rooms. The winery is located in a large tourist area which increases demand for their wines.
Wines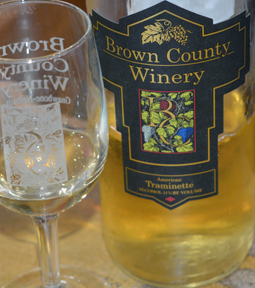 Traminette with 11% alcohol was a yellow color. The aroma and taste offered notes of spice, roses and a hint of caramel. The finish was dry with a hint of sweetness. Autumn White was a blend of Cayuga and Sauvignon Blanc. The wine offered an aroma and taste of yellow stone fruit with a hint of citrus. The finish was crisp and fruity.
Autumn Red was produced with Marechal Foch. This was an unoaked red wine with 15g/l of residual sugar. The wine was red with a sienna hue. The aroma was of cherries. The taste offered notes of cherry and blueberry. The finish was very fruity. Vista Red, with 11% alcohol, was a translucent red/purple color. The aroma was of the Concord grape with sweetness. The taste was like a homemade Concord grape juice with a hint of effervescence. Think of grape juice with a kick for adults. The wine was very yummy.
Blackberry was produced with 100% blackberries. The wine was a purple/red color. The aroma and taste were of blackberries. While the wine was sweet, there was a minuscule note of dryness. Pairing suggestions included sharp cheese and crackers or to serve with a dessert.
Old Barrel Port was crafted with Leon Millot and fortified with brandy. This was aged in bourbon barrels. It was a sienna color. The taste was very smooth with dry fruit, cherry, blackberry and prune notes. It was sweet. There was no heat on the finish.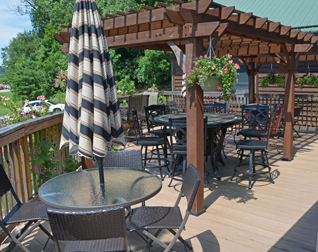 Amble through the retail area. There is a plethora of wine-related gift items for wine lovers on your gift list. Afterwards, spend a relaxing afternoon on the deck and enjoy a bottle of your favorite Brown County Winery wine. After enjoying a visit to the winery facility or the tasting room in histori Nashville, be sure to stop by some of the nearby artist locations. It is important to note that in 2012 Brown County, Indiana was designated as an Indiana Cultural District.
Brown County Winery
4520 State Road 46 East
Nashville, IN 47448
GPS: N39º 11.4347' W86º 09.7205'
Article written July 2017.