Oliver Winery and Vineyards
by
Kathy and Terry Sullivan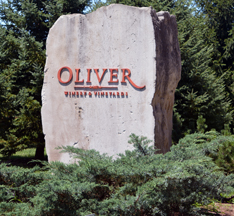 Summary: Oliver Winery & Vineyards is Indiana's largest and oldest wineries. In the 1960s, William Oliver, a law professor at Indiana University, developed a keen interest in growing wine grapes and making wine in Indiana. Years later he planted vineyards and started Oliver Winery. The second generation developed the winery even more, and after a large amount of growth, Professor Oliver's son, Bill, sold the winery and vineyards to the Oliver employees. Today the winery offers an outstanding, friendly experience for wine enthusiasts.
When we arrived at Oliver Winery & Vineyards, we met Paul Mui, who answered our numerous questions and provided a detailed description of the winery. The winery dates itself back to the 1960s when William Oliver, a law professor and entrepreneur began a hobby of crafting wine. Currently, under the leadership of his son,with some guidance by the second generation, the winery has become an employee-owned business. Paul mentioned that the employees are excited to make great wines. Current stats indicate that the winery has 300,000 visitors a year.
Wine enthusiasts to Oliver Winery & Vineyards will discover not just wine but an experience. The winery experience begins as one approaches the tasting room from the parking area. Large rectangular blocks of limestone tower upon each other. An ornate flowing waterfall with a humongous ceramic frog sits in the pond among water lilies. One feels like they were transferred to another part of the world. The limestone structures are a gentle reminder that this area of Indiana has limestone soils. Limestone soils can produce excellent grapes for winemaking.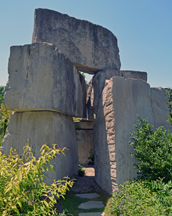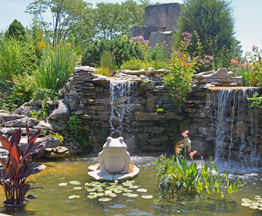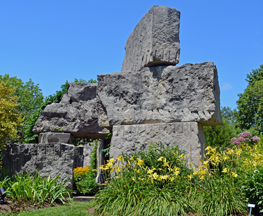 Inside, the tasting room is large. Long, overhead beams are decorated with metal sculptures of grapevines. Photos of the winery and vineyards adorn the walls, as well as, a colorful and modernistic production of a series of wine bottles. Anyone who is interested in the winery's Creekbend Vineyards will want to check out the colorful, hand drawn diagram of the vineyard with its many grape varieties identified.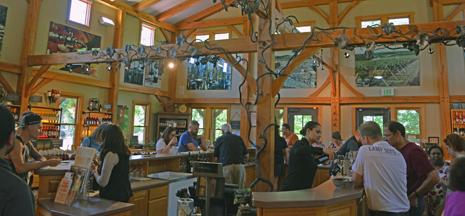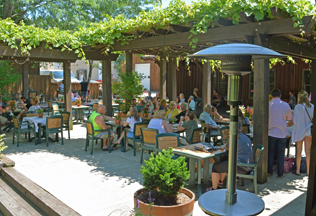 A large outdoor deck offers a splendid spot to spend an afternoon enjoying wine and a charcuterie tray. On the day of our visit a music group was performing on a small stage that is part of the deck.
Oliver Winery & Vineyards has a long history in Indiana. In the 1960s William Oliver was a professor at Indiana University. His interest in wine started while he was on sabbatical from the university. He developed an intense interest in growing grapes and producing wine. Oliver visited Cornell University where they emphasize cool climate grapes. He also visited numerous wineries before purchasing land with rolling hills and good drainage in what is now known as the Indiana Uplands AVA. Eventually Professor Oliver was producing more wine than he could drink. He became instrumental in writing and getting passed the Indiana Small Winery Act of 1971 which allowed the formation of small wineries. Today Oliver Winery produces 400,000 cases of wine.
Vineyards
A small vineyard is adjacent to the entrance to the winery and tasting room. A nearby vineyard is known as Creekbend Vineyard. It is located high up in the land. Paul commented that the vineyard is located at one of the highest points in the county. The vineyard has "wonderful water drainage" and has a bedrock of limestone. They choose to grow the best grape varieties that it is possible to grow in Southern Indiana. Current varieties in the vineyard include: Chambourcin, Crimson Cabernet, Coret Noir and Marechal Foch for the red varietal grapes. White grapes include: Vignoles, Traminette, Catawba, Vidal Blanc, Chardonel, Valvin Muscat, and Cabernet Doré. The Cabernet Doré is a cross between Cabernet Sauvignon and Norton grape varieties. This is a delightful variety. Although both parents are used to make red wines, Cabernet Doré is a white grape. It is reminiscent of a Sauvignon Blanc, a parent of Cabernet Sauvignon.
Since Oliver Winery is a large production winery, in addition to their own grapes from the Creekbend Vineyard, the winery sources grapes from around the country including California.
Oliver Winery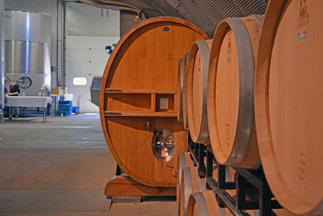 Oliver Winery & Vineyards opened in 1972 with their first wine the Camelot Mead. This mead was produced with orange blossom honey. During the 1980s Professor Oliver's son, Bill, took on the operation of the winery. Bill developed relationships with growers throughout the country. He also further developed Creekkbend Vineyard. The gardens and landscaping were fully developed. Eventually Bill sold the winery to the employees and the winery became an ESOP.
Paul gave us a tour of the production rooms. A tunnel-like area has wood barrels and wood tanks aging wines. This tunnel leads into a large area with stainless steel tanks. A secondary tasting area is set up near the tanks. An interesting piece of equipment is a centrifuge. Wineries use centrifuges to clarify wines and remove impurities.
The bottling line is large and takes up an entire room. Rather than two or three glass enclosed units, this bottling line has many units. There are also stainless steel tanks outside. These tanks range in capacity between 90,000 and 114,000 gallons.
Oliver Winery Wines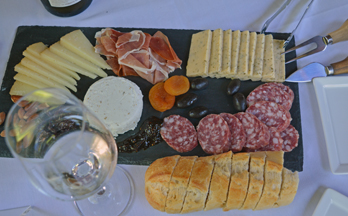 Wine tastings are served in Schott Zwiesel glassware. Charcuterie trays are available for purchase. These yummy trays may include different types of cheese, sausage, apricots, nuts, chocolate and bread. The tray is perfect for pairing with different wines that Oliver Winery produces.
The 2016 Cabernet Doré Indiana Upland AVA Creekbend Vineyard was a light yellow color. The wine offered notes of citrus with a hint of tropicals. It was reminiscent of a Sauvignon Blanc. The 2016 III was produced with stainless steel fermented Vidal Blanc, and barrel fermented Vignoles and Chardonel. This wine was produced with malolactic fermentation. The wine was a bright yellow color. The aroma included tropical fruits and the taste was reminiscent of apricots and pineapple.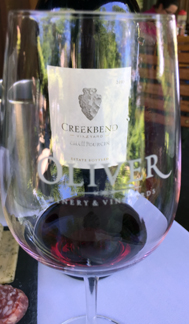 The 2015 Crimson Cabernet Indiana Uplands AVA was a translucent ruby color. The aroma was of red fruit. The taste included notes of blackberries and blueberries. The wine was crisp with a medium-full body. There were medium tannins. The finish of fruit yielded to spice. The 2015 Chambourcin offered an earthy aroma with red fruit notes. The taste was light and medium-bodied. It was dry/tart with notes of spice.
The 2016 Vidal Blanc Ice Wine Creekbend Vineyard Indiana Uplands offered floral notes including honeysuckle. The wine finished with dried yellow stone fruit. This was a full-bodied wine.
When planning your visit to the Oliver Winery & Vineyards tasting room, plan to spend some extra time with friends or family, enjoying a bottle of wine on the deck.

Oliver Winery & Vineyards
200 East Winery Road
Bloomington, Indiana 47404
GPS: N39º 16.9351' W86º 31.2686'
Article written July 2017.