Turtle Run Winery
by
Kathy Sullivan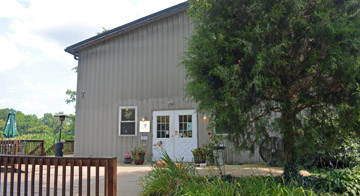 Summary: Turtle Run Winery is located in the Indiana Uplands AVA and is a member of the Indiana Uplands Wine Trail. Jim and Laura Pfeiffer are the owners and entrepreneurs at this boutique winery. Visitors who meet Jim will discover a fine source of wine knowledge.
After parking at this countryside winery and vineyard, we followed signs to the tasting room along a pathway marked with an image of a turtle. Crossing the expansive deck area we went to French-style white doors at the side of a barn-sided building. Once inside we were quickly greeted by Jim as he continued his conversation with an earlier arriving friendly wine enthusiast. Jim is one of the most enthusiastic and energetic winery owners and winemakers we have met during our travels.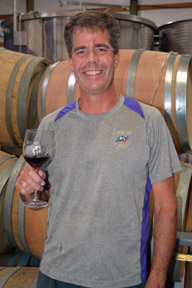 Jim (pictured left) and Laura Pfeiffer purchased the winery and vineyard farm property in 1997. The winery was named for the numerous turtles on the property. Located in Corydon, Indiana, the winery is a member of the Indiana Uplands Wine Trail.
The tasting room is a boutique size, with room at the tasting counter for about four people. A small table is also in the tasting room. Despite the small size, the welcome by Jim is large and friendly. A deck provides plenty of space to enjoy the atmosphere and the wine. The deck is also where numerous concerts are frequently held.
We discovered that Jim enjoys discussing winemaking and wine tasting while visitors taste his wines. This is a family friendly winery as might be noted by the small table of toys for young tots. The winemaking production area is adjacent to the tasting room.
The tasting room also has a selection of gourmet foods. Look for Roasted Red Pepper Bruschetta with Merlot Wine, Maple Bacon Addictive Jam and Sizzling Spicy Salsa Habanero Peach.
Jim's Wine Philosophy
We quickly discovered that Jim has more than a passing interest in how and what wine enthusiasts taste. As we talked with Jim, he cited study after study about how and why people taste differently. After college, before starting the winery and vineyard, Jim worked in corporate America for nine years. While attending college he took an intense wine course. He remembers that the professor was passionate and noted that this was not a class for those who just wanted to taste wines.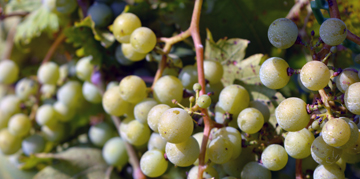 Today, when producing wine, Jim prefers European-style wines and uses European winemaking principles. "Data doesn't lie," he said. For those who seek to soften tannins during winemaking, Jim advises, "Freezing of a dry red will soften the tannins." Jim emphasized that he does not believe in using additional sugar when crafting Turtle Run wines.
Vineyard
The vineyard consists of 16 acres of grapevines. Grape varieties include: Chambourcin, Corot Noir, Noiret, Steuben, Frontenac, Vignoles, Traminette, Diamond, Catawba and St. Croix. The soil in the vineyard is primarily clay over limestone. On the day of our July visit we took a photo of the Chambourcin in the vineyard.

Turtle Run Wines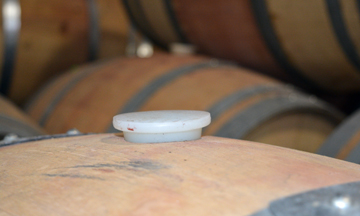 Chambourcin IV was a transparent red color with a sienna hue. This wine was aged in American oak for six months. There were cherry and leather notes. This was a medium to full-bodied wine with medium tannins.
Le Subereux Aux Pinot de Corton 2016 was barrel fermented. The wine was a bright yellow color. The aroma was intense with fruit notes, mineral and yeast. The taste was dry with mineral notes. The lingering finish was mineral and dry with tannins.
The "Tram" 2015 was a deep yellow color. The aroma offered notes of honey. The taste included floral notes, was sweet and had a hint of soft mild tannins. The back label adds, "The Tram is barrel fermented traminette in freshly toasted American oak barrels then aged 5 months on the spent yeast cells for added smoothness."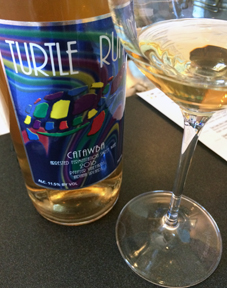 The 2016 Catawba, Pfeiffer Vineyard, was fermented on the skins because rain was threatening the harvested pressing of the grapes. The wine had 15 g/l of residual sugar and was 11.5% alcohol. The wine was a gold color. It offered notes of yellow stone fruit. It had mild tannins. The finish was crisp.
Pop's Port NV was aged for 10 years. The port was 20.5% alcohol. The wine was a sienna color and was fortified with brandy made from Turtle Run's wine. The port-style wine was full-bodied and offered notes of dried fruits. Tannins were medium to full. There were notes of raisins ad blackberries with a hint of cranberries. Despite the 20.5% alcohol, there was no heat on the taste. According to the back label, "This wine is named in honor of my Father who has been so helpful to us getting our dream of a winery up and running."
Consider extending your visit to Turtle Run Winery by enjoying a bottle of Turtle Run wine at one of the tables on their deck.
Turtle Run Winery
940 St. Peters Church Road, NE.
Corydon, Indiana 47112
GPS: N38º 12.6839' W86º 00.5562'
Article written August 2017.