Winzerwald Winery
by
Kathy Sullivan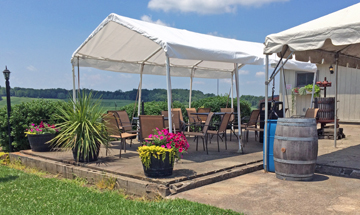 Summary: Winzerwald Winery wines and tasting room have a German-style theme. The winery is located on a beautiful site adjacent to the Hoosier National Forest and overlooks rolling hills with vineyards sloping down from the winery. Currently the owners have plans to increase the size of the tasting room and the winery.
Winzerwald Winery is a boutique winery located atop a high elevation with views of rolling hills and vineyards close to the building. Colorful flowers and window boxes create more of cottage feel as one approaches the winery. Outdoor seating on a deck is available.
At the winery and tasting room we met Dan Adams who is enthusiastic about producing and selling Winzerwald wine. "I love wine, the flavors, the aromas, making it and I love Indiana." Dan "fell in love with the wine lifestyle."
Winzerwald Winery's name was chosen from winzer meaning "winemaker" and wald "forest." The winery is located on the edge of the Hoosier National Forest. Be sure to notice the Winzerwald Winery logo, a German nutcracker. They chose a nutcracker image because the nutcracker originated in the Black Forest of Germany.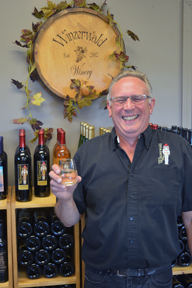 Winzerwald Winery is owned by Dan and Donna Adams. Dan explained how winemaking is in his blood. Dan commented that his father and great grandfather made wine, recalling that his father made cherry wine from wild cherries. His great, great grandfather also made wine and was a cooper. Dan commented on a legend about his great, great grandfather, Jakob Loesch. His great, great grandfather "could make a barrel so tight that he didn't lose a drop of wine." Donna's father also made wine. Dan became steeped in fine wine. About 1987, when Donna's father decided he no longer wanted to make wine, Dan and Donna acquired her father's wine equipment and began making homemade wine. To learn more about winemaking, Dan attended wine conferences.
Dan said with a smile that his mother was not happy that Dan decided to make wine. However, when Dan's wine won the best wine award in 1998/1999, she was happy. She said to Dan, "You know where those grapes came from don't you?" She proceeded to point out the location of the grapevines in their home backyard. Winzerwald Winery became a commercial winery in 2001. Dan recalled the time that after opening Winzerwald to the public, a man visited the winery. He was the original owner of the property. He told Dan and Donna how pleased he was that they had established the vineyards and winery on the property.

Vineyards

Dan and Donna have five acres of vineyards. Some of the grapevines are located close to the winery and other grapevines are growing on the family farm. Grape varieties include Marechel Foch, Chambourcin, Vidal, Traminette and an unknown German grape. This unusual grape was planted by Dan's great, great grandfather when he arrived from Germany. Dan and Donna refer to this unusual grape as their heirloom grape. They also source grapes from other Indiana vineyards, as well as vineyards in Washington and Michigan.
Winzerwald Wines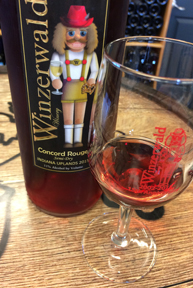 Riesling 2016 was a light yellow color. There was a floral aroma. The taste was of tropical fruits. The mouthfeel was smooth. The finish was fruity with a long aftertaste. 2015 Catawba Rosé Indiana Uplands AVA had 11.5% alcohol. The wine was a peach color. The aroma was the American grape aroma. The taste included yellow stone fruit and citrus notes. The finish was fruity. Mai Wein was a traditional-style German May semi-sweet wine. It was produced with sweet woodruff with a touch of strawberry. (Woodruff was described by Dan as a perennial herb ground cover). The wine was a blend of Vidal, Cayuga and Seyval. The color was yellow. The wine offered an aroma of woodruff with some sweetness of woodruff and spice. The finish lingered. This wine is a good choice for a rocking chair wine.

The 2015 Nutcracker Red Marechal Foch Indiana Uplands AVA had 11% alcohol. This was an estate wine. The wine was translucent with a sienna hue. The aroma was of red fruits. The wine offered notes of cherry and raspberries. The wine was medium-bodied with mild tannins. The finish was crisp with the fruit yielding to spice. The 2015 Concord Rouge Indian Uplands AVA was a refreshing wine with 11% alcohol. The wine was a translucent red color. This semi-sweet wine offered notes of the Concord grape. There were cherry notes on the finish.
Ambrosia Port with 17% alcohol was produced with Gewürztraminer and fortified with neutral spirits. It was aged in neutral oak. This wine had a yellow color with a floral aroma. The taste included notes of floral and yellow stone fruits. The mouthfeel was velvety and there was no heat on the fruity finish.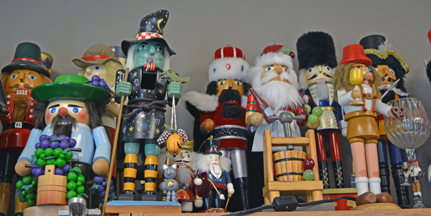 Winzerwald Winery is a delightful, boutique winery to visit. Take advantage of the outdoor seating and relax with a glass of Winzerwald wine while enjoying the lovely countryside views. While in the tasting room, check out the collection of nutcrackers.
Winzerwald Winery
26300 N Indian Lake Road
Bristow, Indiana, 47515
GPS: N38º 13.7541' W86º 39.7004'
Article written August 2017.