Botham Vineyards


by
Kathy Sullivan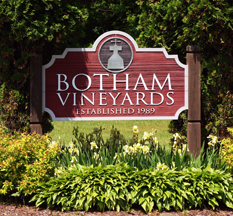 Summary: A stop at Botham Vineyards will provide visitors with a relaxing and enjoyable time. Peter and Sarah Botham, owners of Botham Vineyards, want people to enjoy their visit and taste wines that represent "taste the place." According to Peter, "I hope you get a sense of [place] here." In keeping with this sentiment while visitors won't find Cabernet Sauvignon, Peter believes they will discover that "all of our wines are well crafted." Discover wines produced with Leon Millot and Marcehal Foch grapes grown in their vineyards.
The approach to Botham Vineyards in Barneveld, Wisconsin is delightful in June with the fresh green foliage lining the roads outside of Madison, Wisconsin. With 10 acres of thriving grapes planted on sloping hills surrounded by The Nature Conservancy, the drive is scenic. The driveway provides a leisurely approach past vineyards, a home, and large red painted barn.
Vineyards
The 10 acres of vineyards are situated on hillsides and surrounded by The Nature Conservancy. Leon Millot and Marechal Foch grapes grow well in this area of Wisconsin. The winery sources other grapes New York's Finger Lakes region, also a cool weather climate. The vineyards are well maintained. The grass is kept short and Peter believes that this is why insects are not prevalent in the vineyards. The last time he needed to spray a pesticide was 12 years ago.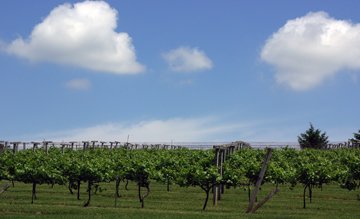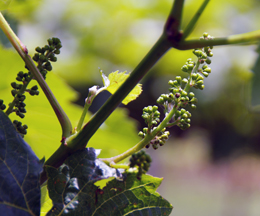 History
In 1989, Peter Botham planted the vineyards and the first vintage was in 1993. The tasting room opened in 1994. During those years, the Bothams worked to make the changes necessary for a winery and tasting room. Previously this property had been a cattle farm owned by his father. Peter recreated the farm into a vineyard and winery. Today Botham Vineyards produces 10,000 cases of wine. In 2002 a new larger building was added to house the stainless steel tanks and Italian bottling line. Sarah pointed out the tallest stainless steel tank. This tank holds 3500 gallons more than the Bothams' entire first year production.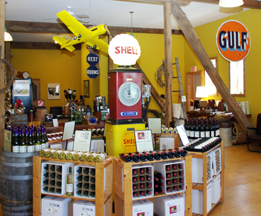 Tasting Room
The tasting room is located in a "hung" barn built in 1904. A wooden ramp makes access to the tasting area easy. Sarah explained the construction of a "hung" barn and compared it to a suspension bridge. The construction of the barn was extraordinary and even after 100 years the structure was out of sync by less than one inch. The original flooring is in place. In renovating the building, it was important for the Bothams to keep the integrity of the barn. To the side of the barn, a large patio with a stage is available for entertainment and enjoying wine. For those who prefer inside seating, a large section of the barn has tables and chairs available.
The tasting room provides a look at vintage America. Enjoy the old style gas station pumps and model airplanes hanging from the ceiling. There is plenty of room to wander and discover many wine related accessories and gifts. Displays are arranged on antique tables. An old chest with its lid open is an intriguing use of period furniture. In keeping with the nostalgic aspect of the winery, every year on the second Sunday of August there is a Vintage Celebration. It features over 150 vintage and rare sports cars, racecars and touring sedans exhibited against the lush vineyard at the peak of the growing season. The day also includes live music on the terrace, outdoor wine service and food.
Explore the wine accessories including bottle stoppers, bottle openers, foil cutters and bottle holders. Also browse the gourmet foods available. Food items include Pinot Noir Vinaigrette, Roasted Garlic Vinaigrette, Grape seed oil, Raspberry Liquor Hot Fudge, various salsas and relishes, Cranberry Mustard and Orange Ginger Mustard Dip. Pre-filled gift baskets are available for immediate purchase or one can personalize a gift by choosing a basket and filling it from the many items available.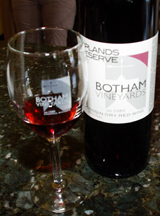 Wines
After a tour of the facility we tasted several wines beginning with the 2007 Upland Reserves produced from Marechal Foch grapes. The aroma was earthy while the taste was light with a bit of earthiness and slight strawberry nuances. Non Vintage Big Stuff Red was produced with Marechal Foch and De Chaunac grapes. It had nuances of strawberry on the aroma and strawberries flavors. The finish was sweet and the sweetness brought out the fruit. Badger Blush made from Marechal Foch grapes was a transparent orange color. The wine had a sweet finish from the 2.7 residual sugar. Vin X (Vin 10) made with Geisenheim grapes had a slight hint of yellow color. The aroma was spicy and floral with a taste of apples and pears. The finish was crisp.
It's obvious that Peter and Sarah have created success with hard work and determination. Together they have created a comfortable and fun place to spend an afternoon. To sum it all up, Peter commented, "I really like what I do." There may be no better place to learn that than a visit to Botham Vineyards.
Botham Vineyards
8180 Langberry Rd.
Barneveld, Wisconsin 53507
GPS: N42º 59.446' W89º 53.349'
---