von Stiehl Winery
by
Kathy Sullivan
Summary: Von Stiehl Winery located on the edge of Algoma Marina, Lake Michigan offers an unusual story and a one of a kind tasting room and winery. Wines produced at von Stiehl Winery are produced from Wisconsin fruit and California grapes.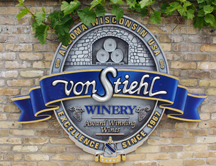 Enjoy a visit to Algoma, Wisconsin a small town on the edge of Lake Michigan. One of its attractions is the Von Stiehl Winery located in an historic building. The bronze plaque next to the door notes 1868 National Register of Historic Places. According to the winery, it is the oldest licensed and continuously run winery in Wisconsin. The von Stiehl building is of an Austrian style built with local bricks. The bricks are "cream city" bricks created mostly of sandstone.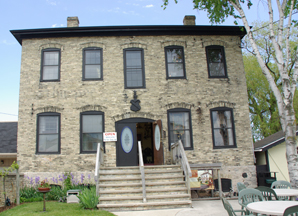 Originally, the historic building was built to house a brewery, Ahnapee Brewing. One of the brew masters was Henry Schmiling. In 1886, a fire caused $600 worth of damage but Henry was cautious and had purchased fire insurance. Traces of the fire can still be seen on the outside wall of the building. The brewery came to an end in 1888 as a result of a major drought. Any hops available in the area needed to be used to feed livestock.
Other businesses owned the building including a washing machine company that produced a washing machine using gasoline to operate. Eventually the building was vacated from 1942 until 1966 when Doctor Stiehl purchased it after needing more room to produce his wine.
Doctor Stiehl began winemaking as a hobby using fruit available in the area. He pioneered the cherry wine industry in Door County. He began with cherries since he owned cherry orchards and eventually added apples to his inventory of wine. He moved to the present location when his wife told him to move his winemaking out of the house. Today Brad and Aric Schmiling own the winery. They are ancestors of the brew master Henry Schmiling who worked in the same building making beer during the nineteenth century. Today the winery produces 16,000 cases of wine. They added grape wines to their production. The von Stiehl vineyards consist of 2 ½ acres of Marechal Foch and Frontenac located only 4.5 miles from the winery.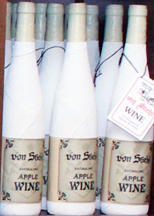 Doctor Stiehl began an idea of preserving wine by wrapping bottles in Plaster of Paris as doctors would wrap a cast. Today the winery wraps some of its bottles in gauze and then protects it with a combination of paste and paint. It takes one week to add this technique to several cases of wine. Although they have discovered this does not help to preserve wine, it does add a sense of history and uniqueness to the bottle. It might be a perfect gift for someone with a cast.
Tour
The tour at von Stiehl was extensive with our guide, Sissy. Sissy and her husband owned the town printing press until recently. As a result she knew detailed information about the winery from the von Stiehl brochures they printed. On the tour we learned that the caves below the winery are built from limestone. When you visit be sure to ask about the ghost of Henry Schmiling that may or may not exist. Also the trolls are of interest. Dr. Stiehl liked to believe that the purpose of a troll is to keep only good sprits in the wine. One of the trolls has a duster in her hand and is alleged to dust and clean, however Sissy remarked that she had never seen the troll working.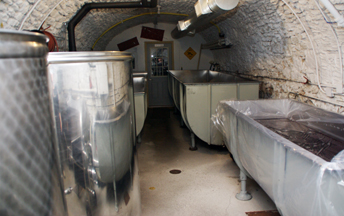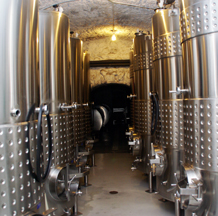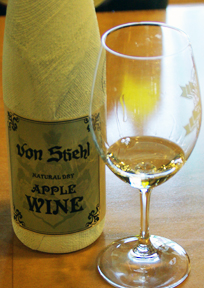 Tasting Wines
We tasted several wines in the tasting room. Sparkling Muscat offered an orange and tropical fruit aroma with a very sweet taste that lingered. We noted that this is a sparkling wine sealed with a screw cap. Dry Riesling with 0.2 residual sugar was produced from grapes sourced from Washington. The aroma had floral and peach nuances and the taste offered peach and pineapple notes. The finish was crisp and became drier on the finish. Octoberfest was a blend of Vignoles, Gewürztraminer and Riesling. The result was floral and citrus tones. The taste was like a fruit salad. The finish was sweet, crisp and fruity. Stoney Creek Blush was produced with grapes from the von Stiehl vineyard – Marechal Foch and Frontenac. The color was a red/pink with a fruity aroma. The taste was sweet and tart, reminiscent of sweet and sour cherries. Stony Creek Blush finished crisp and fruity.
Fruit Wines
Dry Apple Wrap was produced with Wisconsin apples. The aroma and taste were of apple while the finish was very dry. Sweet Cherry was produced with Wisconsin cherries using Dr. Stiehl's recipe. The aroma and taste were of cherries and the finish was crisp with a cherry finish. There was a nice balance of sweetness with tartness.
Be sure to ask about the tour and enjoy tasting wines. Tables are in front of the winery so consider purchasing a glass of wine and enjoying it in the sunshine.
Von Stiehl Winery
115 Navarino Street
Algoma, WI 54201
GPS: N44º 36.538' W87º 26.119'
---