Mason Creek Winery


by
Kathy Sullivan

Summary: Enjoy a visit to Mason Creek Winery located at Old Lynndale Farms in Pewaukee, Wisconsin. Here you will discover a winemaker who is passionate about producing quality wine.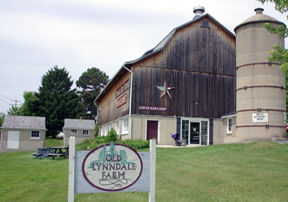 Mason Creek Winery is the result of Kyle Gomon falling in love with wine and eventually becoming fascinated with the process of winemaking. Gomon is an engineer and also teaches classes at a technical school. After eight years of producing wine from grapes in the sunroom of his home, Kyle wrote a business plan and two years later discussed it with others. After determining there was a market for his wines, he established Mason Creek Winery, naming it after the creek running past his home. After producing wine in his home, Kyle moved the winery to an old 1930's gas station. Five years later he was ready for a larger space.
Today Mason Creek Winery occupies a rented space in a turn of the century barn where he has been located for three years. To the side of the tasting room is a bakery that specializes in gluten-free bread. During the early 1960's the barn was purchased by a developer who established a renowned racetrack nearby and used the barn for maintaining the sports cars.
The current winery area is divided into two spaces. One is for the stainless steel tanks, many of which are milk tanks frequently found in Wisconsin. The other half of the area is dedicated to the tasting room where visitors will discover many hand-decorated pieces of glassware including stemware and vases. Several different types of crackers are available including bite-sized cookies and Focaccia Crisps -Tuscan style crackers.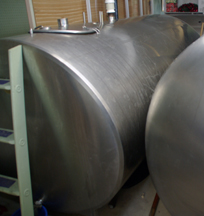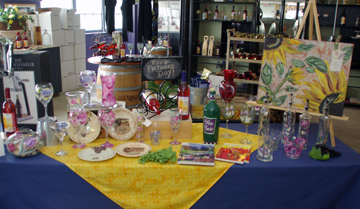 While Kyle has attempted to source Marechal Foch grapes from Wisconsin, it is not practical as most vineyards that have Marechal Foch grapes keep them for their own winemaking. Kyle sources wine grape juice from New York and California.
Two of the wine labels are particularly unique, the wine label for the Swanky Cat and the label for the '47 Pickup wines. Swanky Cat pictures a cat dressed in a suit and tie with a hat. '47 Pickup depicts a picture of a blue 1947 pickup truck. Kyle's cousin, who is on staff at The Art Institute of Chicago, created both labels.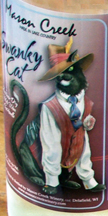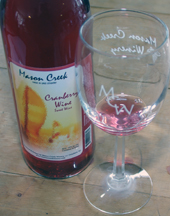 Wines
Kyle produces several wines. Swanky Cat was made from Chardonel grapes. The aroma was reminiscent of baked pie with citrus notes. The citrus taste finished crisp with a grapefruit aftertaste. Goman's Gold offered an aroma of apple nuances with a smooth mouth feel. There was a floral essence on the finish.
River Red was made with Marechal Foch grapes. It had a cherry with a hint of strawberry aroma and taste. The wine finished crisp and fruity. De La Flirt wine was named by a customer who suggested "flirt" during a contest. De La is from the town's name. Produced from a Steubin grape, the taste was sweet and light. It would be good for warm sunny days. Cranberry was produced with grapes from Wisconsin. This wine is most popular between Thanksgiving and New Year's Day. The residual sugar is three percent and the alcohol is 12 percent.
Events include July Wine Days and Vino Rest Sip in September. Frequently on summer and fall weekends live music by local artists can be enjoyed. Visitors are welcome to pack a picnic and enjoy it on the grass outside of the winery.
When you visit Mason Creek Winery, enjoy visiting with Kyle and discovering his enthusiasm for wine and winemaking.
Mason Creek Winery
N47 W28270 Lyndale Rd
Pewaukee, WI 53072
GPS: N43º 06.289' W88º 18.480'
---