Red Oak Vineyard

by
Kathy Sullivan

Summary: Red Oak Vineyard opened in 2005 and currently produces 2,000 cases of wine. The urban winery's tasting room is located in Sturgeon Bay. Enjoy tasting red, white and port wines created by Andy Wagener.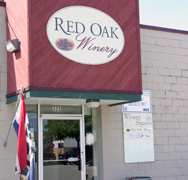 Visit Red Oak Vineyard, an urban winery located in historic Sturgeon Bay, Wisconsin. The tasting room is located in Winery Square. With a large parking area on each side of the "Square" and only one entrance to the winery, be sure to persevere and you will discover a tasting room with a lovely décor and quality wines.
We met Karen Redland , manager, and Paul Landstrom, distributor, in the winery tasting room. They both were able to give us details about the history of the winery while we tasted several wines. One of the owners and winemaker is Andy Wagener. Andy learned about growing grapevines from his grandfather. This is the fifth year for the winery. The seven acres of vineyards were planted on Andy's father's property a few miles away from the winery. Varieties include Marechal Foch, Seyval Blanc, St. Pepin, Marquette and La Crescent. The winery also sources grapes from California.
The tasting room is long with subdued lighting. Several tables and chairs are available for sitting and enjoying a glass of wine. Colorful material has been artistically draped from the ceiling. The dark cranberry color wall behind the tasting counter adds to the sophistication of the cabinets and wine displays. Comfortable cushioned chairs line the tasting counter.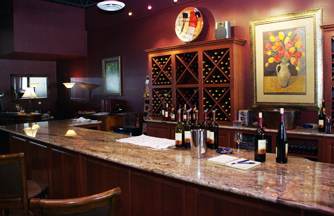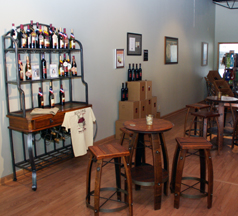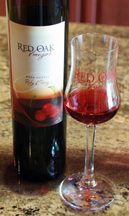 Red Oak Vineyard produces about 2,000 cases. On the day of our visit we tasted a Cabernet Lodi 2003 that offered an aroma of faint blackberries and spice. The taste was of blackberries and pepper while the finish was crisp and fruity with pepper and tannins. Door County Cherry Beaujolais 2004 had a cherry aroma and taste with a crisp finish. Ruby Cherry Port with an alcohol of 17.2 percent offered an aroma and taste of slight cherry. There was slight heat on the finish. Captain Nick's Port names after Andy's grandfather, had an alcohol of 18 percent. The wine had a berry jam aroma with a smooth, fruity taste. There was a bit of heat on the fruity finish. Captain Nicholas Wagener was the youngest captain on the Great Lakes when he was given his first command.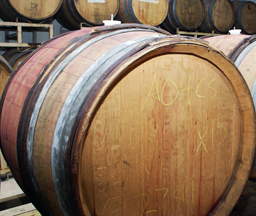 Located below the first floor businesses, the winery is not open to the public. This is where 2,000 cases of Red Oak Vineyard wines are produced in stainless steel tanks and oak barrels
While in Sturgeon Bay, stop in the tasting room and enjoy the quality wines available. Enjoy wines in the afternoon or evening while vacationing in the area.
Red Oak Vineyard
325 N. Third Avenue
Sturgeon Bay, Wisconsin 54235
GPS: N44º 50.245' W87º 22.753'
---