Stone's Throw Winery

by
Kathy Sullivan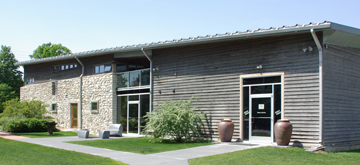 Summary: Stone's Throw Winery in Wisconsin is a charming winery to visit. The tasting room is housed in a combination vintage barn and new addition created by a Japanese architect. Numerous vinifera wines are available and a very welcoming staff quickly greets visitors.
Russell Turco, owner and winemaker, established Stone's Throw Winery in a renovated 90-year-old barn. A Japanese architect designed the renovations leaving stonewalls exposed both inside and outside the tasting room. The result is a special winery experience for visitors. In addition to the tasting room, a private tasting room is available for the Aventura Wine Club members. A new wine bar was added call Vino Vino. In addition, this café style area will have longer evening hours. Wine tastings and tapas will be available.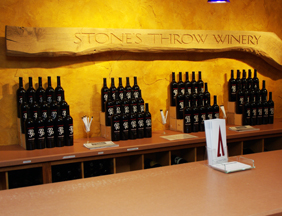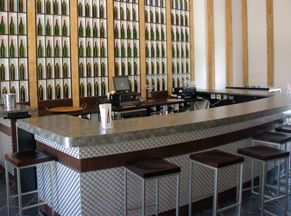 Stone's Throw Winery is one of the friendliest wineries we have visited and they are excited about producing quality wines. Most of the wines at Stone's Throw are produced with California fruit. Russell is particular about the fruit he uses and visits California vineyards before deciding which vineyards he will source fruit from.
We walked through the nearby winery building, which was spotless. Stone's Throw Winery is one of the neatest and cleanest wineries we have visited. The winery should win an award for cleanliness. They are very careful about not contaminating any of their equipment and use best practices in a winery. We were fortunate to taste wine from barrels. The wine assistant carefully wiped the "bunge hole" before and after extracting wine. This is the first time we have seen such care taken. One of the oak barrels was carved with a detailed image of Stone's Throw Winery.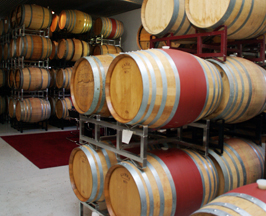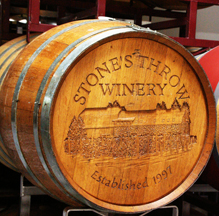 A few feet from the tasting room there is a one-acre piece of property that was the site of a vineyard. The grapes only produced enough for harvest in three out of twelve years. Russell decided to pull the vines and restore the soil. In Spring 2010, he plans to replant with a new varietal grape.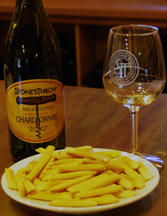 Sparkling Wine
We tasted several wines in the traditional, restored tasting room. California Sparkling, a Brut, was a blend of Chardonnay and Chenin Blanc. The wine was fruity, crisp and palate cleansing.
White Wine
The fruit for the 2007 Riesling was obtained from Monterey County. Mineral notes were on the aroma and the taste was fruity. The crisp finish had fruit and mineral notes. Bianco, a blend of Chardonnay, Sauvignon Blanc and Viognier offered a grassy aroma and citrus taste. The crisp finish had notes of grass that yielded to citrus. Consider pairing this with shrimp or lobster. Reserve Chardonnay from Mendocino had a tropical aroma with a smooth tropical fruit taste. The crisp finish had layers of fruit including banana and mango.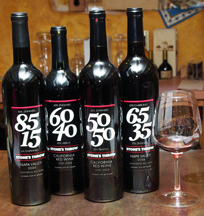 Red Wine
Dry Creek Zinfandel 2006 offered a red fruity aroma. The taste was fruity with earthy nuances. The finish was crisp with fruit notes and tannins. Petite Syrah was a dark purple color with a black fruit aroma. The taste was soft and the finish had good tannins. The Dolcetto 2007 offered a black fruit and spice aroma. The taste was of plums and vanilla. Tannins and fruit nuances were on the finish. Petite Verdot 2007 Clarksburg Rockin' Randy's Vineyard was a dark purple with a dark fruit aroma. The taste and finish were fruity with tannins on the finish. Old Vine Merlot 2007 offered an aroma and taste of dark fruit. The finish was chewy with tannins. There is a series of wines with numbers for their names. The numbers represent the percentage of the two varietal grapes that make the blend. The 2006 vintage of 65/35 was a blend of 65 percent Charbono and 35 percent Zinfandel. The aroma was spicy with a taste of black fruit. The finish was chewy with tannins. Cabernet Sauvignon Sonoma offered a blackberry aroma and taste. The finish was fruity and chewy with pronounced tannins.
Port
Zinfandel Port was fortified with an Italian grappa. The aroma was reminiscent of fruit jam while the taste was of jam and chocolate. The jammy finish had some heat.
Wine Camp
Three separate days are set aside for Wine Camp. These one-day camps include arts and crafts and wine tastings. Join the fun and be sure to register before events are sold out.
Take time to visit Stone's Throw Winery. Enjoy the experience and the delicious wines. Consider registering for Wine Camp.
Stone's Throw Winery
3382 County Road E
Baileys Harbor, Wisconsin 54202
GPS: N45º 03.297' W87º 11.494'
---