Vines to Cellar Winery

by
Kathy Sullivan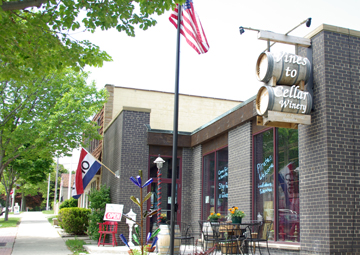 Summary: Vines to Cellar is a micro-winery located in historic Port Washington, Wisconsin. A unique aspect of Vines to Cellar is that customers have the opportunity to create their own wines with help at the winery. Supplies are available for home winemakers and home beer makers.
Vines to Cellar is a new winery located in the heart of Port Washington, that opened in November 2008. The winery is located just two short blocks from Lake Michigan where ships dock. The owners, Jim and CJ Wirsching-Neuser are friendly and enthusiastic about winemaking. Plan to visit, taste wines and stay awhile.
The original building where Vines to Cellar is located was a law office. Eventually an art co-op occupied the site and today Vines to Cellar has filled the colorful space with a tasting bar, tables and shelves of wine-related items. The walls are orange, purple and yellow. The solid cement tasting counter is enhanced with a purple border and shiny epoxy top. Several tables with brightly colored chairs add to the fun atmosphere of the winery. In addition, a tasting counter with high stools encourage visitors to come in and stay.
In the first six months of operation, the winery produced 9,000 bottles of wine from kits. Customers produced 60 batches of wine at the winery. By creating wine from small kits, Jim and CJ believe that they can offer a larger selection of wine styles to their customers. They want people to realize that the winery is a fun place and that you don't have to know a lot about wine to enjoy it. They are happy to help you make your own batch of wine at their winery. If you want to make wine at home, the winery offers wine supplies.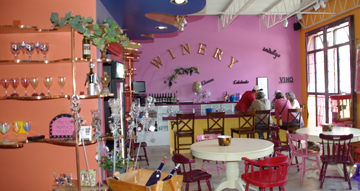 History
Jim was first interested in beer when he was in Germany. When he returned to the United States, he discovered that the beers he liked were expensive and he decided to produce some of his own beer. It wasn't long before he began making his own wine.
Events
The location of the winery is conducive for events. Wine tasting parties are available. Jim and CJ will help you personalize your private wine tasting party. Individuals and groups can come in to taste and make wines. This Spring 2009 the winery participated in Relay for Life. More events are planned. They want to add more events especially those that support worthy causes.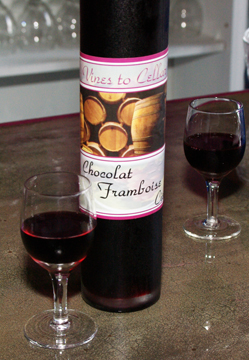 Wine
We tasted several wines beginning with Jacobs Ladder. This was from a Cabernet/Syrah kit and was a purple opaque color. The aroma and taste had some dark fruit nuances. The finish was crisp with mild tannins. Vino D'Amore, made from a Barolo wine kit was a red-purple color with a smooth, fruity taste. The finish was crisp and fruity with mild tannins. Chocolat Frambrosie Ceil, a Chocolate Raspberry Port, offered a chocolate aroma with a chocolate and raspberry taste.
We have met numerous people in our travels that either had a wine kit or wanted to buy a kit to make wine, but were reluctant to start. There may be a certain fear that it wouldn't turn out right. Vines to Cellar is the perfect answer for these individuals. Vines to Cellar has an excellent assortment of kits as well as winemaking supplies and will offer guidance along the way. You can make wine without having to purchase additional equipment such as carboys.
When you are in the area of Port Washington, stop in at Vines to Cellar Winery and visit with CJ and Jim.
Vines to Cellar Winery
114 East Main Street
Port Washington, Wisconsin 53074
GPS: N43º 23.308' W87º 52.207'
---