Orchard Country Winery
& Market


by
Kathy Sullivan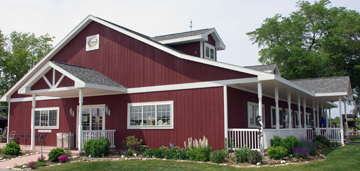 Summary: With a large farm market, wine tastings and a sip of cider, Orchard Country Winery & Market has much to offer visitors. A pleasant part of the tasting room ambiance is the attention by the staff. Visitors will experience a working family farm with pick your own fruits, home-made products and seasonal festivals. During our visit we met Carrie Viste, one of the owners and managers of the winery. In an email she wrote, "Our family business is a true working farm with opportunities to see the grounds, harvest the fruit and taste award-winning products made from those same fruits-the healthy door county cherry being the highlight."
Orchard Country Winery & Market is easy to discover with its100-year-old bright red barn. With 95 acres of fruit, there are numerous wines to try in the tasting room. Vineyards consist of five acres of grapevines that include Marechal Foch, Frontenac, St. Pepin and La Crescent. Orchards include seventy-five acres of cherries and twenty acres of apples and pears. The winery also sources grapes from California. The result is that the winery produces around 11,000 cases of wine.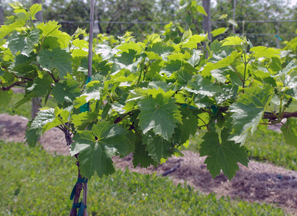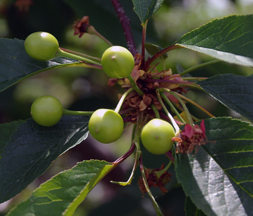 History of Lautenbach Farm
The farm was purchased in the mid 1950's by Ruth and Bill Lautenbach. The first Montmorency cherry trees were planted in the 1960's. One of their children, Robert, began managing the farm in the 1970's and by 1975 had established a roadside market. In 1985 the dairy barn was renovated and the winery started. Robert and his two daughters, Carrie and Erin own and manage the winery and market. Today the winery has a tasting room with a large retail segment.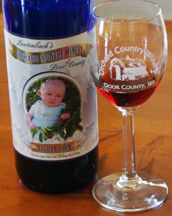 Tasting Room and Wines
The market and tasting room offers wine accessories and gourmet foods The market and tasting room offers wine accessories, gourmet foods and hundreds of products made with local cherries including salsas, pies, and preserves. You are sure to find something for everyone on your shopping list. Enjoy browsing throughout the shop and don't miss the other product tastings located throughout the spacious market.
We tasted some of the wines. Audrey Grace wine was named after the first grandchild and her picture is on the label. This wine was produced with Marechal Foch and Frontenac. The wine offered earthiness notes and a fruity taste of red fruit. Some tannins were on the finish. Natural Dry Cherry wine was from Montmorency cherries. The color was a transparent red/orange. With a faint aroma of cherries and a light cherry taste, the finish was tart and dry. There were cherry notes on the aftertaste. Nathan John, named after the first grandson, was a blend of Marechal Foch and Frontenac with a bit of Bing cherry. The aroma had earthiness and the taste was of a slight red fruit. The tart finish was hand a hint of sweetness with light tannins. Door County Lighthouse wine was in a blue wine bottle shaped as a lighthouse. The label features watercolor artist Jack Anderson's painting of Eagle Bluff Lighthouse. They consider this a collector's item. Door County Lighthouse wine is 90 percent grape wine and 10 percent cherry wine.
Activities
If you like a challenge, visit during Summer Harvest Cherry Fest and participate in the Cherry Pit Spit. Other acitivities include guided winery and garden tours, pick your own cherries and apples, seasonal festivals and live music events. An art gallery and framing shop is located on the property, as well as the Door County Trolley Co.-offering a guided tour of four Door County wineries. Return during the winter months for a horse-drawn sleigh ride.
A tour of four wineries in Door County is available using the Door County Trolley Ride. Tickets are available at Orchard County Winery & Market and many of the tours start at the winery.
Orchard Country Winery & Market
9197 Highway 42
Fish Country, Wisconsin 54212
GPS: N45º 07.014' W87º 14.800'
---