Trout Springs Winery

by
Kathy Sullivan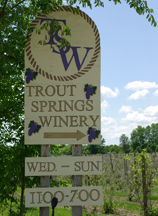 Summary: Combine a fish hatchery, swans and a winery and what do you have? A one of a kind agri-tourism site where visitors can enjoy wine tastings and view a fish hatchery that includes swans.
We enjoyed a visit to Trout Springs Winery where we met Steve and Andrea DeBaker, owners of Trout Springs Winery who have their hands involved in a number of activities, all related to self-sufficiency.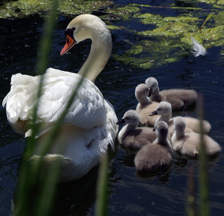 When they moved to their current location, they discovered an artesian well. This led to the development of a fish hatchery. Currently four pools are on the property fed with water from the artesian well. Every Thursday, the largest fish are taken to area restaurants ensuring that restaurants will be serving fresh fish on weekends. Next to the pools a small pond had a cob and hen. The hen was busy looking after her cygnets (swans).
Five acres on the property were devoted to a horse pasture. Eventually as horses aged, it was time to find a new use for the property and Steve and Andrea focused on vineyards. The first plantings had drip irrigation installed. After the first year, they realized that because of the spring fed property, drip irrigation was not necessary. They needed to add a tile draining system to the vineyards to help drain water from the vines, as grapevines do not like "wet feet."
Today the vineyards are planted with French American hybrids including Frontenac, Frontenac Gris, St. Pepin, La Crosse, La Crescent, St. Croix and Brianna. They also have plantings of the American grape, Niagara. Steve mentioned a late frost in 2008 that took a toll on the vines but they are coming back.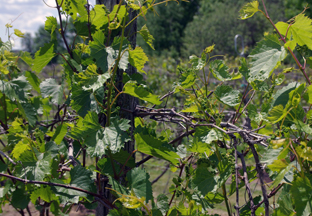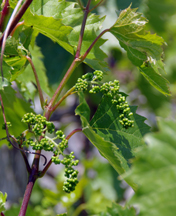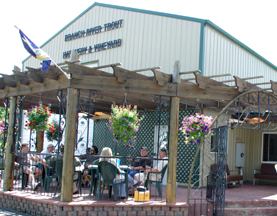 The winery has an outdoor deck with a wrought iron fence and colorful hanging baskets with summer flowers of pink, purple and red. Tables and chairs make it an inviting spot to stop and enjoy a glass of wine. At the time of our visit, several members of ALE (Appleton Libation Enthusiasts) were enjoying the afternoon and Trout Springs Wine.
The only grapes used at Trout Springs are grapes from their own vineyards and from California. Currently the winery is producing 3,000 cases of wine and Steve hopes to reach 5,000 cases. We tasted several wines in the tasting room.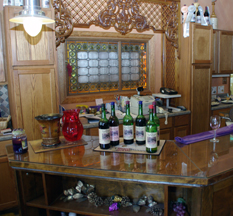 La Belle Blanc offered a citrus taste with a very crisp finish. Autumn Rouge was a blend of Frontenac, Leon Millot, Marechal Foch, Swenson Red and offered a brick-red color. There was pepper on the taste and the wine finish was crisp. Autumn Rouge Reserve was a blend of Frontenac, Leon Millot, Marechal Foch, Swenson Red and Marquette that resulted in a dark purple, opaque color. The aroma and taste were of plum. The finish was crisp and fruity with tannins. Babordo Vino Nuovo offered a black fruit jam aroma with a sweet, smooth and fruity taste. The finish was nicely balanced with no heat on the finish. The alcohol was 20 percent. Babordo Vino Vecchio with a ruby color was aged four years. The aroma was of jam and raisins. The taste was sweet and velvety with jammy flavor. It too had an alcohol of 20 percent and there was no heat on the jammy finish.
Steve and Andrea are looking forward to using almost 100 percent of their grapes by making health items from the skins and seeds. When you visit be sure to ask about the specialty foods available in the tasting room. They include homemade pesto made by Andrea DeBaker.
Trout Springs Winery
8150 River Road
Greenleaf, Wisconsin 54126
GPS: N44º 14.868' W87º 55.162'
---