Kerrigan Brothers Winery

by
Kathy Sullivan

Summary: A visit to Kerrigan Brothers, betweenGreen Bay and Appleton just off Highway 41, Wisconsin provides the opportunity to taste an assortment of fruit wines. Visitors will discover some unusual fruit wines such as Pineapple Wine and a Tomato and Jalapeno Wine. This new winery building is a nice place to stop and taste wines especially for those who like wine or beer.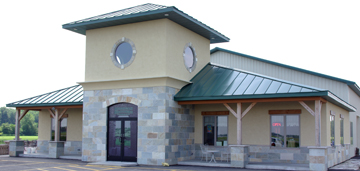 On the last day of our trip to Wisconsin in June, we stopped at Kerrigan Brothers Winery and visited with Troy Landwehr, owner and winemaker. As Troy commented, "I am from a family of entrepreneurs." Troy began as a home brewer making beer and wine. He began producing fruit wines in a basement and opened the winery in 2000. In 2008 he moved into the current winery building. The winery is named after two of Troy's uncles. On the ten-acre property, Troy has begun planting raspberries and apples. He hopes to plant several more acres of fruit on the property and add a pick-your-own fruit segment to the property.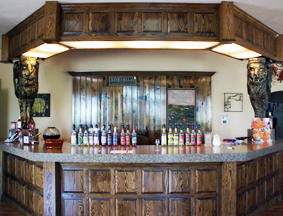 Troy designed the building with a patio on the left. Over the main tasting area, a metal embossed ceiling was added. The tasting counter is comfortable and the wall behind the counter is of dark wood. There is plenty of space to browse gift items. There are numerous varieties of fruit wines but visitors will not discover a grape wine. All wines are produced from 100 percent fruit. The lemons are shipped as pulp, the other fruits are shipped whole to the winery. Troy believes that the quality of fruit from the Western Hemisphere is superior to fruit from other areas of the world; part of this is due to regulations.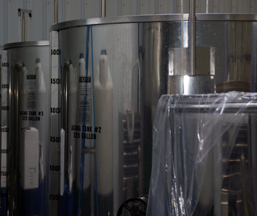 Today he is producing about 4,000 cases and he is happy about it. It's important for him to "have fun and enjoy what I do." Sales at the winery are best from Halloween until New Year's. The winery has several stainless steel tanks used for fermentation and aging the wines. Troy doesn't like to use oak barrels in the making of fruit wines.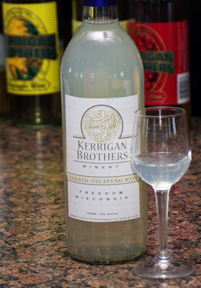 We tasted several fruit wines. The Dry Strawberry Wine offered a strawberry aroma and taste. The finish was dry with mild tannins. Troy believes that the tannins are a result of the tiny seeds that strawberries have. The Dry Cherry wine offered cherry nuances and taste while the dry finish had licorice on the finish. Lemon offered an aroma of cooked lemons and the taste was very lemony and tart. It had a crisp lemon aftertaste. Blueberry Cherry offered a faint fruit aroma with a smooth cherry taste. The cherry nuances yielded to blueberries. The Blackberry Wine had a blackberry taste that was sweet and smooth. The finish ended with blackberry notes. Irish Gold, a Mead, was produced with orange blossom honey. It offered a honeysuckle floral aroma. The wine was smooth with a sweet honey taste. The wine finished with a crispness that cut through the sugar. Tomato-Jalapeno offered an aroma of jalapeno. The taste was of green tomato and jalapeno and finished with green tomato nuances. This wine would pair well with anything that you use with salsa. Dutch Apple Pie is apple pie in a bottle. It was produced with apple wine, apple cider and a little apple brandy. The aroma and taste were like an apple pie and there were apple pie spices.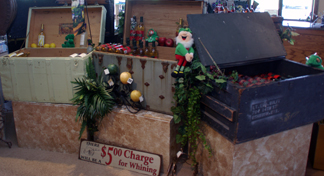 The tasting room displays a large number of wine related gift items. Many different types of wine bottle holders are available. Troy has creatively displayed giftware using several vintage trunks.
Besides being owner and winemaker for Kerrigan Brothers, Troy is also an accomplished cheese sculptor. He can carve a 1,000-pound block of cheese for a festival. On the side, he also carves 40-pound blocks of cheese for weddings and special occasions. Contact Troy at Kerrigan Brothers for more information.
Kerrigan Brothers Winery
N2797 State Hwy 55
Freedom, Wisconsin 54913
GPS: N44º 20.350' W88º 17.542'
---