Beneduce Vineyards
by
Kathy Sullivan
Summary: Mike Beneduce, Jr., his sister Justen Beneduce Hiles and their father Mike Beneduce Sr.started Beneduce Vineyards. His father and grandfather inspired him. He remembers, from his youth, standing beside his father and grandfather as they made wine at home. Today Beneduce Vineyards is a family operation on land coexisting with large greenhouses.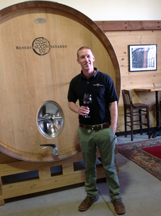 Visitors to the Beneduce Vineyards' tasting room will discover it is located in a large combination tasting room and winery facility. Just inside the building a tasting counter with seats is located along the wall. Tucked into a corner is a comfortable seating area where visitors can spend some time enjoying a glass or a bottle of Beneduce wine. A row of oak barrels separates the tasting area from the winery production area.
Mike Beneduce Vineyards is the vineyard manager and winemaker. When we first met Mike he wanted us to know that his wine journey began as a young child. He was always around when his father and grandfather were making wine at home. Later Mike attended Cornell University and studied cold climate grape growing.
The Beneduce family owns numerous commercial greenhouses and a garden shop located about 30 miles from the winery. In 2000 the family bought a second property, a 50-acre farm and set up several long greenhouses.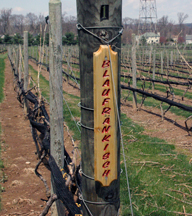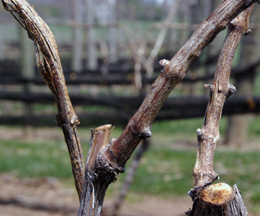 Vineyards
In 2009 and 2011 Mike planted the first ten acres of vineyards. Another 10 acres are planned to be planted from 2014 - 2017 including three acres of Blaufrankisch planted in 2014. Mike researched the terroir of this newest property and realized that it was similar to Austria's climate and soil conditions. The soil is Quaker Town gravely loam and drains well.
Current grape varieties in the vineyard include: Blaufränkisch, Cabernet Franc, Pinot Noir, Chardonnay, Riesling and Gewürztraminer. The vineyards are dry-farmed. All of the work in the vineyards is completed by hand. Mike's plans include planting an additional seven acres. Varieties in the vineyard are well marked. During the time of our April visit some of the buds were just beginning to swell.
Currently the winery is producing 5,000 cases of wine. Approximately half of the wine is estate grown. Until his vineyards are in full production, Mike also sources grapes from vineyards in New Jersey, New York, and California. He hopes to become an all estate winery in the future.
Beneduce Vineyards offers a variety of events throughout the year. Private events can also be scheduled. One long greenhouse has been erected that can host wedding receptions. Just outside in front of the winery facility is a large patio adorned with colorful flowers, tables and umbrellas surrounding a fire pit.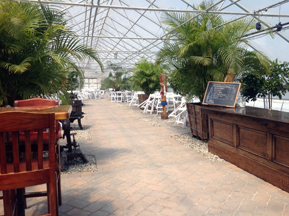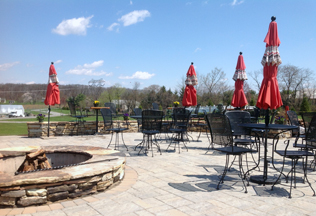 Make Your Own Wine at Beneduce Vineyard
Beneduce offers wine enthusiasts the opportunity to make a barrel of wine. Currently most of the fruit for making your own wine is sourced from various California areas including Napa Valley, Suisun Valley and Sierra Hills.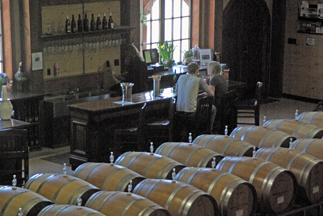 Wines
While tasting the wines, notice the Beneduce logo on the wine bottle labels. The grape cluster was created with the fingerprints of the Beneduce family.
The 2012 Chardonnay was produced with grapes from the estate vineyards and from North Fork, Long Island. This straw color wine was fermented in oak with no malolactic fermentation. The result was a wine that offered notes of caramel and apple. The finish was crisp with caramel and apple notes. Riesling 2013, estate grown, was a light yellow color. The aroma was floral with hints of orange blossoms. The taste had yellow stone fruit and floral notes. The crisp finish had minerality. When paired with Gouda cheese there was a slight aftertaste of petrol. Gewürztraminer 2013 was a straw color. The aroma was floral and the taste had notes of roses. The finish was crisp with floral hints.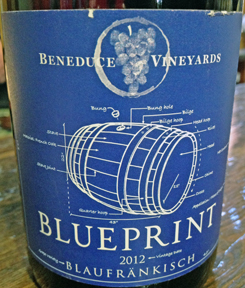 Blueprint 2012 was a produced with Blaufränkisch. The color was a translucent ruby. The aroma was of dark fruit and smoke. The taste also had smoke notes plus plum. The finish offered fruit and mild tannins. Observe the wine label that has a very detailed visual of the parts of an oak barrel. Pinot Noir 2012 grapes were sourced from Mendocino County in California. The color was red with a pink hue. The aroma and taste were of red berry fruit. The finish was crisp and fruity. Shotgun Red 2012 was a blend of Chambourcin, Corot Noir and Noiret The wine was a ruby color with a dark pink tint. The residual sugar was 2.2 percent. The wine offered smoke and dark fruit notes. Wondering about the name and label? While preparing the soil for these three blended varieties, numerous shotgun shells were unearthed. For Mike, this seemed to be a sign to blend these grapes and label it Shotgun Red.

Enjoy a visit to Beneduce Vineyards any time, plan to attend an event or get together with some friends and make a barrel of your own wine with professional equipment.

Beneduce Vineyards
1 Jeremiah Lane
Pittstown, NJ 088671ae Pittstown, NJ

GPS: N40º 34.214' W74º 58.559'
Article written May 2014.
---