Four Sisters Winery
by
Kathy Sullivan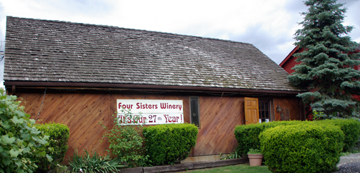 Summary: Enjoy a visit to Four Sisters Winery in Belvidere, New Jersey. The winery was started as a way to fund the education of four daughters. The successful winery now produces more than 20 different wines including reds, whites, rosés, fruit, sparkling and Port. Look for the next release of the very popular Pumpkin Wine.
Four Sisters Winery offers an unusual history. When their four daughters were very young, Matty and Laurie Matarazzo became concerned about the cost of a college education for their children. The Matarazzos were already third generation owners of a successful vegetable and fruit farm business. They approached an accountant for advice who suggested that since they were successful in the field of agriculture, they should find a related field. The result is Four Sisters Winery with vineyards planted in 1981 and the winery established in 1984.
The four sisters Melissa, Serena, Robin and Sadie, are adults now and the winery helped to fund their college education. The Matarazzos efforts and hard work paid off.
Matty Matarazzo is a very interesting winery owner, winemaker, viticulturist, chef and marketing specialist. When asked how he happens to also be a chef, he will respond with a real life story. One Saturday a wedding was to take place at the winery. The wedding was to be catered. A couple of days before Saturday, the caterer called Matty and told him that he could not cater the wedding because all of his employees quit. Matty was desperate and called people he knew for help one of whom was a professional caterer trained and educated outside of the U.S. This caterer worked with Matty and they successfully prepared enough quality food for the 140 people in attendance. For the next two years Matty and the caterer worked together as Matty learned many of the skills a caterer needs to be successful.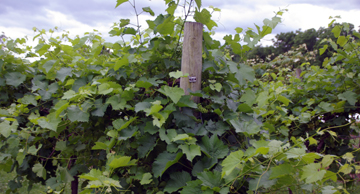 Matarazzo Farms is a 250-acre farm with 8 acres of vineyards, 7 acres of apples and 25 acres of pumpkins. The vineyards have plantings of Chambourcin, Marquette and Concord varieties. Grapes are sourced from New Jersey, Pennsylvania and New York.

History
While growing up, Matty's grandfather and uncles made wine. As an adult, Matty made wine in his basement. While establishing the winery, he was able to gather some equipment from his uncles. Matty noted that one should "Treat winemaking the way you treat your kids." He believes that winemaking needs to be guided but that ultimately the wine will have its own characteristics just like children.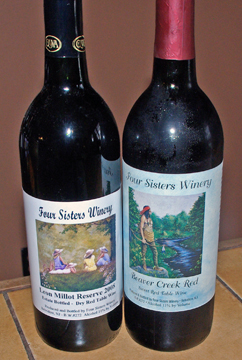 Four Sisters Wine
The winery produces 5,000 cases of wine. Wines include white, rosé, red, fruit, sparkling and Port. Matty estimates that 75 percent of sales are for sweet wine drinkers. Jeff Echevarria, a local artist, created the Beaver Creek label. Beaver Creek runs through the property. Echevarria also created the other wine labels featuring the four sisters.
Papa's Red is a blend of Baco Noir and Marchel Foch. This ruby wine offered black cherry notes. The crisp and fruity finish with mild tannins yielded to spice nuances. Warren Hills Red, a blend of Marchel Foch and Baco Noir offered dark fruit notes and a crisp finish. Warren Hills Red had more Marchel Foch in the blend than Papa's Red.
Warren Hill White produced with Catawba was a straw color. Floral notes were on the aroma and taste. The wine was crisp and slightly sweet. Strawberry Serena was 100 percent strawberry. The wine had light strawberry notes on the aroma and the taste was like "just picked" strawberries. The finish had a long strawberry aftertaste. Cherry Melissa was red/orange. There were notes of cherry throughout the wine and the finish was crisp. Beaver Creek, a Concord wine, was red. There were Welch's notes on the aroma and taste. The finish was crisp. Vidal Blanc 2009 was a straw color. The aroma offered citrus notes. The taste had citrus notes including grapefruit. The finish was crisp.
Events at Four Sisters Winery
Four Sisters Winery hosts public and private events. Look for grape stomps, Father's and Mother's Day events, harvest festivals, and family fun days. Private events include bridal showers, weddings, birthday parties, anniversaries, and church picnics.
Matty Matarazzo is dynamic and interesting to talk with. During our discussion he remarked, "Failure is not in my vocabulary." Rather than looking for problems Matty is intent upon finding success through answers.
Enjoy a visit to Four Sisters Winery in Belvidere, New Jersey where you will find a warm welcome and numerous wines.
Four Sisters Winery
783 County Route 519
Belvidere, New Jersey 07823
GPS: N40º 51.796' W75º 00.924'
---