Terhune Orchards
by
Kathy Sullivan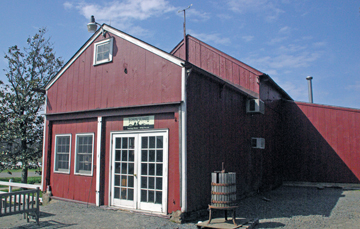 Summary: Terhune Orchards is much more than a large orchard. Today Terhune Orchards has acres and acres of orchards, a large farm market and is moving into the wine world step by step. In 2014 Terhune Orchards includes growing and maintaining vineyards and producing fruit and traditional wines.
On our journey to New Jersey in spring 2014, our first stop was Terhune Orchards where we discovered a combination orchard, farm market and winery. Terhune Orchards grows 36 different crops on 200 acres, and offers educational tours for children. Grapevines are planted on eight acres of their property.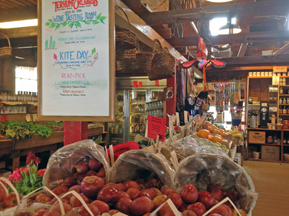 Gary and Pam Mount purchased the Terhune orchard and market in 1975. In 2003 they purchased an additional small farm with an additional 63 acres. The enterprise continued as an orchard and market until their daughter Tannwen moved from San Francisco back to the Princeton area with the idea to plant grapevines. The first grapevines were planted in 2003. Today Terhune Orchards offers a wide variety of orchard and vegetable products with apples being their largest crop. They also have an onsite bakery with some scrumptious looking baked goods and several types of wines including traditional grape wines and fruit wines.
The Mounts focus on growing everything themselves. The visitors to the farm market come because they want locally grown food. The Mounts estimate that 700,000 people visit each year. The addition of winemaking has expanded their customer base. Wines are available onsite and at farm co-ops.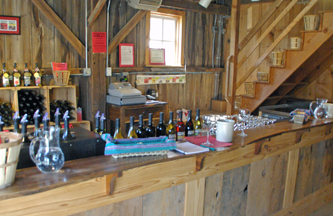 Wine Tasting Room at Terhunes
The tasting room is located in a 150-year-old renovated rustic hay barn. The facility is separated into two sections with the first as the tasting room and the second section an event room. Artwork from the Creative Collection decorates the walls of the tasting room and is available for purchase.
Wine tastings take place in the tasting room on Fridays, Saturdays, and Sundays. Wines may be purchased in the tasting room and in the farm market shop that is open daily.
Vineyards
Ninety-five percent of the wines at Terhunes are produced with estate grown grapes and fruit. They grow 12 varieties including Chambourcin, Vidal Blanc, Cabernet Franc, Cabernet Sauvignon, Chardonnay and Traminette. Gary noted, "For us the wine was another crop." In the vineyards they used Integrated Pest Management, which allows them to do fewer and targeted sprayings.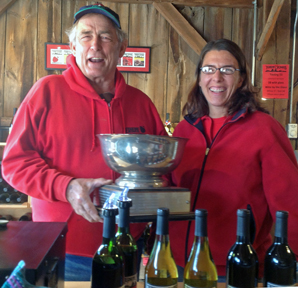 Fruit Wines
The Mounts proudly showed us the Governor's Cup they have won. Their first wine vintage was 2009. Three of the wines available at Terhune are apple-based. Tannwen said that producing wine was a logical step for existing customers to enjoy, plus it pulled in another population.
Just Peach was peachy with a hint of tartness. This wine won the Governor's Cup. Apple 2013 was made from a blend of apples from sweet apple cider. The color was light straw. The aroma and finish offered apple notes. The finish was crisp with notes of apple. The wine was dry and would make a nice accompaniment with food. Harvest Blues was a light purple reminding one of summer days and blueberry stained fingers. The taste of this wine was totally all blueberries.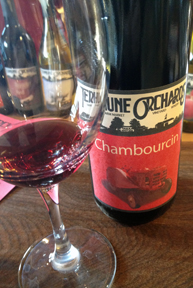 Traditional Wines
Chambourcin 2011 was a red translucent color. The aroma was of red berries. The taste offered notes of raspberries and leather. The wine had mild tannins and the finish was fruity yielding to oak influences. Red Barn 2011 was a blend of Cabernet Franc and Cabernet Sauvignon. The estate wine was a translucent red with an aroma of leather, tobacco and pepper. The taste was of dark fruits. The wine had tannins and finished with dark fruit and tobacco nuances. Red Rooster was a medium purple color. The aroma was of light fruit and a bit of sweetness. The taste reminded one of black cherries. The taste was slightly dry and lingered. The residual sugar of Red Rooster was .75 percent.
Events and More
Terhune Orchards offers a wide range of events for children and adults. A sample of possible events includes:
Read and Explore
Read and Pick
Mother's Day Wine Trail Weekend
Blueberry Bash
Freezing and Canning Class
Summer Camp
Peach Festival
Sangria Weekends in August
School and Group Tours
Farm Store and Bakery, Farm Aniamls and Farm Walking Trails
Pick-Your-Own
Barnyard Birthday Parties
Wine Trail Weekends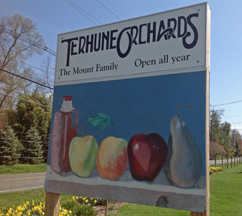 Be sure to stop by Terhune Orchards and while tasting Terhune wines be sure to visit the farm market.
Terhune Orchards
330 Cold Soil Road
Princeton, New Jersey 08540
GPS: N40º 19.925' W074º 43.587'
Article written May 2014.
---