Natali Vineyards
by
K.L. Sullivan
Summary: Currently this is a small winery where every grapevine and bottle of wine is personally touched and cared for by the owners. Watch for forthcoming events at the winery. Architecture plans have been created to show the future of Natali Vineyards. With the three partners and a junior partner, Natali Vineyards is a viable winery with a bright future.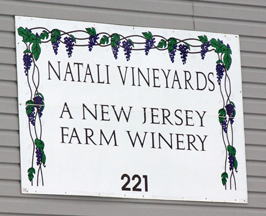 Natali Vineyards located about 20 minutes from Cape May, New Jersey is comparatively a young winery offering quality wines. They started the vineyards in 2000 and increased them to six acres. This is a farm winery and visitors enjoy coming to the winery for the experience. The winemaking process begins on the crush pad in front of the tasting room. Winemaking is not a secret here and each time visitors return they can observe different aspects of the process.
We met Ray Pensari and Kevin Celli at lunch and discovered the enthusiasm they have for Natali Vineyards. The partners are Ray Pensari, Tony Antoelli and Al Natali. Kevin Celli, relatively new to the winery, is in charge of sales and all sales events, promotions, and has a big role in product development. It quickly became obvious that the partners work well together and are enthusiastic about the winery and its future. As Kevin said, "We put our hearts into it."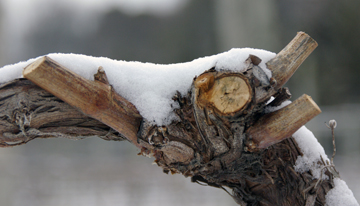 Al Natali started the vineyard in the spring of 2000. Although Al has had training at UC Davis and advice from consultants, his first experience with winemaking was with his father and grandfather, making strawberry wine. In 2004, Al obtained his license and in 2005 he sold his first bottle of wine. Ray and Tony became commercial partners with Al in 2006 and were very involved in the opening of the tasting room and increasing sales. Today Natali Vineyards is located on 22 acres of land with six acres planted with 5000 grapevines. There are 14 varieties of grapes planted in the vineyard including Cabernet Sauvignon, Cabernet Franc, Merlot, Chardonnay, Pinot Grigio and Trebbiano. On the day of our visit, recently pruned grapevines were clothed in an unusual blanket of snow.
Natali Vineyards produces 1000 cases of wine that include a Blueberry and a Peach-plum wine. The peach-plum is an unusual fruit wine that quickly sells out. Peach-plum is a small fruit from indigenous peach-plum trees. In 2008, they used 700 pounds of peach-plums to produce the wine. This is a big seller and the winery hopes to increase production of the wine.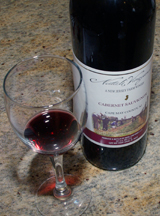 We tasted several wines while we were with Ray and Kevin.
White Wine
The Pinot Grigio 2007 offered an aroma and taste of grapefruit and citrus with a crisp finish and lingering grapefruit taste. The Sauvignon Blanc 2007 had a tropical fruit aroma with grass nuances. The taste was a combination of banana, mango and tropical fruit. The wine finished crisp with a long tropical fruit aftertaste.
Red Wine
Cabernet Sauvignon 2007 was a translucent red purple color. The aroma was of red cherry and blackberry. The taste was very fruity with blackberry and cherry nuances.
The finish was crisp and fruity. Cedar Hammock 2007 was a red table wine. This is a special winemaker's blend. The purple color was translucent. The aroma and taste offered dark fruit with a hint of pepper and spice. The finish had tannins with fruit and there was spice on the finish. Meadows Edge, Nanno's Cellar Wine, was made with grapes from Lodi, California where Ray's grandfather bought grapes. Ray wanted to recreate his grandfather's recipe. The aroma was of blackberries and the taste was of blackberries and cherries. The finish was crisp with berry nuances. Shiraz 2006 offered an aroma of dark fruit with a taste of fruit especially berries. The finish had layers of berries, then spices and tannins. The aftertaste was of spice and fruit.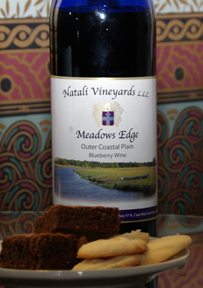 Fruit Wine
Our tasting ended with the Blueberry Wine. This was a delicious wine made with 100 percent blueberries from New Jersey, the blueberry capital. The aroma and taste was very fruity and of blueberries. The taste had a perceived sweetness due to the blueberries as no sweetener was added to the wine. The finish was dry.
Events at Natali Vineyards will continue. On the Saturday before our visit to the winery, they had an event. They would have been happy if 300 people had come but were very pleased when 500 people visited the winery. The winery is pleasant and the partners are enthusiastic so be sure to visit Natali Vineyards.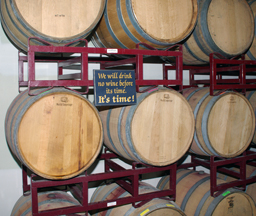 Natali Vineyards believes in promoting local business whether it is local creameries or artists. Watch for special events featuring local foods and artists.
If you are looking for a wedding or other venue, consider Natali Vineyards. Kevin who is in charge of marketing also has four years of experience as a wedding planner and will be happy to help you with his expertise.
Natali Vineyards, L.L.C.
221 North Delsea Drive (Route 47)
Cape May Courthouse, NJ 08210
GPS: N39° 07.600' W74° 51.715'
---