Cedarvale Winery and Vineyard
by
K.L. Sullivan
Summery: Enjoy a visit to a farmer's boutique winery in southern New Jersey. This is a "real" working farm on 200 acres producing fruits and vegetables for market. Fruits and vegetables include peaches, nectarines, strawberries, sweet corn and pumpkins. In addition, they began planting five acres of grapes in 2004. The winery opened in October 2008 and offers visitors a friendly stop just off the New Jersey Interstate 295.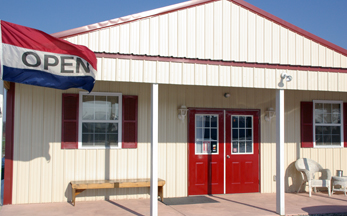 With red shutters and white siding, this boutique winery offers an enticing spot to visit. Travelers and neighbors discover that this a great place to stop and relax. Visitors will experience a warm and cozy tasting room. According to the owners, "People around here love it. The support of the winery has been phenomenal." The winery began as the Ed and Marsha Gaventa family sought to increase another value-added addition to their farm.
Located off Interstate Route 295, the winery and tasting room are easy to access. They offer a look into farming and winemaking. What better way for a farmer to add to his production than to begin a winery?
The vineyards are located on a part of the farm that is part of New Jersey's land preservation. The owners will continue to have use of the land for agricultural purposes.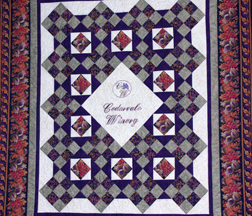 The Gaventa family has been farming for four generations. The Gaventas currently grow peaches, nectarines, strawberries, sweet corn and pumpkins. In 2004 Ed added vineyards. Within the next five years, he hopes to add two more acres. Currently the five acres of grapes include Merlot, Chardonnay, Cabernet Franc, Pinot Grigio and Syrah. The vineyards are located on the property about a half mile away. The Gaventa's farm is the source for peaches, nectarines and strawberries used in making their fruit wines. The winery obtains apples and cherries from a nearby farmer. The first vintage for Cedarvale was 2007 and resulted in 700 gallons or about 300 cases. The 2008 vintage should double and also increase in 2009.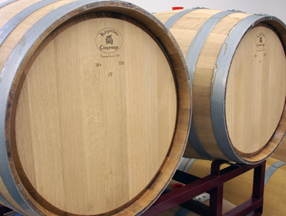 The tasting room is delightful with a tasting bar created by Ed. The owners completed most of the interior themselves. The peach colored painted walls are decorated and a large handmade wall quilt adds to the ambience. Small areas with tables and seating are available for visitors. Wine related items are available for purchase. Just outside the tasting room, white wicker furniture adds to the ambience of the tasting room.
The winery is behind the tasting room. Oak barrels and stainless steel tanks fill the room. As production increases, this room can be easily enlarged.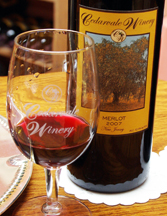 Grape Wines
Chardonnay 2007 offered an apple aroma with a taste of apple and butter. The aftertaste had light oak. Merlot 2007 was a barely translucent dark purple color. The aroma offered black berry fruit, and the taste was smooth with dark fruit. The finish was very fruity with mild tannins. Cabernet Franc 2007 offered vegetative and spice aroma with a smooth black fruit with pepper and spices. The finish offered tannins with fruit and spice.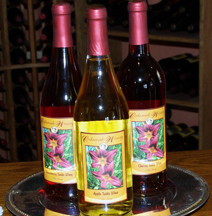 Fruit Wines
The owners try to produce fruit wines that will please consumers looking for a slight sweet wine that is not a dessert wine. Cherry 2008 had a red/orange color with an aroma of cherries. The taste was very fruity with cherry nuances. It finished with cherry nuances and a slight sweetness. Apple wine offered an apple aroma with an apple taste and finish. Strawberry was a translucent red with a strawberry taste that was slightly sweet.
The owners agree that the starting up of a winery and tasting room has been a pleasure. Today even though Ed's parents are not wine drinkers, they are proud of what he has accomplished with the addition of the winery to the farm.
Ed is looking forward to creating other wines including a pumpkin spice wine. Wouldn't that be perfect to enjoy at harvest time? Enjoy a visit to Cedarvale Winery where the farming comes first, the atmosphere is friendly and wines are good.
Cedarvale Winery and Vineyard
205 Repaupo Station Rd,
Logan Township (Swedesboro), NJ 08085

GPS: N39° 48.601' W 75° 18.679'
---