Mount Salem Vineyards
by
Kathy Sullivan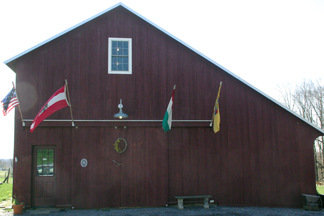 Summary: Mount Salem Vineyards is a boutique winery with an emphasis on estate grown Austrian varieties. At the winery the owner and winemaker, Peter Leitner offers a personalized approach to tasting his wines.
Upon arriving at Mount Salem Vineyards, we saw a small red barn with four colorful flags from Hungry, Austria, New Jersey and the United States. Nearby sits a farmhouse that dates back to 1811. According to Peter Leitner, owner and winemaker, the farmhouse and barn are eligible for the New Jersey and National Historic Registers. The ground level of the barn is for winemaking and wine storage. At the back of the building is a cement pad where grapes are brought and pressed.
A relatively narrow stairway leads to a loft. Visitors who drop by on weekends for an impromptu wine tasting will be escorted to the loft where they can enjoy a relaxing wine tasting and see views of the vineyards. On the day we visited it was warm, pleasant and we wished we could have lingered longer. Peter maintains an office desk in the loft where it must be very pleasant to work.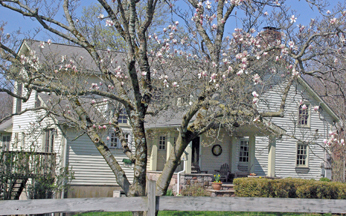 Personalized Farmhouse Wine Tasting
Visitors who schedule a private wine tasting are escorted to the farmhouse library where they can sit surrounded by books at an elegant table and taste wines in a flight. Peter pours larger amounts for these special tastings. Typical tastings last 90 minutes. This will be an experience to be remembered and talked about with other wine enthusiasts. We were privileged to enjoy a wine tasting of six wines in the library. Reservations must be made for a personalized wine tasting.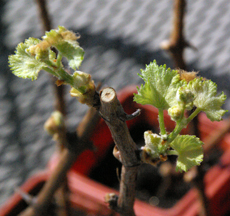 As winemaker and owner of Mount Salem Vineyards, Peter is focused on growing Austrian grapes and other grapes that will do well in central New Jersey's region. He has spent a great deal of time researching the terroir of the area. Peter explained that his primary research, including extensive travel and data analysis, revealed that the climate and soil here are similar to the best red wine growing regions of Austria.
In addition, Mount Salem Vineyards is also one of the wineries working with Rutgers, the State University of New Jersey, on planting experimental varieties. The vineyards are at 600 feet above sea level on the Mount Salem slope. The soil in the vineyards consists of silt and clay loam with glacial cobblestones.
Today Mount Salem Vineyards has seven acres of grapevines that include: Blaufränkisch, Zweigelt, St. Laurent, Grüner Veltliner, Riesling, and Cabernet Franc. Other varieties include Barbera and Nebbiolo planted as experimental vines from Rutgers. Today Peter is producing between 1,000 and 1,500 cases.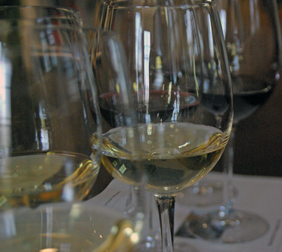 Mount Salem Vineyards Wines
The Traminette 2012 was a light yellow wine made from grapes sourced from New Jersey. The wine offered a floral aroma with a hint of orange blossoms. The taste was of citrus with floral and mineral notes. The finish was crisp and dry with citrus yielding to floral. Chardonnay 2012, produced with New Jersey fruit, was a dark yellow color. The Chardonnay was fermented and aged in American oak for about eight months. The wine offered an aroma of caramel and vanilla with a taste of apple and caramel. The finish was crisp with a hint of citrus. Grüner Veltliner 2013 was produced with estate grown fruit. The dark yellow wine offered a floral aroma and a floral taste with a hint of butter. The finish was crisp and the wine had a very subtle hint of tannins.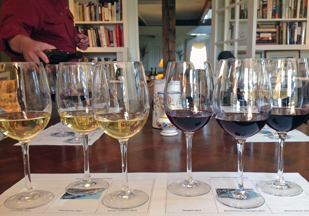 Zweigelt 2012, estate grown, was a ruby color. The aroma was of spices and floral notes. The taste offered dark fruit and licorice notes. The wine had tannins and finished with an integration of licorice, cedar and dark fruit. Blaufränkisch/Zweigelt 2012, estate grown, was a ruby color. This wine offered notes of dark fruits and spices specifically cinnamon and cloves. The finish had dark fruits and spice attributes. Blaufränkisch 2012, estate grown, was a dark ruby color. The wine offered hints of dark fruit including plum and baking spices. The finish had dark fruit notes. The wine offered bold tannins.
Visitors to Mount Salem Vineyards are in for a treat when scheduling a wine tasting. Special private wine tastings for up to eight people take place in Peter's home library and last for about 90 minutes. People who drop by for an unscheduled wine tasting on Saturdays and Sundays will be offered a very pleasant wine tasting in the barn loft over the winery.

Mount Salem Vineyards
54 Mount Salem Road
Pittstown, New Jersey 08867

GPS: N40º 35.572' W074º 59.353'
Article written April 2014.
---