Ventimiglia Vineyard
by
Kathy Sullivan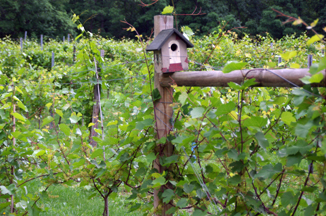 Summary: Ventimiglia Vineyard is a small boutique winery in northern New Jersey. The wines are all handcrafted and according to owner and winemaker Gene Ventimiglia "each bottle has a little love inside." The winery participates in many charities including Literacy Volunteers of Sussex County, Sussex County Habitat for Humanity and Catholic Charities.
Ventimiglia Vineyard winery is family owned and operated winery in Wantage, New Jersey. Gene Ventimiglia, owner noted, "Our winemaking is a family enterprise." His grandfather made wine and Gene has been making wine for 40 years. Gene's wife Anne is involved in the advertising, sales, reporting, and accounting. Two of their sons, Anthony and Eddie, work on both the grape growing and the winemaking. Countless family members and friends help out with the various tasks of the winemaking and sales.
Gene believes that winemaking is about experimenting with wines. For Gene, it is about about working with the wine as it develops rather than letting the calendar dictate the timing of tasks. Currently, Ventimiglia Vineyard produces about 1,000 cases and Gene is comfortable with that number. He prefers working closely with wines and having each bottle handcrafted. Gene does not fine any of his wines and red wines are unfiltered.
Vineyards
Vineyards are within view of the tasting room. The fifty-acre Ventimiglia farm has three separate vineyards totaling more than four acres. The first vines were planted in 2002, and more are added each year. They consist of Marquette, Leon Millot, Chardonnay, Cabernet Franc, Traminette, Seyval Blanc and Chambourcin. According to Gene, the region is still learning what grapes grow best in the area.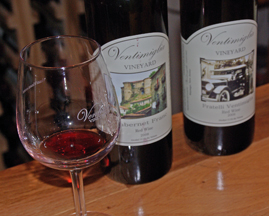 Tasting Room
The tasting room offered a pleasant atmosphere with light wood flooring and ceiling. The tasting counter was also of wood. The double doors are French-style with white trim.
The Wines of Ventimiglia Vineyard
Buon Giorn with a sunset photo label is a white wine that is a straw color. The wine offered tropical fruit with mild tannins and a slight hint of oak. It was made with Cayuga grapes. Wantage White was a blend of Cayuga, Traminette and Vidal. The wine was a pale yellow that offered floral notes. The finish was crisp.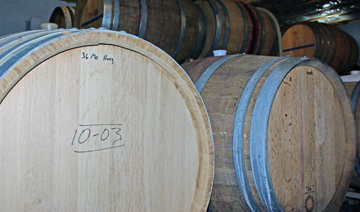 Rosé Wine
La Sorella, a rosé wine, was a blend of Pinot Noir, Cabernet Franc and Chambourcin. There were notes of strawberry and the finish was crisp.
Red Wines
Rocky Ridge Red 2009 was a field blend. The aroma offered floral and spice notes. The taste had layers of dark fruit. The fruity finish had mild tannins. Chambourcin 2008 was ruby with an aroma and taste of red berry fruit. The finish was fruity with mild tannins. Carignane 2008 was ruby and offered raisin and jammy fruit notes. The finish offered jammy fruit notes and mild tannins. Fratelli Ventimiglia 2008 was a ruby color with dark fruit notes. The finish was fruity with tannins. The label featured a photo of Gene's grandparents with a 1924 Franklin automobile. Cabernet Franc was ruby with spice on the aroma and taste. The taste had noticeable pepper. There were tannins on the finish.
Enjoy a visit to Ventimiglia Vineyard where you will discover boutique wines and a very friendly and knowledgeable owner/winemaker.
Ventimiglia Vineyard
101 Layton Road
Wantage, NJ 07461
973-875-4333
GPS: N41º 14.298' W74º 35.881'
For more information
---