Old York Cellars
by
Kathy and Terry Sullivan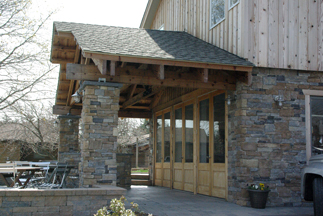 Summary: David Wolin, owner at Old York Cellars, purchased a farm/vineyard and renovated the property including adding new structures. Today visitors to Old York Cellars will discover a winery, tasting room with a patio and views of the vineyard, and an event room with a deck overlooking nearby vineyards. Also, look for the one-of-a-kind metal sculptures. Scott Gares, winemaker, focuses on dry wines, he also produces sweet wines including fruit wines.
We met Scott Gares, winemaker, vineyardist and farmer, near the winery as soon as we pulled into the driveway. Workers were busy adding the finishing touches to the winery building. The winery, tasting room and event room are in separate buildings and the vineyards are just beyond. Near the vineyards several rows of vines are marked with an artist's creative metal sculptures. The largest with a long neck resembles a giraffe.
David Wolin purchased the property in 2008 and opened the tasting room in 2010. It took two years to rebuild everything that included tearing out poles and fences. Scott Gares has always had an interest in horticulture and as a child was interested in winemaking. He enjoys working outside and horticulture. Scott enjoys the four seasons of the year as seen through the vineyards. He has followed in his father's footsteps as a farmer.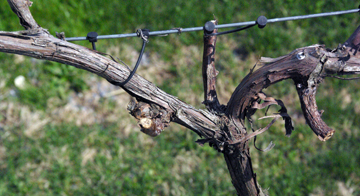 Old York Cellars' Vineyard
David has 27½ acres of property with 12 acres planted with grapevines. Varieties growing at Old York Cellars include: Cabernet Sauvignon, Pinot Gris, Chardonnay, Riesling, Gewürztraminer, Landot Noir, Seyval, Marechal Foch, Merlot and Syrah. Scott also sources some grapes from Long Island and the Finger Lake region. During our late April visit, the buds on the vines were just beginning to swell. The winter of 2014 was colder than usual and the vines are taking their time.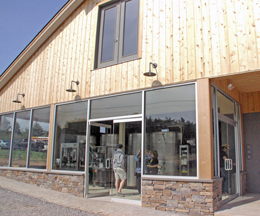 Winery
The winery building has a front section with large windows on three sides. As you drive past the winery to the parking area, you can see several stainless steel tanks through the windows.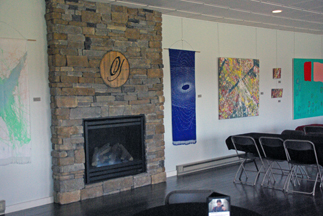 Event Room
The event room is in another building just a few steps from the tasting room. This large room can accommodate many people for different types of winery and private events. It also serves as an art gallery with artwork displayed on the walls inside the building. Artwork features artists and art collectives on a rotating schedule. A tasting counter is at one end of the space and a fireplace is in the center of a wall.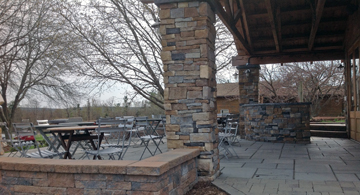 Tasting Room
Outside of the tasting room there is a large patio with several groupings of tables and chairs. A portion of the patio is covered and the entire area overlooks the vineyard. Inside, the rectangular tasting room has an L-shaped counter with a stainless steel surface and stone sides. On the wall opposite the long tasting counter there are wine bottles in the "What Exit" series.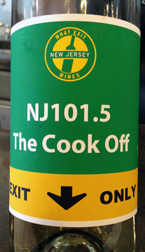 Wines
Old York Cellars offers a secondary wine label named What Exit Wines. Every bottle of What Exit wine has a customizable label. For every What Exit wine sold, $1 supports a New Jersey charity. At the time of our visit the funds collected were going to the Hurricane Sandy New Jersey Relief Fund, Inc. One of the bottles was labeled NJ101.5 The Cook Off. This wine, a blend of Chenin Blanc and Seyval Blanc, was a pale straw color that offered a slight minerality. The dry taste offered notes of green apple and the finish was dry.
The majority of wines at Old York Cellars are dry, although Scott does also make sweet wines.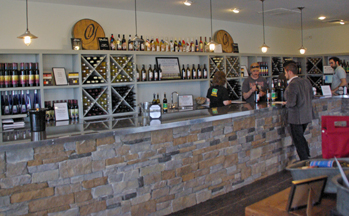 Riesling 2012 was a light yellow. This wine was produced with some estate grown grapes and some from upstate New York. It was a light yellow color. The aroma and taste offered floral and yellow stone fruit notes. The finish was crisp and fruity.
Stagecoach Red was a blend of Malbec, Cabernet Sauvignon and Merlot. This wine was a dark red with a pink hue. The aroma and taste were of dark fruits. The wine had tannins and the finish was crisp and fruity with some hints of cedar and leather. Cabernet Sauvignon 2012 was purple with red highlights. The aroma was of dark fruit, especially blackberries. The wine was full bodied and the taste was slightly sweet (residual sugar 0.8 percent) with notes of blackberries and black cherries. The finish had bold tannins and spice. The wine dried on the aftertaste.
Southpaw 2011 was a Riesling fortified with brandy. The straw color wine had 19.25 percent alcohol. The aroma reminded one of white raisins and the taste offered yellow stone fruit notes. The finish was crisp with yellow stone fruit hints. Southpaw red 2011 was produced with Marechal Foch grapes. This translucent red wine had 20.57 percent alcohol. This wine offered dried fruit notes including raisins and cherries. The finish was crisp with a tiny bit of heat.
In addition to traditional grape produced wines, Scott produces fruit wines. These wines are made with 100 percent fruit. The blackberry wine offered blackberry notes throughout and finished with a hint of tartness.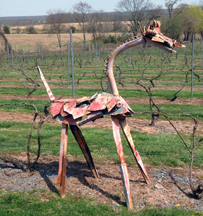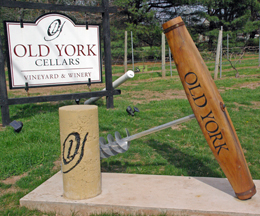 When traveling in the Ringoes area of New Jersey, be sure to stop by Old York Cellars to see everything it has to offer. Also check their online calendar for special events.
Old York Cellars 

80 Old York Rd
Ringoes, New Jersey 08551
GPS: N40º 27.074' W 74º 50.371'
Article written May 2014.
---