Cava Winery and Vineyard
by
Kathy Sullivan

Summary: Cava Winery & Vineyard offers a large selection of wines for consumers to choose. There is something for everyone. The large tasting counter is good for large groups. The café a few steps away is a great place to enjoy wine, pizza and tapas. Check their website calendar for hours and events.
Cava Winery & Vineyard located in Hamburg, New Jersey offers a delightful location to taste wines, attend events and hold private events including small weddings. Our visit happened to coincide with a small wedding taking place in the Tapestry Room with the reception in the Café just a few steps away. A quick glimpse of the bride showed her to be delightfully happy.
The winery and café is in a large renovated dairy barn, built in the early 1900's. Another section of the renovated building will become a wine education center. Vineyards are located behind the tasting facility.
Anthony Riccio and his wife, Deneah Bledsoe, are the owners. It was their dream to build a winery. They wanted to start a winery that combined old world and new world elements. Michael Sheridan, Anthony's cousin is the operations manager and winemaker.
Anthony has an intensive background in farming. This was followed by a career in the military until he retired. Now Anthony is highly involved in bringing winemaking to northern New Jersey. Deneah is the enologist for the winery. Her focus is on Italian style wines. The winery also sources grapes including Sangiovese and Sagrantino from Italy.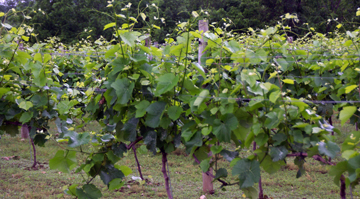 Onsite Vineyards
The five-acre vineyard currently has Gewürztraminer, Noriet and Seyval Blanc. The owners have plans to add Cabernet Franc and Traminette. The soil in this area of the country has great drainage and deposits of gravel known for minerals. Anthony noted that cava is the Italian word for cave or mine. Wine enthusiasts will want to note that the Cava brand labels show a cave with an alchemist symbol of different mined elements that were mined in this region of New Jersey.
Cava's Tasting Rooms
There are two tasting rooms. We tasted wines in the event tasting room. It has a large rectangular tasting counter of granite. Low subdued lighting adds to the ambience of the room. Anthony complimented his tasting room customers by saying that many are astute wine drinkers. At the time of our visit, the main tasting room was set up for a wedding reception. Several sets of tables and chairs are in a large area with two stainless steel tanks in a corner. Upright oak barrels hold the tasting counters that overlook the vineyards through large windows. This area is also the café providing a large assortment of tapas and pizzas. Picnic tables are also available with views of the vineyards and countryside.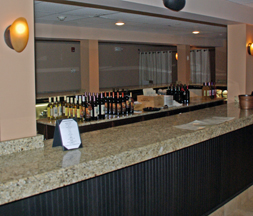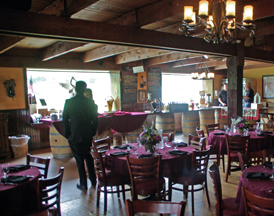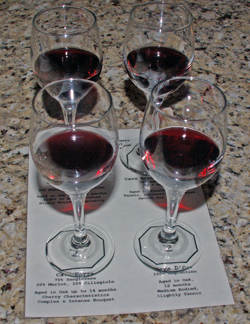 A Wide Variety of Wines
The tasting room offers wines in four different flights. With so many wines available this is the perfect way to help visitors choose the wines to taste. Laminated sheets with four circles outlined have the names of each wine in the flight. One can compare the wines while tasting. This is a great idea as it enables the wine attendant to keep track of the wines poured and even better for the wine taster to be able to compare wines.
Cava Rosso Rame, was a blend of Sangiovese, Merlot and Sagrantino. This dark ruby wine offered an aroma of cherry with dark fruit nuances. The taste had notes of cherry and earthiness. There were tannins on the fruity finish. Cava Rosso Antimonio, a blend of Sangiovese and Merlot, was a dark purple with a ruby rim. Cherry notes were on the aroma and taste. The wine finished with tannins and cherry nuances. Cava Ferro, purple with a ruby rim, was a blend of Sangiovese, Merlot and Ciliegiolo. Cherry nuances were on the aroma and taste while the finish had bold tannins with cherry and spice notes. Cava D'Oro, Sagrantino, was a dark purple to black with purple rim. The wine had an aroma of dark fruit notes with cherry and blackberry notes on the finish. This wine had outrageously bold tannins. Tannin lovers will enjoy this wine.
The sweet, fruity wine flight included kiwi, strawberry, blackberry and Sangria. The Ceci Bella Kiwi Pinot Grigio was a light golden color with lots of kiwi and melon notes. Despite its sweetness, the wine tended to dry on the finish. Ceci Bella Strawberry Riesling had slight strawberry nuances throughout. The color was yellow with a slight pink hue. Ceci Bella Blackberry Merlot was a dark red color. The wine with blackberry notes finished with a lingering blackberry taste. Ceci Bella Sangria was produced with 100 percent Sangiovese. The wine a dark purple had notes of spice and fruit.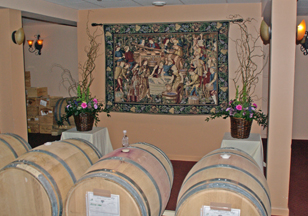 Tapestry Room
The Tapestry Room designed to hold barrels in the center had tables on both sides of the room, offering a delightful ambience. A large tapestry is at one end of the room and plans call for adding more tapestries to the surrounding walls. This room can be used for small winery and private events. That day the wedding took place in this room.
Watch for the opening of the wine education center. Enjoy a visit to Cava Winery & Vineyard in Hamburg, New Jersey. Try a wine flight or two and pair with food in the cafe or enjoy sitting at a picnic table near the vineyard.
Cava Winery and Vineyard
3619 Route 94
Hamburg, NJ 07419
GPS: N41º 09.795' W74º 33.899'
For more information
---