Hopewell Valley Vineyards
by
Kathy Sullivan
Updated Article: May 2014
We returned to visit Hopewell Valley Vineyards in April 2014. The owners Sergio and Violetta are friendly and delightful. Spending most of our time with Violetta we discovered that she believes the best way to promote your wine is with hospitality. At Hopewell Valley people are treated as friends and family.

Since our last visit a few things have changed at the winery. Sergio's wife Barbara passed away. The winery tasting room has increased in size and a large event room has replaced the old winemaking area. An old-world wood tank room has several tanks and adds to the charm of the winery.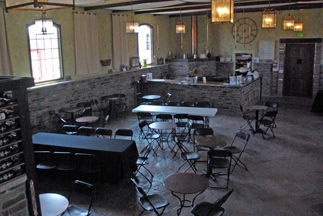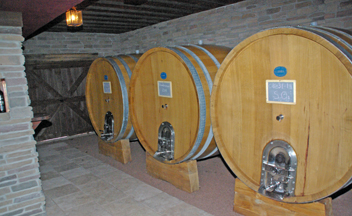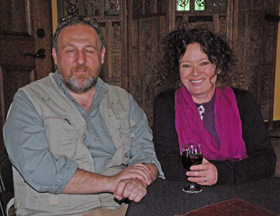 While we visited with Violetta she shared her own wine journey that began in Greece with her grandmother. Evanthia, her grandmother, owned 270 hectares of land that included an historic stone house with fields of wheat, corn and clover. Evanthia made red and white wine for her family with two huge barrels. Evanthia handed down the knowledge of winemaking to her daughter, who learned winemaking from her mother.
While tasting several of Hopewell Valley's wines we enjoyed two Greek dishes, spanakopita and twitziki.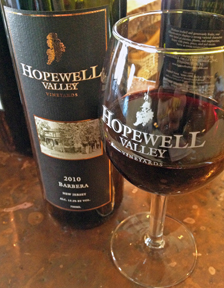 Wines
Barbara 2010 was a ruby color wine that offered notes of dark fruit, spice and tannins. Basia 2007 was produced with Sangiovese grapes from California. This ruby wine offered cherry notes. Sangiovese Toscana 2012 was a ruby color with notes of cherries and tannins. The wine finish had fruit with an oak influence including licorice and tobacco.
Original Article: August 2007
Winemaker and owner Sergio Neri wants the public to know that Hopewell Valley Vineyards is a small vineyard with a friendly environment and a destination place. They are open daily and have several events planned.
Sergio Neri from Milan, Italy learned about wine from an early age when his family had a winery at the Bruno al Montichino farm. Today, his brother has a winery in the Chianti Classico region of Tuscany. Sergio has a winery and vineyard in central New Jersey where they combine the best of the Old World and New World.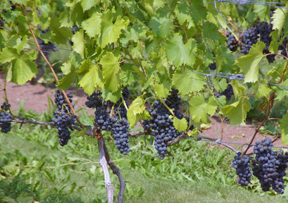 Hopewell Valley Vineyards is a young but quickly growing vineyard and winery. The owners, Sergio and Barbara planted their first grapevines in 2001. The tasting room opened in 2003 with wine produced from grapes obtained elsewhere. The first vintage from their estate grapes was in 2004. Today the wines produced at Hopewell Valley are estate grown. Currently the winery produces 50,000 bottles (over 21,000 cases) and the goal is to some day increase production to 100,000 bottles. Already the winery has outgrown its recently built facilities and plans are to add more buildings. Construction will begin in the fall of 2007. In addition, Sergio has plans to add a cave below the winery's parking lot. The cave would provide storage space for aging wine in a naturally controlled environment.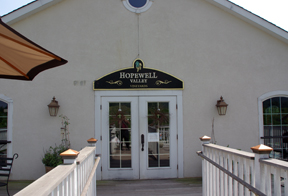 Hopewell Valley Vineyards are already increasing in size due to the fortunate acquisition of farmland next to the winery. Grape varietals growing in the vineyard include Chambourcin, Merlot, Cabernet Sauvignon, Barbera, Chardonnay, Pinot Grigio and Vidal Blanc. From the parking lot, access to the tasting room is past symbolic roses. Proceed up a ramp to a large deck with a white fence. On the day of our visit, the vineyard was being tended and fruit was in the process of being dropped in order to improve the remaining fruit on the vines. It was difficult to see the purple grapes on the ground, but we realized this will increase the quality of the grapes left on the vine and ultimately a better wine will be the result.
Upon entering the tasting room, you will see small tables for two. In the back on the left side is an L-shaped copper tasting counter. Over the tasting bar are several small copper pipes bent to hold wine glasses. This glass holder is a clever idea. Throughout the room are various uses of copper. Shelves holding wine accessories are copper. Shelves for holding wine bottles are designed with copper pipes. Sergio designed and built the copper fixtures in the tasting room.
A baby grand piano is in the room and we soon learned that Sergio plays the piano. He has formed a music group called the HVV Jazz Ensemble. While touring the winery, we noted an electronic keyboard near the oak barrels. Again wine and the arts are connected.
Giftware is available and features wine accessories, hats, shirts, music cds and more. If you are purchasing a bottle of wine as a gift, eye-catching wine bags are available.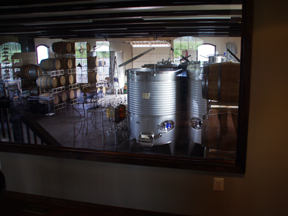 Currently events are held in the tasting room. The front door opens on to the deck and provides more room for larger events. Although not large, the tasting room is comfortable with small tables for two and a variety of gifts to browse. Many events are held here including a music event on the last Saturday of the month. Hopewell participates in festivals sponsored by the Garden State Wine Growers Association. They also have their own festival in September. The tasting room overlooks the wine production area. Large windows allow the visitor to observe the equipment below. In the future, this area may be used for storage and can provide a larger area for events.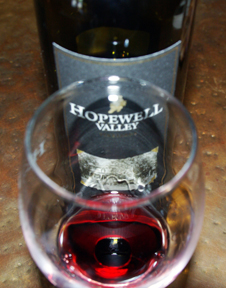 After our tour of the winery, we stopped at the copper countertop for a tasting. The Rosso della Valle is a blend of Chambourcin and Cabernet Sauvignon. It is light bodied with dark red fruit flavors and can be paired with a large variety of foods. Barbera is a dark red opaque color, with a red cherry flavor. It has a long aftertaste. Sangiovese is produced with grapes from the family vineyard in Italy blended with some Chambourcin and Barbera. This wine is a dark red color, with a fruit acid balance and has smooth tannins. White Merlot is a sweet blush made with the Merlot grape. This is a big seller at festivals. Porto Bianco is a White port made with Vidal and fortified with brandy.
Do not miss a trip to Hopewell Valley Vineyards in Pennington, New Jersey. If you are planning a trip to Italy, the family owns a villa for rent and a restaurant in Chianti.
Hopewell Valley Vineyards
46 Yard Road
Pennington, NJ 08534
GPS: N 40° 20.297 W 074° 48.545
---